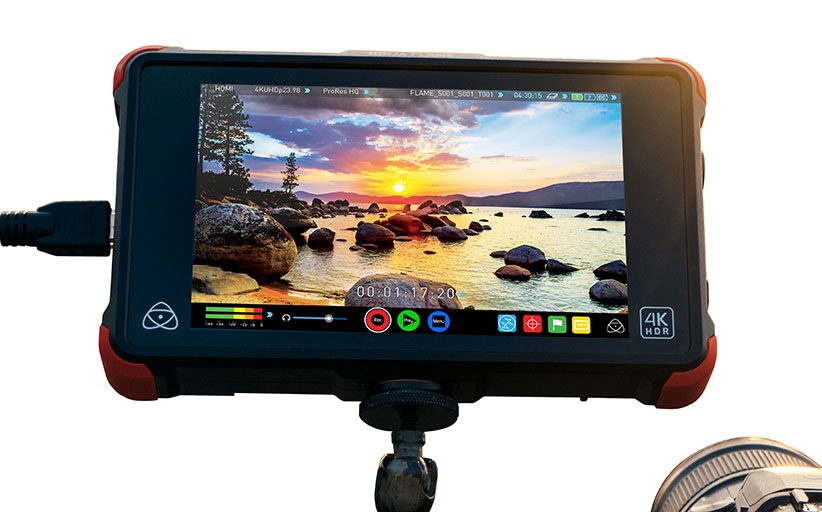 Atomos tunes up your Canon DSLR!
If you use a Canon DSLR to shoot video and want to record the ultimate quality Log footage or even use it for HDR, then unless you hack the firmware, it's been pretty much impossible to do. Now you can, as Atomos have teamed up with top British filmmaker James Miller to bring C-Log profiles to many of Canon's top DSLRs. 
It captures the full dynamic range if you select C-Log function using an Atomos HDR capable recorder. The official information says:
Atomos Partners with Leading Cinematographer to give older Canon DSLR's a HDR facelift
Atomos today announced a collaboration with UK-based Cinematographer and post expert, James Miller to bring C-Log Picture Profiles for Canon DSLR's to users at an affordable price. By utilising Atomos' AtomHDR monitor-recorder the 5D Mark III and other Canon DSLR's are now HDR capable.
With the expanded dynamic range from the sensor enabled with C-Log, a monitor that enables users to accurately and easily expose for Log in the field is required. The Atomos Inferno and Flame series, with 10.2 stops of dynamic range, a 7″ high bright calibrated screen and patented HDR waveform and slider tools, gives users everything they need to create better HDR and Rec709 imagery.
The HDR revolution that is sweeping through the professional video industry and into consumer homes has been triggered by advancements in panel displays and content delivery. During 2016, Atomos shipped on camera monitors with 10+ stops dynamic range; HDR content was delivered into the home from Netflix, Amazon and YouTube; and HDR consumer flat panels started shipping.
With all these changes, however, many cameras have are already been HDR-ready. Sensors have had the 10+ stops of dynamic range needed for HDR and used Log signal processing to capture HDR in the recorded content ready for post-production. Meaning that older cameras preceding 2016 with Log output are already HDR-ready. There's no firmware needed or update to pay for. With Log output from the camera you are HDR-ready and just need to partner it with an AtomHDR monitor to accurately expose in real-time for either HDR or SDR in the field. Atomos have worked hard to ensure this is an easy process with patented HDR tools and scopes to ensure users can be confident they have exposed correctly.
But what if your camera doesn't have Log? Canon DSLR's like the 5D Mark III have been responsible for bringing the 35mm "film look" to the digital world with their large sensors and 24p capability, but don't have the Log output needed for HDR. Now thanks to our collaboration with James Miller Canon DSLR users can get a Log output and when partnered with an Atomos Inferno or Flame have a formidable HDR combination.
James Miller's C-Log package is available at a special discount for Atomos users. More information can be found here: https://www.atomos.com/offers/c-logupgrade
Compatible Canon cameras include: EOS 5D Mark III, EOS 1D C, EOS 7D Mark II, EOS 1DX Mark II, EOS 5D Mark IV.  
Compatible Atomos monitor-recorders include: Shogun Inferno, Shogun Flame, Ninja Flame, Ninja Blade.