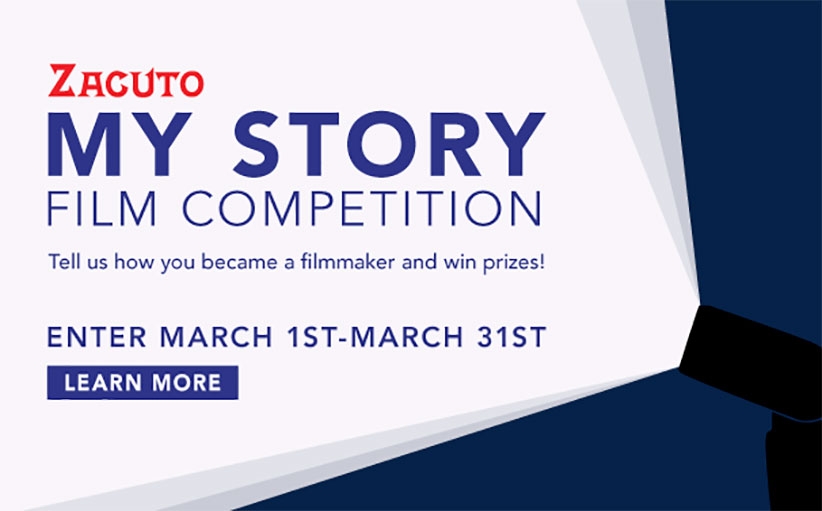 Zacuto's My Story film contest
Make a short film explaining why you became a filmmakers and you could walk off with a raft of top prizes including a Zacuto base plate and $600 gift certificate, Adobe Creative Cloud subscription, $700 worth of Kessler kit, $500 of Rode equipment, a Portabrace case and lots more.
The Zacuto My Story film competition runs all through March and all you have to do is make a film of 60 seconds or less explaining how you became a filmmaker. Zacuto's information says:
How did you become a filmmaker?
Were you inspired by a certain film or by listening to a filmmaker speak? Was it while holding your first camera or watching a friend laugh at your YouTube video?
We want to hear your story. Make a film, 60 seconds or less, telling us how you became a filmmaker, and you could win one of the awesome prize packages listed below.
Use any genre, style, and storytelling device you like. We're looking for an innovative concept, imaginative storytelling, and creative execution!
So, how did you become a filmmaker? What's your story?
How to enter:
Step 1 – Create your <60 second "My Story" masterpiece!
Step 2 – Upload it to Vimeo with the title "FILM TITLE, YOUR NAME – #MyStoryCompetition" and add "zacuto" to the video tags.
Step 3 – Join this group and add your video.
Step 4 – Your video will be approved the following morning M-F. Once your video is approved your submission is complete.
Step 5 – Watch other peoples videos and wait to see who wins!
Use #MyStoryCompetition to share this competition and your video on social. Good luck!
Winners will be selected by a panel of Zacuto and some sponsor (KYNO, Vid-Atlantic) representatives. Winners will be notified and then announced on or by April 14th, 2017.
More details from HERE!