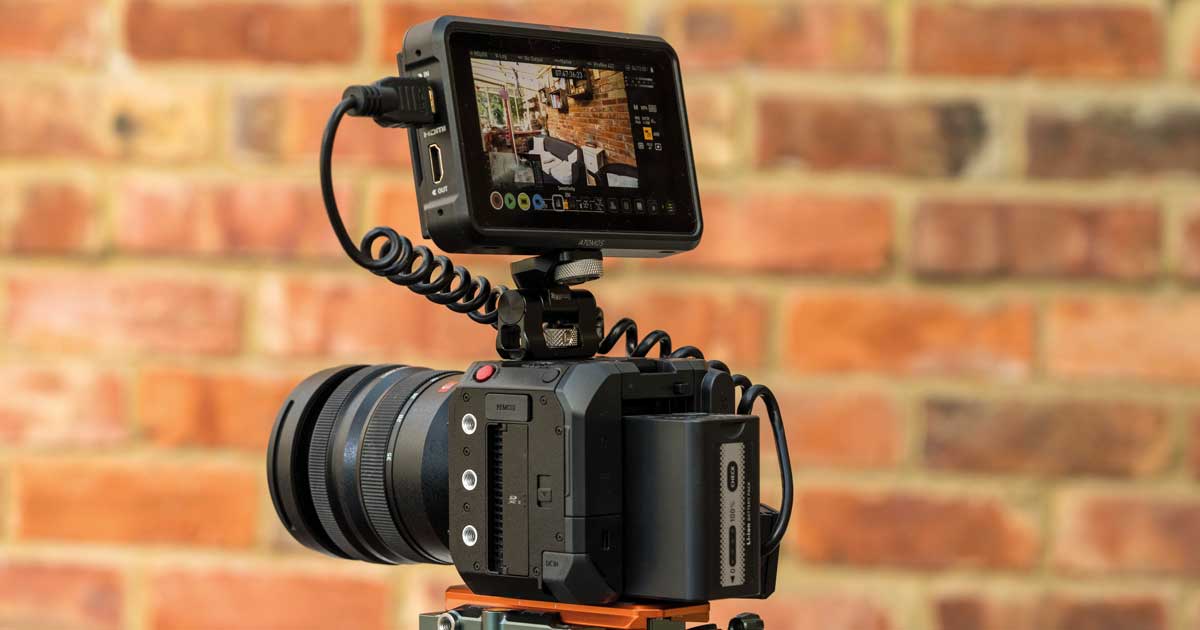 Boxing Clever: Panasonic Lumix BS1H
Posted on Jan 27, 2022 by Alex Fice
Why the smaller and cheaper version of Panasonic's full-frame S1H mirrorless is punching above its weight
Ever since Panasonic pioneered the G series of mirrorless cameras, the company has always seen the benefits of this technology for filmmakers, packing in lots of spec to keep us moving-image types happy. Groundbreaking features abound, such as high-quality 4:2:2 10-bit internal recording, fast frame rates, Dual Native ISO and V-Log just like the Varicam cinema cameras, waveform monitoring, LUT support, shutter angle adjustment, anamorphic de-squeeze and lots more. It's even included Raw output to Atomos monitors that could be stored as ProRes Raw, or rival Blackmagic recorders as B-Raw. 
The mighty Panasonic may well have been a tad late to the full-frame mirrorless party, but once the all-round S1 came out, it was quickly joined by the high-res S1R. Then came the filmmaking-specific S1H, complete with cooling fan to stop overheating, and Netflix-approval for the highest-quality movies. And the S5 was smaller and cheaper, but filled with the majority of the S1H spec.
The newest iteration is the BS1H, essentially the fan-cooled dual ISO sensor and processor of the S1H in a smaller box-style body, that costs less and has more professional I/O options. Pretty much what Panasonic did with the GH5 and its boxy sibling, the BGH1.
Of course, getting something inside a smaller and lighter body means another has to go. Compared to the S1H, this is in-body image stabilisation and any sort of screen. So, no EVF, no viewfinder, and not even a small LCD to help you see and change settings. To do that, you have to either plug in an external monitor, or link to the camera with your smartphone and use the free Lumix Sync app. As we said when we tested the BGH1, it's a shame there's not even a small screen to show you basic settings and allow you to change them, or just give an approximation of the shot. After all, even the tiny DJI Osmo handheld gimbal camera manages to do this. 
Once you've put on an external screen, then set up the Wi-Fi or Bluetooth to communicate with your phone, you are good to go. The image quality is stunning, as you'd expect, with the same performance as the impressive S1H, and a massive range of codecs.  
The BS1H has a max 'real' ISO of 51,200, with Dual Native ISOs that vary according to settings. For stills and video, it's ISO 100 and 640, but 640 and 4000 in V-Log. At the lower settings at 640 in V-Log, quality is fine and low-noise. When the ISO heads up, the sensor switches to another circuit, giving a second base ISO of 4000, and noise control is improved. Shooting Log, you need to add some noise reduction, as expected at such high ISO settings.
6K is very detailed, but downsize to 4K and you get even better quality
The sensor has a claimed 14 stops of dynamic range in V-Log, and we found lots of detail in shadows and highlights. The footage is sharp, natural and colourful, with just enough contrast. It records at up to 6K/24p and 5.4K/30p in a 3:2 aspect ratio, or 5.9K/30p in widescreen 16:9. The 6K is very detailed, but downsize it to 4K and you get even better quality – or crop in to 6K to give another angle for your shots. 
The BS1H also records 10-bit 60p 4K/C4K HEVC, but sadly only in Super 35 crop mode. There is HDR (High Dynamic Range) and HLG (Hybrid Log Gamma), too. The camera can also output 4:2:2 10-bit 60p 4K/C4K over HDMI, or Raw for conversion in monitor/recorders.
Like the S1H, there are hot-swappable twin SD memory cards and a USB-C socket so you can power it up from an external source. At the back of the BS1H is a slot to accept the much larger camcorder-style batteries that can be bought in huge capacities. The camera doesn't come with any batteries or a charger, so you need to add in the cost of juice.
So far, so much like the S1H in terms of performance – including the contrast detect AF system, which is pretty decent, but not as advanced as rival hybrid contrast and phase detection systems. But on a camera like this, it doesn't matter as much as on a mirrorless that you might be using with the viewfinder to track fast-moving action.
It could be perfect for a wedding ceremony to record from near a church altar, put under a jump on a horse-racing course, behind the goal at a football match
The real question is why anyone should opt for a box-style, modular camera over a mirrorless or cinema camera. The most obvious reason is its cinema-style quality in a small and customisable package. That makes it ideal for use on a gimbal or drone, as a crash camera in large productions – or a hidden camera, as it can be controlled remotely. It could be perfect for a wedding ceremony to record from near a church altar, put under a jump on a horse-racing course, behind the goal at a football match, or inside a car.
The camera has 11 standard threaded holes all around its rugged body, so you can mount it on just about anything, or bolt a variety of equipment to it.
It has 3G-SDI and HDMI connections, as well as Ethernet, USB-C, 2.4GHz Wi-Fi connectivity and Bluetooth 4.2 – so the BS1H can be linked to a massive range of devices. The wired connections could be useful in studios, or events where long cables could be run to the camera – or wirelessly for monitoring and camera control. 
It can simultaneously output 4:2:2 10-bit at 60p in HD from the SDI connection, and 4K from the HDMI. One feed could be ideal for livestreaming, and another for recording in higher quality for editing later.
With this 3G-SDI, HDMI or IP streaming, it can output to a monitor, recorder, switcher or transmitter – powering and controlling the camera via Ethernet or USB through the Lumix Tether software, or through the Lumix Sync smartphone app. And the Genlock and Timecode functions make it ideal to sync with other cameras for high-precision, multi-camera editing.
It's ideal for livestreaming, as a stand-alone unit or part of a multi-camera broadcast – all in stunning, full-frame quality. We linked via HDMI to a monitor/switcher, and crisp, clear recording was simple.
We used it with an Atomos Ninja V and it felt well-balanced, but for handheld we did miss IBIS
It can also be rigged up as a small documentary camera, if you attach a monitor or EVF, and ideally some sort of side handle. We used it with an Atomos Ninja V and it felt well-balanced, but for handheld we did miss IBIS. If you pick the right battery for the camera, that has a D-Tap power output, you could even power the monitor via a cable rather than having to carry more batteries.
The hotshoe is ideal to take an XLR audio adapter, such as Panasonic's own DMW-XLR kit. But sadly there are no built-in NDs, so you have to screw on your ND system of choice. It can be mounted on a tripod, using a follow focus to turn it into a real cinema camera. Or simply rely on the AF and its decent face detection to track a subject. 
Instead of asking why you might want a box camera, perhaps the real question is how you get by without one? Image quality is incredible, and it can be rigged up as a cinema camera, docu-cam, wireless remote camera, streaming device, or part of a multi-camera broadcast production. That's a lot of uses for the type of machine most filmmakers never knew they wanted – the BS1H could change all that.
The Verdict
If you only ever shoot one specific subject in one particular way, chances are you have settled on a certain sort of camera with a fixed set of needs. The BS1H might be that camera. 
Perhaps more realistically, most independent production companies are called on to do a huge range of shoots – from events to launches, adverts to full cinematic-style shorts. If this sounds like you, then a camera like the BS1H could also make sense. It can be used for so many different things, thanks to its modular form which allows you to bolt on just what you need and nothing more.
For livestreaming, or joining a multi-camera broadcast crew, it's a good option. It can be a high-quality cinema camera shooting 6K anamorphic in Netflix-approved quality. Or hold its own as a documentary camera, using AF lenses with built-in IS to remove any wobbles.
Whatever you require it for, expect incredible images in high resolution, with lots of dynamic range, even in low light. Chances are you will uncover loads of uses to give your work a noticeable edge. 
Pro Moviemaker rating: 8/10
It's the amazing spec and performance of the S1H in a smaller body, with great pro I/O
Pros: Size, customisation, image quality
Cons: Contrast-detect AF, no screen at all
For even more information, check out the full article here or visit Panasonic's website.