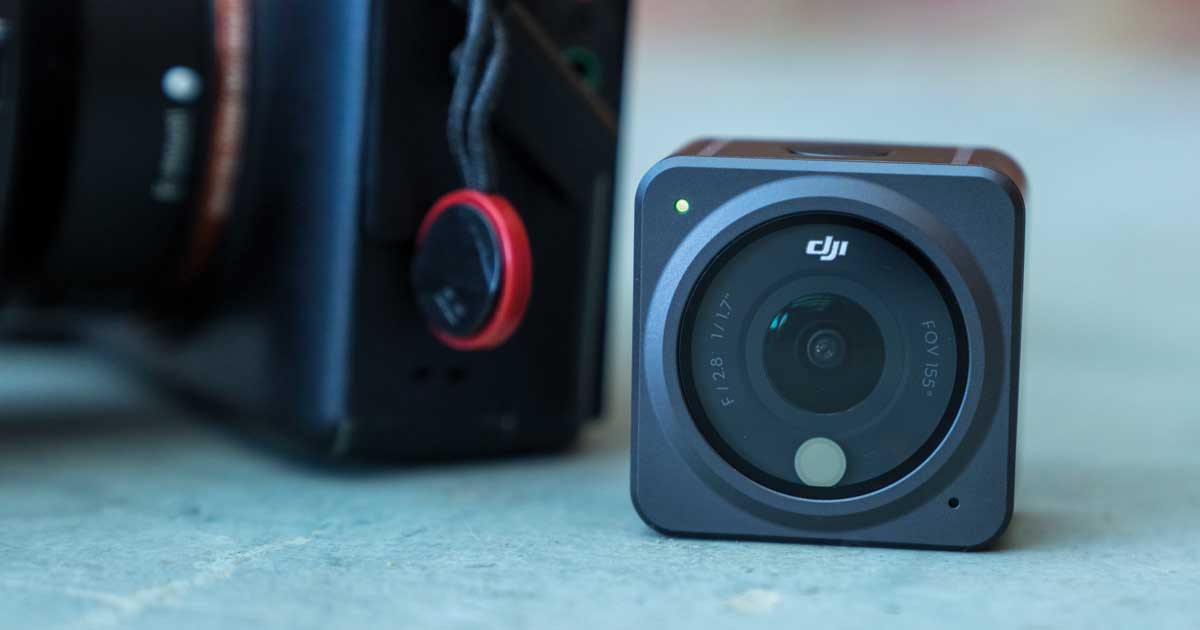 Mini Test: DJI Action 2 Dual-Screen Combo
Posted on Jan 26, 2022 by Alex Fice
£455/$519
Let's be quite clear: you are not going to be shooting your next blockbuster or commercial video on the new DJI Action 2, even though it records in 4K up to 120fps. There are action cameras, such as the Sony RX0 II, that offer large sensors and total control, even a choice of pro-style codecs like XAVC. But the DJI doesn't pretend to be a high-end cinema camera.
Effectively, it's a compact, rugged action camera with incredible image stabilisation. Hide it in tiny places for a super wide-angle establishing shot. Mount it on a motorcycle, bike, car, snowboard, helmet – or anything that moves – for unique POV action. 
In a market dominated by GoPro and its myriad cut-price clones, the DJI is different. The camera itself is a tiny box that measures just 39x39x22.3mm/1.5×1.5×0.9in and weighs 56g/0.121lb. An iPhone 11 Pro Max dwarfs the camera, and can be linked to it via the DJI Mimo app, too.
At the back, a monitor/touchscreen can control the camera and change settings. At the bottom is a magnet to which a small plate attaches, and automatically clips in. But you aren't relying solely on magnet power to keep it in place. This adapter mount fits to GoPro-standard accessories, and DJI also offers a range of compatible action mounts. The kit comes with a separate adapter plate with ball joint, and either mounts to a standard tripod thread or an included plate with a sucker – perfect for glass. A neck lanyard with magnetic attachment lets you wear this inside a shirt and fasten the camera to the outside of the garment. Or, buy a GoPro-compatible chest harness.
The camera can record in 4K/120p or 1080p in 240fps for awesome slow-motion action, which records to its internal 32GB memory. The battery lasts for around an hour, but isn't replaceable like a GoPro. 
The kit comes with a touchscreen module, which is the same size as the camera itself and magnetically clamps to the bottom. This more than doubles battery power, provides a USB-C socket for charging and downloading files, and has a front-facing screen ideal for selfies or vlogging. It also houses a microSD card socket, letting you fit in lots more footage. The camera is waterproof, but if you want to use it with the extra module, an accessory waterproof case is required.
Using it is simplicity itself. Turn it on with the only button it has on the top. Then push again to start and stop recording – the rest is via the touchscreen or app.
Image quality is impressive from such a tiny machine, and the bendy edges of the wide view can be auto-corrected in the camera for a more 'normal', albeit super-wide, view. You can digitally zoom in for a narrower perspective, but this affects quality. Image stabilisation is incredible, while colours are a bit punchy and contrasty – but, chances are, that's what most action camera users want.  
The camera did get incredibly hot, but we tried it mountain biking in the UK, so the cooling breeze stopped it from overheating. At only an hour of battery power, it didn't last for the full ride, either.
For some POV action, or an alternative, ultra-wide establishing shot, it's a cool bit of kit to put in the bag and use when the occasion arises.
Pro Moviemaker rating: 8/10
Incredibly small and very capable action camera
Pros: Tiny size, great stabilisation
Cons: Battery life, overheating
Check out the full article here, and head to DJI's website for more information.