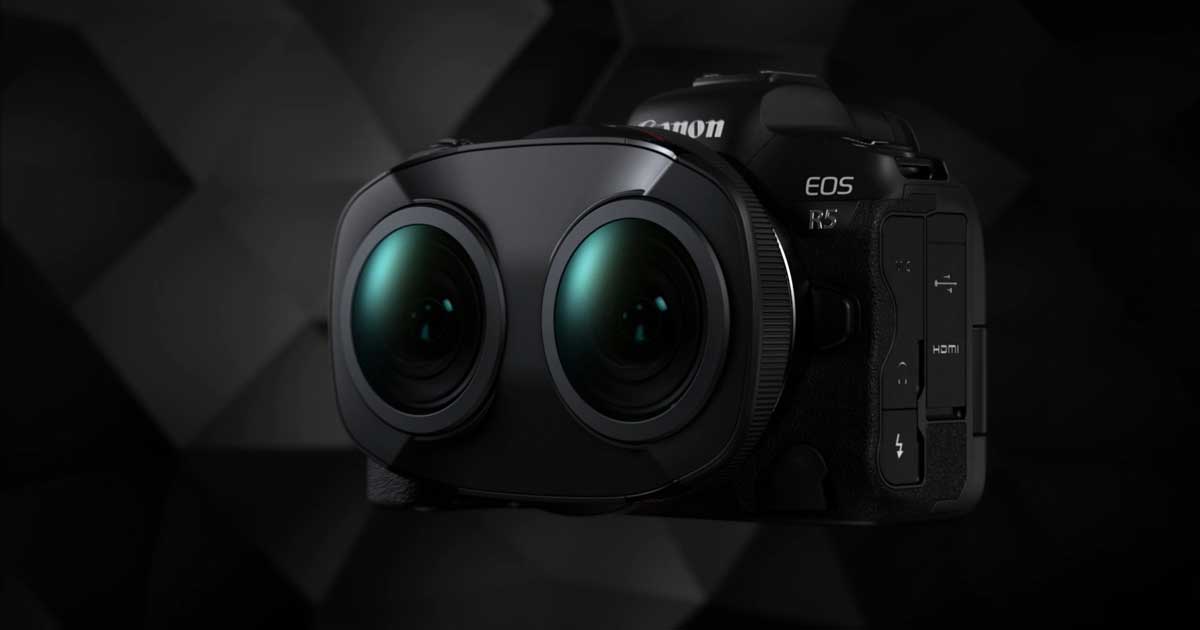 Canon announces EOS VR System and RF 5.2mm f/2.8L DUAL FISHEYE lens
Posted on Oct 11, 2021 by Alex Fice
This innovative 3D VR system aims to make producing VR content simpler and more efficient
Canon Europe has unveiled an exciting addition to the EOS R System in the form of a new virtual reality capture solution that showcases the capabilities of the RF mount. The EOS VR System comes at a time when demand for high quality and realistic 3D 180° VR content is on the rise from a whole range of sectors, including training, travel, sports, live events and documentaries.
Forming an integral part of Canon's EOS VR System is the RF 5.2mm f/2.8L DUAL FISHEYE lens, which aims to revolutionise the production of VR content by making post-production editing more efficient. Also part of Canon's EOS VR System is its EOS VR application and EOS VR Plug-in for Adobe Premiere Pro, which have been designed to simplify the process of converting the image produced by the fisheye lens to an equirectangular 180° VR format. This allows videos and stills to be processed easily and exported to a whole range of resolutions and (professional) codecs. Video can even be exported with 8K resolution.
The Canon RF 5.2mm f/2.8L DUAL FISHEYE lens claims to be the world's first lens for digital interchangeable lens cameras, designed for use with the EOS R5. It simplifies the set-up and capture of 180° VR video and stills by utilising two fisheye lenses which have an ultra-wide 190-degree field of view. The image from these two lenses is projected onto the camera's single sensor with perfect alignment and synchronisation. This removes some of the typical problems faced when using a two-camera system, such as variation in image quality and exposure as a result of using two different sensors.
The images from the left and right lens are synchronised and combined into one file so that it can be converted immediately into a standard 180° VR format using Canon's EOS VR Utility or EOS VR Plug-in for editing with Adobe Premiere Pro or viewing on a VR headset.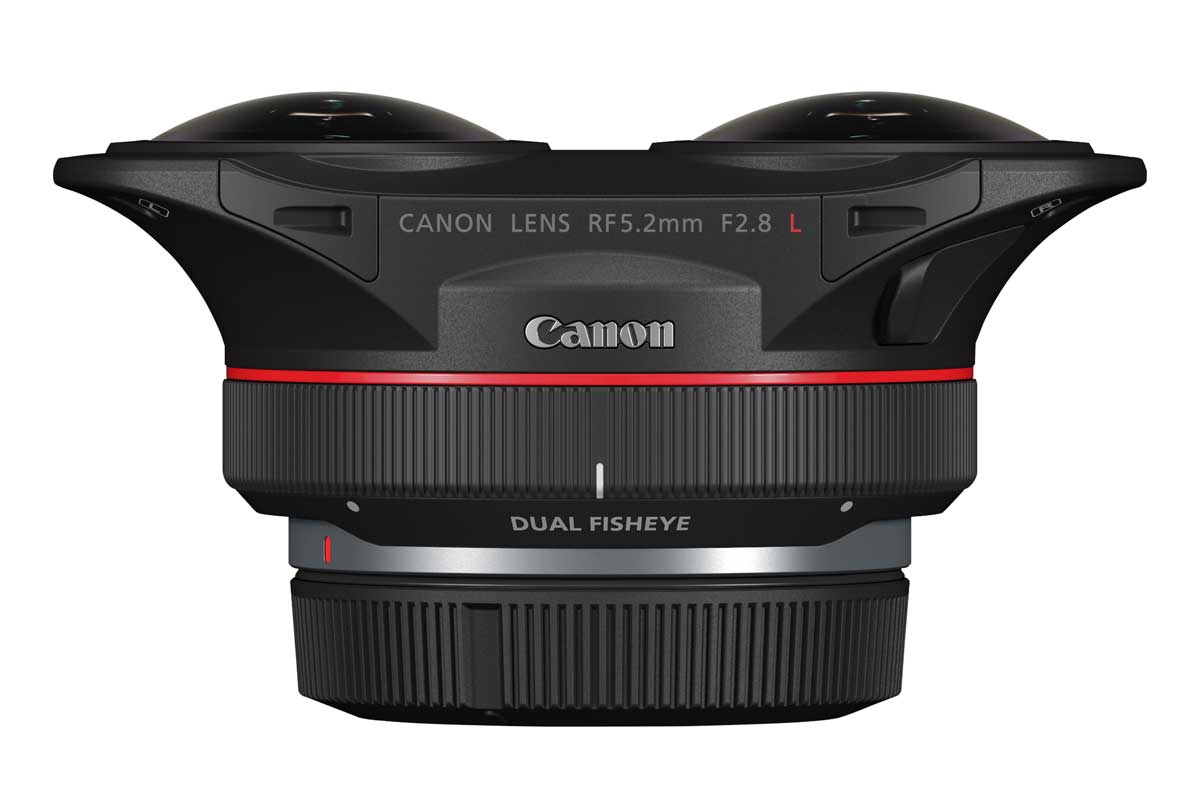 The RF 5.2mm f/2.8L DUAL FISHEYE lens is a professional L-series lens, as indicated by its staple red ring design feature. This means that it incorporates two UD elements per lens in order to produce high-resolution across the entire frame.
High resolution 180° VR capture with a high dynamic range is possible using Canon Log / Log 3 when the RF 5.2mm f/2.8L DUAL FISHEYE lens is paired with the EOS R5's 8K Full Frame sensor. The EOS R5 also boasts a fast f/2.8 aperture and high ISO capabilities that would allow the DUAL FISHEYE lens to function well in low light, expanding the range of environments that can be captured for VR.
In bright light conditions, a Subwavelength Structure Coating suppresses ghosting and sunlight flare, removing the typical optical aberrations that occur when including the sun in the shot – as is often the case for VR scenarios. Third party gelatin ND filters can also be slotted into the gelatin holder across the rear elements to maintain 'normal' shutter speeds and apertures.
Using Canon's updated EOS Utility and Camera Connect App it is also possible to set up remote control function and preview live images whilst capturing content.
Canon hopes that this technology will transform the experience of producing VR material for existing VR content creators and professional production companies alike by helping to streamline the post-production process for a more efficient workflow overall.
The RF 5.2mm f/2.8L DUAL FISHEYE lens will retail at £2,099.9 / €2,399.99. For more information, please visit Canon's website.