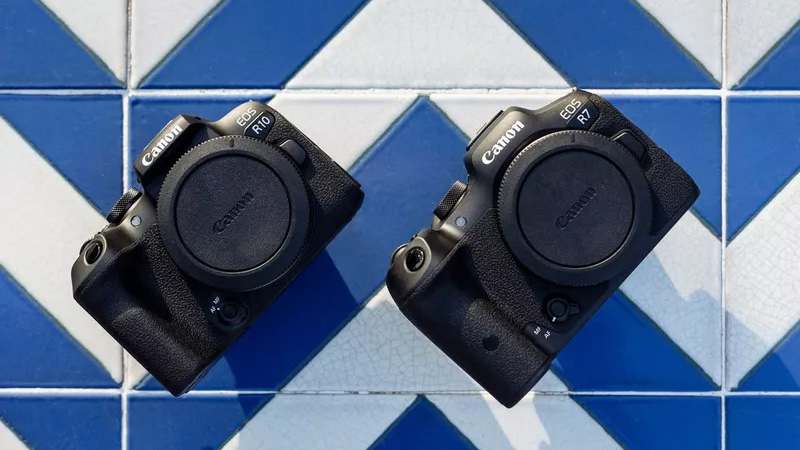 Canon enhances its mirrorless offerings with two APS-C hybrids
Posted on Jun 1, 2022 by Pro Moviemaker
Images © Canon
Following in the footsteps of Nikon and Sony, Canon has taken its full-frame mount and put it on APS-C format cameras, the EOS R7 and EOS R1
Canon has unveiled its latest mirrorless cameras, both APS-C models, the first smaller format models in its RF system. In essence it means photographers can enjoy the performance benefits and advanced technologies of Canon's RF full-frame system but in smaller bodyform, less expensive cameras using the popular APS-C format.
While both cameras are compatible with the 26 RF optics in its RF system and accept EOS EF/EF-S lenses via an EF-EOS R adaptor, Canon has added two dedicated APS-C format kit lenses, of which more later but let's start with the cameras.
The EOS R7 sits alongside its full-frame brothers in the same way that the popular EOS 7D series provided a high performance crop factor option to EOS 5D users. With 32.5 megapixels from its front-side illuminated CMOS sensor working with the Digic X processor and the benefit of a 1.6x crop, the EOS R7 with is sure to appeal to sports and wildlife photographers but there is so much more than high resolution on offer. It can blitz along at 30fps giving full format Raws with the electronic shutter that has a maximum 1/16,000sec speed plus there is the option of a pre-shooting mode that captures images as the shutter button is partially held down and then records images 0.5sec before when the shutter is fully pressed down. The camera's mechanical shutter is no slouch either and it can race along at an impressive 15fps and here the top speed is 1/8000sec. Files are recorded to twin UHS-II SD cards so there's no need for expensive CFexpress media.
There's an in-body image stabiliser with up to 8EV benefit; and the EOS R7's AF system has some of the skills of its top-end brothers. The Dual Pixel CMOS AF II phase detect AF system has 651 points with the option of customisable zones and there are subject recognition modes for people, animals and vehicles. With people detect you get head, face and eye detect across the entire frame. AF is also very sensitive too and works down to -5EV and even at f/22 when teleconverters are in use.
The EOS R7 boasts another Canon first: it is the first camera to have a combined AF multi-controller and control wheel positioned to the left of the AF ON button. It gives the opportunity to shift the AF point and change camera settings with your thumb and without having to adjust hand position on the camera and it looks a seriously useful development.
Finally, the EOS R7 uses the LP-E6NH battery – used on the EOS R5/6 – which gives an very useful 660 shot capacity.
The EOS R7 will retail at £1349.99 body and while stocks last it comes with the Mount Adaptor EF-EOS R adaptor at that price. Stretch the budget to £1699.99 and you can add the RF-S 18-150mm f/3.5-5.6 IS STM lens.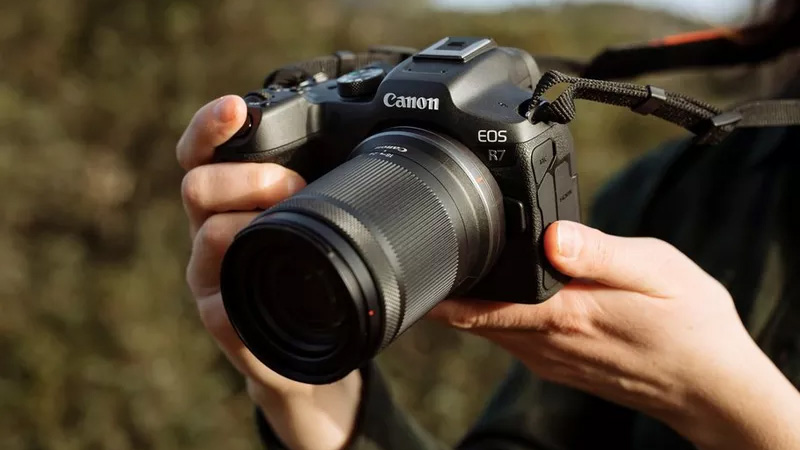 While the EOS R10 is a less highly specified camera it does have the same AF skills of the EOS R7. Its resolution is 24 megapixels with Dual Pixel AF and maximum continuous shooting is 23fps with its electronic shutter and 15fps with the mechanical one.
Both cameras have impressive video skills both offering UHD 4K 60p or 40p, have fully articulating touch monitors that will appeal to vloggers and new-style Canon hot-shoes that can power accessories such a microphones.
The EOS R10 body retails at £899.99 and for £999.99 you can get the camera with RF-S 18-45mm f/4.5-6.3 IS STM lens and, while stocks last, the Mount Adaptor EF-EOS R as part of a launch offer. Upgrade the package to include the RF-S 18-150mm f/3.5-5.6 IS STM lens and price is £1249.99.
Complementing the two APS-C cameras are two new RF kit lenses, the RF-S 18-45mm f/4.5-6.3 IS STM and RF-S 18-150mm f/3.5-6.3 IS STM, priced at £319.99 and £519.99 respectively.
When not in use the RF-S 18-45mm f/4.5-6.3 IS STM retracts so it's really compact. In use it gives a 35mm format coverage of 29-72mm and has an 4EV image stabiliser built-in. An STM focus motor means the lens is super-quiet in use and there's a control ring for added versatility.
The RF-S 18-150mm f/3.5-6.3 IS STM gives a 29-240mm equivalent coverage on 35mm format and this lens also uses an STM motor for focusing and the image stabiliser here gives a 4.5EV benefit.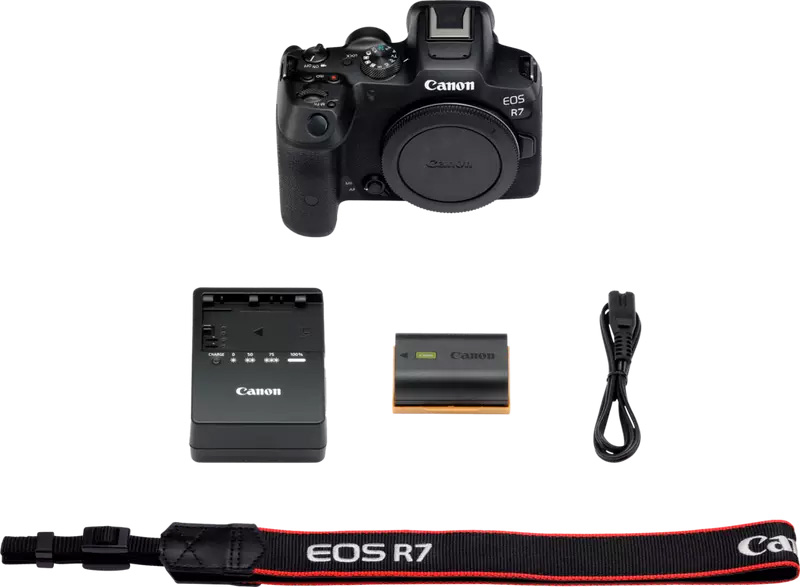 For more information, go to the Canon website.