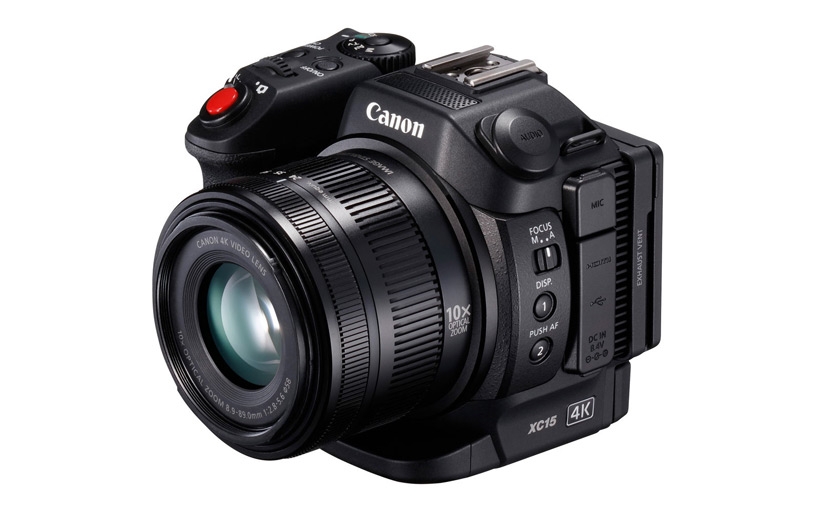 Canon launches the XC15 professional compact 4K camcorder
The Canon XC15 is a professional compact 4K camcorder with high-end audio interface. The camera can record UHD (3840 x 2160) 4K footage at 25p or 24p to an internal CFast 2.0 card at up to 305Mbps, or Full HD to an SD card at up to 50Mbps. The XC15 is available from September 2016 with the RRP $3000 / £2,409. For more information read the official press release below:
Canon has announced the XC15 – a compact, 4K (UHD) and Full HD video camcorder with stills capability, aimed at content creators such as news gatherers and independent or documentary filmmakers. Following in the footsteps of the popular XC10, the XC15 combines the best elements from its predecessor with new features and functionality, including a microphone adapter with dual XLR inputs for professional audio capture, quick autofocus and a 24p frame rate option for cinematographers.
Recording versatility for easy workflow integration
The XC15 is the perfect "B" or "C" camera for film productions, thanks in part to its ability to record with Canon Log, providing the same impressive 12 stops (800%) of dynamic range as seen in Canon's EOS C500. The camera can record UHD (3840 x 2160) 4K footage at 25p or 24p to an internal CFast 2.0™ card at up to an impressive 305Mbps, or Full HD to an SD card at up to 50Mbps. The option to record at 24p, combined with the ability to select a 'Look' setting, appeals directly to cinematographers as they are able to easily integrate footage from other cinema cameras, dramatically improving their workflow. The shutter speed and shutter angle modes further support the camera's operator to work in a more familiar way.
Meeting the needs of today's content creators
News gatherers and filmmakers understand that sound quality is just as important as the image and increasingly require a camera with more advanced audio options. Built on feedback from global XC10 users, the XC15 includes the MA-400, a microphone adapter which allows professional grade audio to be recorded via dual XLR connections that accept balanced and unbalanced microphones and line level audio inputs. As well as sound, the flexibility of the XC15 will appeal to news gatherers due to its ability to extract 8.29MP still images when used in 4K (UHD) recording mode for publication in print or online. When capturing breaking stories is of upmost importance, the camera's autofocusing is quick and includes face detection for added ease of use when framing a shot.
Capture more detail, even in low light The XC15 has excellent low-light capabilities thanks to its wide ISO range from 100 to 20000, perfect for shooting in difficult lighting conditions such as news interviews in poorly lit areas. Equally, the built-in ND filter helps when the light is too bright. Combining speed and quality, the XC15 features a 1.0 type CMOS sensor and Canon's DIGIC DV5 image processor, providing users with the ability to capture high quality, low noise 4K video with a shallow depth of field. The camera also features a 10x Optical Zoom lens with Canon's class-leading image stabilisation technology providing the ability to shoot a range of scenes, from portraiture to large expanses of scenery.
Lightweight and compact design, optimised for easy shooting, the XC15's small size and lightweight make it the ideal companion for shooting documentaries and news interviews, particularly when needing to capture a different viewpoint from an unusual or tight location, such as inside a car. For the ultimate in comfort, the camera's body is ergonomically designed, featuring a rotating side hand grip. Additionally, the vari-angle touch LCD provides easy viewing whilst the loupe makes it easier to shoot in bright light or at eye level.
Always connected
The XC15 features built-in dual band Wi-Fi for Live View and easy remote control through a browser or smart device – a must-have for any videographer's toolkit.
XC15 key benefits:
·        Capture professional 4K and Full HD video
·        Professional dual XLR audio connections
·        Professional features and easy workflow integration
·        Discrete and highly versatile
·        Easy to use Pricing and Availability
·        The XC15 is available from September 2016 with the RRP $3000 / £2,409 inc VAT
For more information visit: