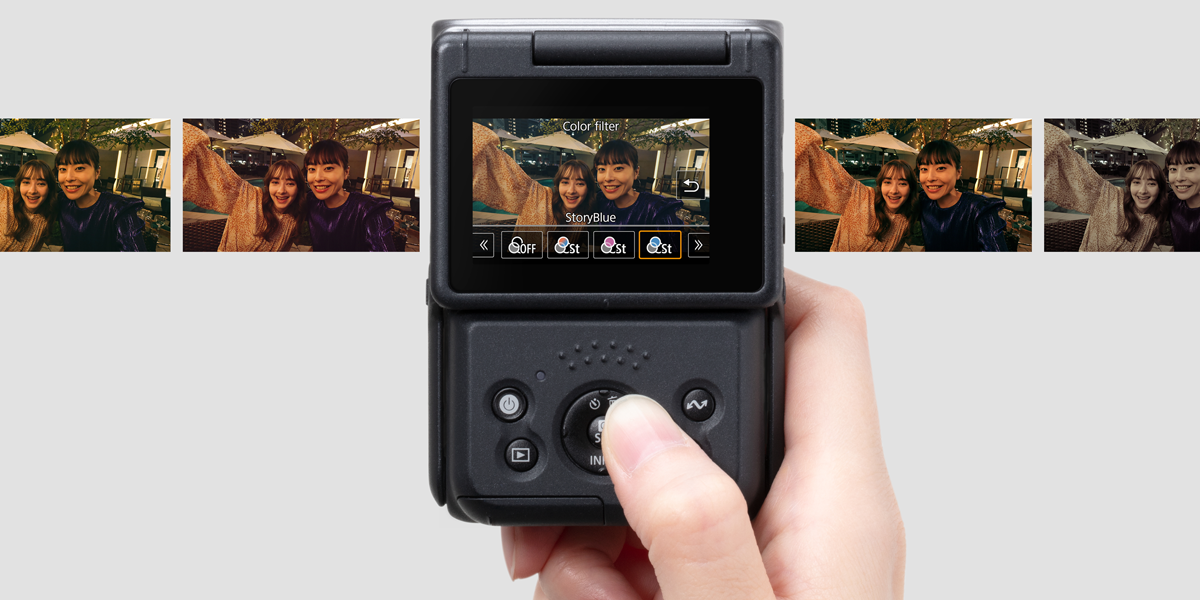 Canon's first vlogging camera: PowerShot V10
Posted on May 11, 2023 by Samara Husbands
With 4k UHD movie recording, a top-notch microphone and a host of other features, has Canon created the perfect vlogging companion?
Canon has debuted the PowerShot V10, a camera aimed at lifestyle and travel content creators. Built for ease of use and convenience, Canon aims to cement its place in the ever-growing vlogging market.
Vloggers are notorious for grab-and-go shooting, carrying a little equipment as possible. A new design approach for Canon, the upright camera has just one button on the front – record and a flip-up screen to shoot 'selfie' mode. The built-in mic and stand are a testament to Canon's commitment to keep things simple for this product. The new PowerShot V10 weighs 211g and should fit neatly in your pocket.
Make use of the large 1" CMOS sensor for both video and stills and play around with the 14 included colour filter effects and Smooth Skin mode. As most vloggers shoot with only their hands, so Canon has incorporated Movie Digital IS mode to avoid (or at least minimise) camera shake, resulting in cleaner footage. It promises 4K UHD recording and pro-looking background blur for high-quality content. The camera shoots in JPG for stills, which is equivalent to Scene Intelligent Auto and features face-tracking AF.
You don't need to worry about an external mic as the PowerShot V10 has two large stereo mics situated on the top designed for narration – although, there is a jack for a different mic, and can purchase additional accessories if needed.
Operated single-handedly, the V10 can also standalone thanks to its integrated stand. Acting as a simple tripod, the stand can be adjusted for the desired angle (up to 30°). Handily, you can shoot either portrait or landscape to fit whichever platform you upload to.
The PowerShot V10 is also tech-savvy. One of the standout features, is the live streaming capability. You can go live to your followers with dedicated menu options for live streaming on YouTube and Facebook in a matter of seconds.
It is compatible with the Canon Camera Connect app, allowing you to transfer videos to a smartphone or tablet over Wi-Fi. You can also access temporary cloud storage with image.canon, or use the integrated HDMI and USB ports. You can recharge the camera via the USB-C port, which is handy for those constantly on the move.
The Canon PowerShot V10 can be purchased as a standard kit, with power cable, soft case, lens cap, windshield and wrist strap, retailing at £429.99/€489.99.
For more information, head to the Canon website.