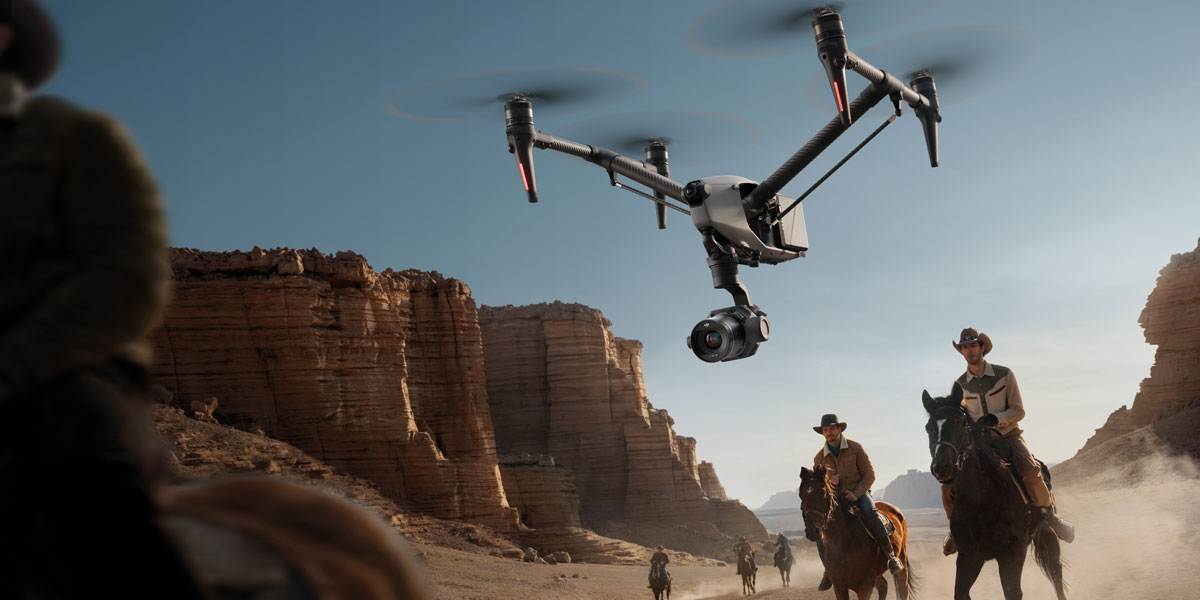 Inspire 3: 8K cinema drone
Posted on May 24, 2023 by Samara Husbands
DJI recently unveiled its Inspire 3 drone, which has an integrated full-frame 8K cinema camera ideal for movie production.
With a 161° ultra-wide FOV, night-vision and the latest transmission and control system, it's DJI's only cinema-grade drone, and supports Waypoint Pro and omnidirectional sensors for precision flight. It costs from £13,419/$16,499.
The FPV camera, storage card slot, sensors and positioning antennae are integrated into the lightweight body. When the landing gear is lowered, the gimbal supports obstruction-free, 80° upward-angle shooting.
Hot-swappable dual batteries provide a flight time up to 28 minutes, with a top speed of 94km/h, plus 8m/s ascent and descent speeds, and a dive speed of up to 10m/s.
The drone uses the lightest ever full-frame Zenmuse X9-8K Air gimbal camera, featuring DJI's latest image processing system, CineCore 3.0. This grants internal recording up to 8K/25p CinemaDNG and 8K/75p Apple ProRes Raw. In S&Q mode, there's internal recording of up to 4K/120p ProRes Raw with no cropping.
The camera has dual-native ISO and claims 14+ stops of dynamic range. At full-frame 30fps and below, it offers EI 800/4000, supporting 24fps for film productions and 25fps for commercial and TV productions. Above 30fps, EI 320/1600 is available.
The camera can be used with DJI's 18mm f/2.8 ultra-wide lens, plus full-frame 24mm, 35mm and 50mm lenses, all capable of 8K capture.
DJI Cinema Colour System (DCCS) allows the X9-8K Air to match ground-based cine cams such as the DJI Ronin 4D. The included 1TB SSD offers up to 1100MB/s write and 900MB/s read speeds, and can be connected directly to a computer via USB-C.
All-new Waypoint Pro enables flight route and shot planning with a range of customised settings, offering repeatable flight routes with all preset parameters such as altitude, speed, gimbal angle and camera settings.
The Spotlight Pro feature is based on powerful machine-learning algorithms and provides object recognition and tracking. This lets the pilot concentrate on flying as the camera stays focused on a subject.
This system has a transmission range of up to 15km with one controller and up to 12km in dual-control mode. The 1080/60p live feed has an ultra-low latency of 90ms. And for the first time, 4K/30p live feeds are also supported with a reduced 5km transmission range. With dual-control mode, two remote controllers can now receive transmission and control links from the drone independently, so the pilot and gimbal operator can be at different positions on-set.
The Inspire 3 comes with a seven-inch 1200-nit screen with up to six hours of runtime using an external hot-swappable battery. 
dji.com