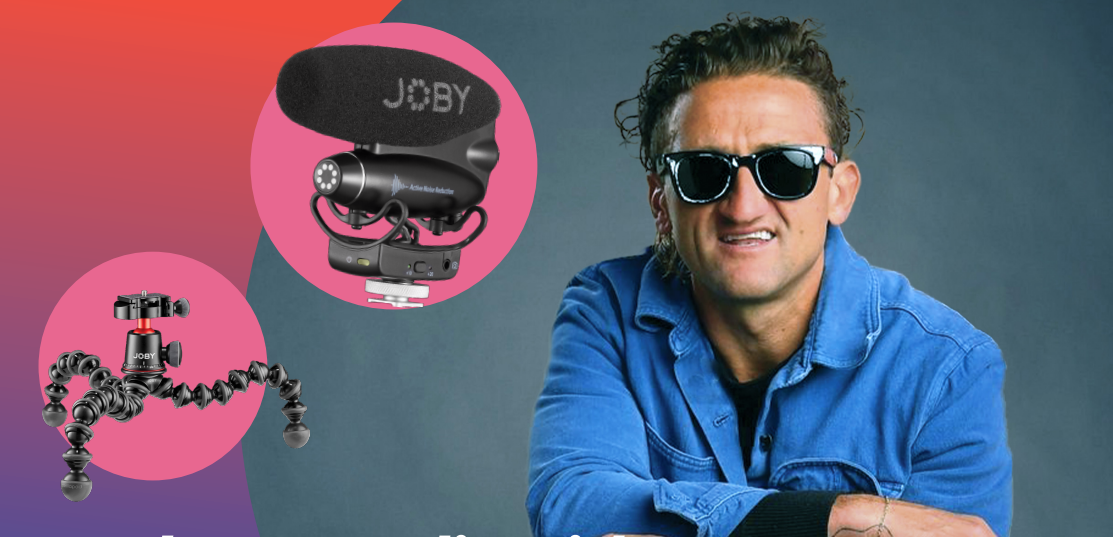 Casey Neistat x JOBY: Ride the sound waves with Wavo PRO
Posted on Sep 16, 2022 by Samara Husbands
WIN the chance to work with Casey Neistat in the latest competition from JOBY, which gives the next generation of storytellers to be featured on the social titan's YouTube channel
JOBY has cemented its position in the content creator sphere with its extensive suite of Wavo microphones and marking significant elevation in content. Guaranteed crisp and clear audio with accessibility means superior performance.
Smaller creators are being given the chance to skyrocket their careers in the video space by working with Casey Neistat. JOBY and Casey will invite the community to share their most creative and original video. In true JOBY style, it is super easy to enter – just follow a few simple steps and unleash the creator in you!
Step 1: Creators simple fill out a form via the contest landing page or JOBY social media channels
Step 2: Submit a link to their most creative and original video ever created
Step 3: Follow @JOBYinc on Instagram to stay up to date
Step 4: Win a plethora of prizes and the chance to co-create with Neistat
The top five winners will celebrate with an all-inclusive trip to a top-secret location in the US for the ultimate creator experience – creating a video with Casey using the Wavo PRO! The video will then be featured on Casey's YouTube channel on 23 November, debuting to his immense 12.4million following.
The next best 95 creators will win a cool $100K worth of products and discounts to help upgrade their content.
But that's not all! Alongside the 100 winners announced on 28 October, JOBY will extract an additional four bonus winners for five consecutive Wednesday's, beginning 19 September, to win weekly prizes.
With so many opportunities to win, this contest will be a game-changer for any content creator!
JOBY has always supported creators in simplifying workflow and making delivering content easy, underscored by its 'born by listening to creators' mantra. The 2021 Song of Us Campaign was equally leveraged in JOBY's newest Wavo mic line-up, enabling JOBY to further connect with its global community.
The Wavo PRO was released in January 2022 as the flagship product and is the ultimate professional on-camera microphone for creators and filmmakers. The new audio range provides creators like Casey Neistat with crisper and clearer sound for pro-level content.
The Wavo PRO is packed with features like Active Noise Reduction for clearer sound, built-in LEDs that monitor batter and audio levels in real-time, a second built-in mi input and more. The Wavo PRO is designed to equip creators like Neistat with top-notch quality gear for amazing content.
JOBY aims to reach a wider audience, helping to uplift their content creator potential.
To ENTER and learn more about the competition, check out the live campaign.