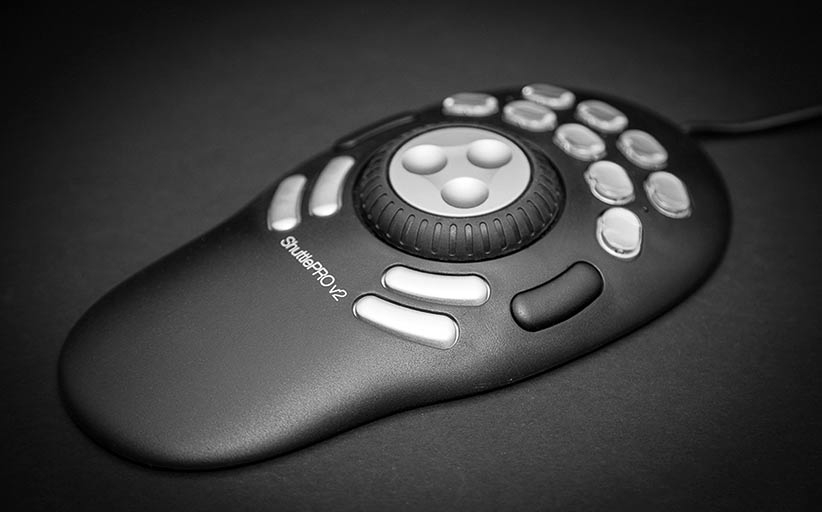 Contour Design ShuttlePro v2
Sponsored promotion: Contour Design's ShuttlePro v2 can help you to work faster and smarter thanks to its ingenious time-saving features. Cameraman and editor Graham Bernard is so impressed he considers it an extension of his hand.
The ShuttlePro v2 is an innovative device that pairs up with your mouse to take over many of the tasks you'd normally perform with your keyboard. At roughly the size of your hand, the ShuttlePro v2 is designed to improve productivity when using video, audio and photo editing software. The jewel in the crown of the Shuttle is the jog shuttle wheel, and then there are 15 buttons that can be fully customised allowing you to access shortcuts, or even perform entire processes, at the touch of a button.
Features
Cameraman and editor Graham Bernard has tried various track ball systems over the years, and always found them to be unreliable. Shuttles that were part of keyboard were also far from ideal, but then he discovered the Shuttle Pro. "The ShuttlePro is perfect; I can position it anywhere on the desktop and the low profile design is fantastic. But it's the slick responsive shuttle movement on my editing timeline that really sold it to me."
It's the shuttle capability that stands out to most editors – the ability to scroll through footage with precision, at the speed that works for you, using the innovative spring-loaded jog shuttle wheel. This is the feature Graham just couldn't live without. "It's fast and slick, and the level of precision it offers is incredible – I can listen to the sound when shuttling to find the perfect position for markers and cuts."
Works for you
The ShuttlePro is an intelligent device that can detect when you switch from one software program to another, and will automatically activate the preset controls or your customised shortcuts. This allows Graham to seamlessly switch from Vegas Pro to iZotopeRx and back without interruption. The presets and customisation are handled by free, regularly upated software so the ShuttlePro can keep up with the times.
Another way the ShuttlePro works for you is with the customisable buttons. These are set to factory defaults, but there's a lot you can do with them. "I've used the Shuttle to create macros for L and J cuts. For video editors this would be recognised as the removal of a significant chunk of work, and illustrates just how customisable the ShuttlePro can be. At a much simpler level, most keyboard shortcuts can be assigned to one of the 15 programmable buttons."
Improved workflow
Finding the right tools for the job can take time, but when you do your editing workflow can be completely revolutionised. Saving just a few seconds here and there can make a huge difference, especially if you're performing the same tasks repeatedly.
Efficiency is key, and can be an important catalyst for the creative process itself, which is where the ShuttlePro comes into play.
"When I have an idea I want to be able to act on it immediately, so anything that removes a physical block to my creativity is a positive outcome, and that's exactly what the ShuttlePro does for me," says Graham. "With my left hand hovering over the ShuttlePro I can keep my eyes on the client's reactions as they look at my edit screen, without the need to be tapping away at my keyboard."
In fact, Graham rarely uses his keyboard for anything other than entering text. The ShuttlePro V2 does almost everything else he needs – it's almost like an extension of his hand, and indeed his creativity.
More information