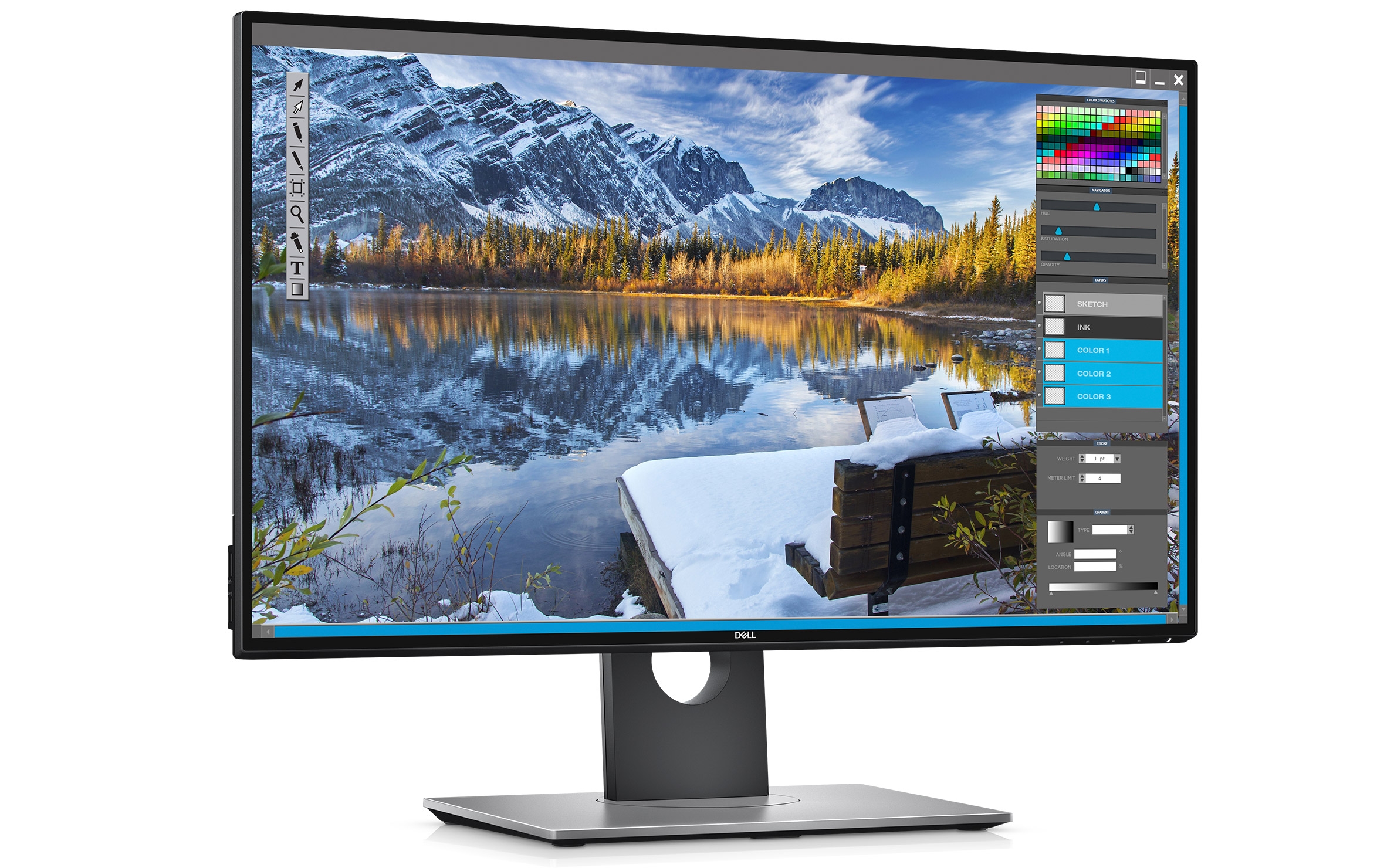 Dell's 27-inch HDR monitor
Dell has unveiled its first HDR monitor, a 27-inch UltraSharp monitor with Ultra HD 4K resolution aimed at video editors. There's a peak brightness of 1,000 nits and the REC2020 colour space is designed for HDR. It also has 100% Adobe RGB and sRGB coverage, 100% REC 709, 97.7% DCI-P3 and 76.9% REC2020.
Every monitor is calibrated individually by Dell and users can store their own calibration setting into an internal Look-Up Table. It will go on sale next month at $2000 in the USA. No UK price or availability has been announced. The official info, plus news about other Dell monitors, says:
 Dell announces new solutions to improve its powerful ecosystem for media and entertainment professionals. The company proudly unveils the latest additions to its innovative, industry-leading monitor portfolio, including the company's first HDR monitor that meets HDR10 standard and two new premium UltraSharp monitors with InfinityEdge displays. Joining these new monitors will be the new Dell Precision all-in-one workstation, virtual reality (VR) creation powerhouse towers and notebooks, and the innovative Dell Canvas smart workspace. The new monitors and workstation PCs are among the broad lineup of solutions designed for creative professionals in visual effects and filmmaking, post-production, broadcast and photography.
The Dell UltraSharp 27 4K HDR Monitor (UP2718Q), the company's first HDR10 display with UHD Alliance Premium Certification, boasts an Ultra HD 4K display, with four times more detail than full HD and the depth of 1.07 billion colors. This monitor allows creative professionals to view and edit HDR10 content to create incredibly realistic images. With a peak brightness of 1,000 nits, the UP2718Q produces the deepest blacks and brightest whites and the REC2020 color coverage makes it an ideal choice for video editors working on color-critical post production. The UP2718Q also offers a broad, brilliant color spectrum with Dell PremierColor – 100 percent Adobe RGB, 100 percent sRGB, 100 percent REC 709, 97.7 percent DCI-P3 and 76.9 percent REC2020. For exceptional color reproduction, each monitor is individually factory-calibrated and users can customize the color parameters using the custom color mode, or make adjustments by storing the preferred color parameters onto the internal Look-Up Table using Dell UltraSharp Calibration software with an optional colorimeter.
"As the No. 1 monitor brand¹ in the world, we deliver the latest, most innovative display technology to our customers to meet and exceed their expectations, whether that's at work or at home," said Bert Park, senior vice president and general manager, Dell Software & Peripherals. "At NAB 2017, we're proud to continue Dell's tradition of world-class innovation – our first HDR monitor that meets HDR10 standard – by providing creators with the most strikingly accurate images and lifelike, unparalleled color performance."
To provide a full spectrum of displays to meet the needs of customers in media and entertainment, finance, and oil and gas, Dell also is excited to announce the Dell UltraSharp 27 4K Monitor (U2718Q) and Dell UltraSharp 25 Monitor (U2518D), two new monitors from its premium UltraSharp line that feature Dell's innovative InfinityEdge display. With Dell HDR², visuals are true-to-life with stunning color, terrific contrast and great detail. Both monitors allow industry professionals to push the limits of productivity with an edge-to-edge viewing experience and optimized eye comfort with a flicker-free screen featuring ComfortView. Announced to much acclaim earlier this year, the Dell UltraSharp 32 8K Monitor is now available, raising the visual bar even higher for creative professionals.
At NAB, Dell is celebrating the recent availability of the Dell Precision 5720 All-in-One workstation for digital content creators, like video editors, animators, designers and sound engineers. The 5720 features Dell's innovative InfinityEdge display around a beautiful 27-inch 4K 100 percent Adobe color screen. The addition of Jack Joseph Puig Signature Series Audio powered by Waves MaxxAudio® Pro delivers studio-quality production, editing, and play back in one sleek and powerful workstation device. This sets an all new standard of built-in audio visual quality unlike any other all-in-one workstation in the market today.
The Precision 5720 delivers ISV certifications to optimize the hardware for major creative applications and the latest gen, responsive AMD Radeon™ Pro graphics allow it to keep pace with even the most demanding rendering and graphics-intensive tasks. The Xeon® or 7th Gen Intel® Core™ processors, Thunderbolt™ 3 technology and the exclusive Dell Precision Optimizer automatically tunes the workstation to run specific programs at the fastest speeds possible. The Precision 5720 All-in-One joins the Dell's leading lineup of VR-ready solutions and is the first all-in-one workstation to boast VR performance.
Dell will be also be showcasing the Dell Canvas, an all-new smart workspace with touch, totem and pen capabilities that expands creative productivity for content developers and designers. Since its introduction earlier this year, leading partners and customers have been testing and delivering new application support for Canvas. Most recently, Adobe has developed totem functionality for intuitive timeline scrubbing in Premiere Pro for a Canvas environment. Dell is now expanding this early evaluation program to work with more partners and customers in preparation for global availability this summer.
"With the emergence of industry-shifting technology, we're at an inflection point for building innovative products that empower creators to do what they do best – create!," said Rahul Tikoo, vice president and general manager, Dell Precision. "At Dell, we're working hard with our partners to provide the right solutions that will help revolutionize industries and we're committed to delivering innovative solutions that will allow creators to do their best work yet."
Pricing and Availability
Dell UltraSharp 32 8K Monitor (UP3218K) is available on Dell.com in the U.S. for $4,999.99.
Dell UltraSharp 27 4K HDR Monitor (UP2718Q) will be available May 23 on Dell.com in the U.S. for $1,999.99.
Dell UltraSharp 27 4K Monitor (U2718Q) will be available mid-July on Dell.com in the U.S. for $699.99.
Dell UltraSharp 25 Monitor (U2518D) will be available mid-July on Dell.com in the U.S. for $499.99.
Dell Precision 5720 All-in-One is available on Dell.com starting at $1699.
Dell Canvas will be available in early July on Dell.com in the U.S. for $1799.