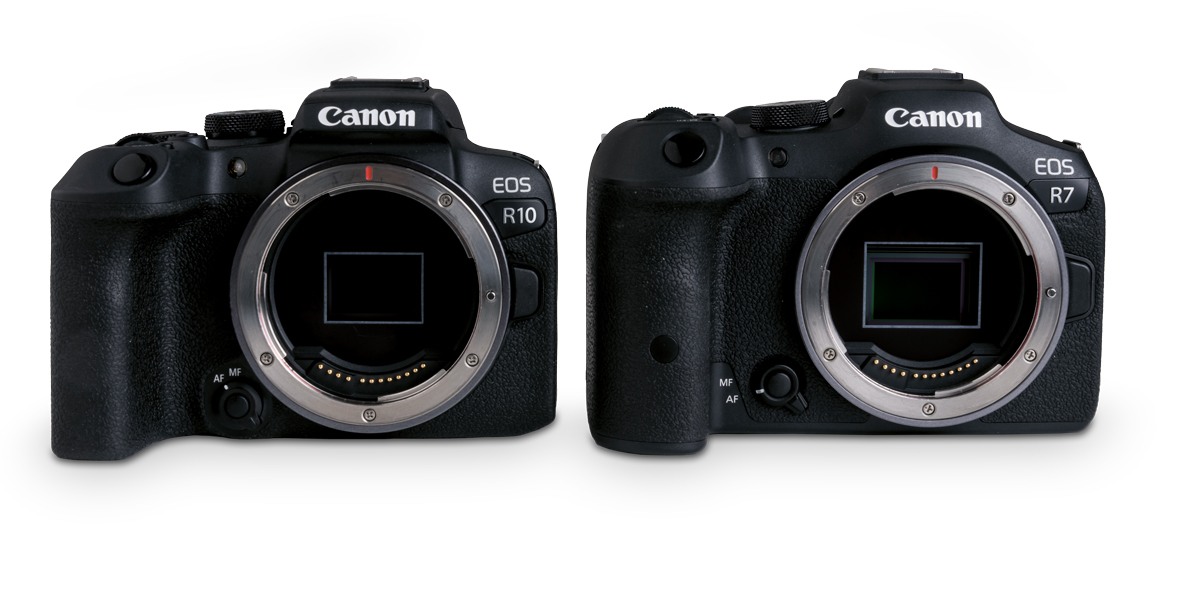 EOS R7/R10: Canon's Budget Duo
Posted on Feb 25, 2023 by Samara Husbands
Smaller APS-C sensors mean the latest EOS R7 & R10 mirrorless cameras are more compact – and affordable
Words and photos Adam Duckworth
Canon chose to debut its first cropped-sensor mirrorless cameras on the same day, to sizeable fanfare about high specs and low prices for its first compact cameras utilising the latest RF mount. The pro-level EOS R7 and prosumer EOS R10 definitely undercut the flagship full-frame range, costing £1349/$1499 and £900/$979 respectively.
The 32.5-megapixel EOS R7 was trumpeted as suiting wildlife and sports shooters who need the added reach of a cropped sensor, as well as high-speed stills and video with advanced tracking autofocus, while the 24.2-megapixel R10 is a general all-rounder.
Both have impressive spec, as they record video in 4K/60p or 4K/30p which is downsampled from 7K and 6K respectively. This can be output at HDR PQ 4:2:2 10-bit in-camera, or via HDMI from the R10. The EOS R7 includes an additional 4K/60p crop mode, to extend the reach even further. 
Neither camera is hindered by the 30-minute clip limit of some of the older EOS R models, and can shoot 4K/60p for up to an hour with no overheating. The R7 also offers Canon Log 3 and Cinema Gamut for increased flexibility in grading. So far, so good; enough to make cost-conscious filmmakers reach for the credit card, perhaps.
While all this spec promises a lot, on further investigation it's what Canon didn't include that's more of an issue for video shooters. Because at such a low price point, something has to give.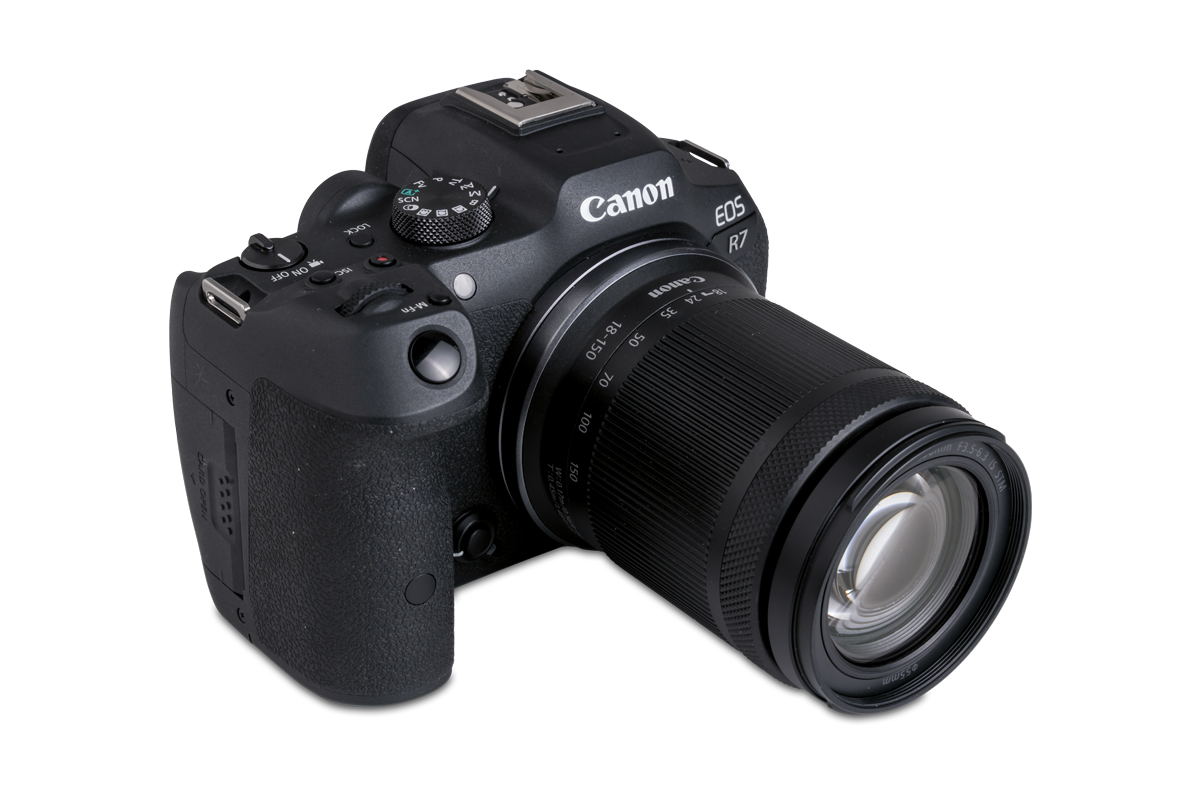 EOS R7: The pro choice?
For a camera aimed at professionals, the R7 does deliver a lot – especially for shooters who want to use it for stills as well as video. For photos, it blasts through frames at 30fps using the electronic shutter or 15fps with the mechanical version. The EOS R7 offers a maximum of 1/8000sec mechanical shutter speed and 1/16,000sec for electronic. It records in JPEG, HEIF, Raw or the new CRAW – a smaller file size that still offers many of the advantages of Raw capture such as no baked-in white-balance.
For video use, the ultimate quality comes when turning to the 4K Fine setting, which takes the 7K signal from the sensor and oversamples it down to 4K – but only up to 30fps. Quality is excellent, with perfectly detailed footage in colours that are of the typically fantastic Canon style.
Maximise dynamic range with C-Log3 gamma. If that sounds perfect for your use, you'll love it. You only need V60-spec SD cards in the dual cards slots, too, saving cash over faster V90 versions.
Now the less good news. The camera offers 10-bit 4:2:2 in H.265 and 8-bit 4:2:0 in H.264, so there's plenty of information when grading. But there are no all-Intra codecs at all, just two levels of Long GOP-style IPB options.
If you want to shoot any 4K frame rates faster than 30p, the footage doesn't make use of the high-quality oversampling mode, but starts throwing away info from the sensor – reducing quality. So 4K/60p isn't as good as 4K/30p, and if you want the 4K crop mode which gives 60p, there's an additional 1.8x crop of the sensor. This is already a 1.6x crop sensor anyway, so the 1.8x goes on top of that.
If you want to go faster – and remember, this is a camera aimed at sports and wildlife shooters – then you have to go to HD and engage high frame rate options. Once selected, it doesn't record audio, compressing the shot into a slow-motion file in-camera. That makes it awkward for speed ramping in post as you have no audio.
Results from these settings are decent enough, but they do feel a bit old-school now compared to cameras offering much more in terms of codecs and frame rate options. No video Raw, no All-I, no oversampled 4K at anything besides 30p and no audio in the HD-only fast frame rates means the camera is limited. But it's relatively inexpensive and the 4K/30p oversampled is very good.
One advantage of a smaller sensor is in image stabilisation, and the R7 combines IBIS with Optical and Movie Digital IS to keep the footage stable. It works decently, although it isn't quite on par with the Micro Four Thirds cameras from Panasonic or OM System.
But then again, nothing is.
Both of the cameras use deep learning and Dual Pixel CMOS AF II, with subjects including vehicles, animals and people, plus head, face and eye detection. Touch and Drag AF features in both, too.
While lots has been said about the Canon AF system and its excellence, the R7 and R10 didn't feel quite as snappy or clever as some of the more expensive cameras in the range. But the focus guide system is there, which is a great feature for video shooters in manual focus. It exploits the AF system to show which way the focus ring needs to be turned to attain sharpness. For manual focusing, the R7 has peaking which is very useful.
The viewfinder and screen aren't as high-resolution as the full-frame cameras in the range, as you might expect. The cameras are definitely built to a lower price point.
The R7 body feels robust enough and is the first EOS R camera to have a combined AF multi-controller and control wheel on the rear panel. This takes getting used to and is a different experience to the classic Canon set-up. If you're used to shooting Canons, you'll probably miss the usual triple-dial adjuster and control wheel around the menu set button.
The menus are typical of the latest Canon cameras, so are easy to navigate. And both cameras have Wi-Fi, Bluetooth and a clean HDMI output for streaming.
Surprisingly, both the EOS R7 and EOS R10 are also fitted with the new multi-function accessory shoe that works perfectly with added extras like wireless mics. If you want to use an XLR mic, then simply bosh the Canon-approved Tascam XLR adapter onto the hotshoe and you don't need any wires at all. Once you've done this, there's simply no going back.
One of the biggest benefits of the camera is its compact size and weight. When mirrorless cameras first hit the market, this lack of bulk was a major selling point, but many have become more cumbersome over the years.
The EOS R7 is a refreshing return to a smaller, lighter body that can take Canon's new range of petite APS-C mirrorless lenses. The vari-angle LCD screen is ideal for video and there's a headphone jack, too. As an affordable, compact camera that can put out high-quality 4K, it's a good buy.
EOS R10: The svelte option
For a camera that costs a mere £900/$979 and has plenty of spec to match its pricier brother, the EOS R10 seems to have an awful lot going for it. Despite fewer pixels from its APS-C sensor, it offers the same headline video spec. But once again, you have to interrogate the features to see what's going on: the devil's in the details.
Like the R7, the 4K Fine video mode offers 30p recording that's oversampled from the full sensor – in this case 6K. The footage is very good, although not quite as amazing as the R7. That's because the EOS R10 is limited to 4:2:0 8-bit, apart from in HDR PQ mode where that goes up to 4:2:2 10-bit. And the chances of people using an R10 for recording HDR PQ right now is pretty slim as it's fairly niche.
In 4K/60p mode, it's not oversampled and there is a 1.6x crop – on top of the 1.6x APS-C crop compared to full-frame. There is a definite drop in quality.
The sensor is not the best at controlling noise, but it's easily cleaned up in post; this is true for both stills and video. There's no Log gamma either.
There isn't any in-body image stabilisation from the sensor, so to keep things steady, the R10 uses data from lenses featuring Optical IS to pair with its Movie Digital IS. For the first time in EOS cameras, the IS system is used to balance the horizon when the Auto Level feature is enabled, and also compensates for vertical shake when shooting in the new panoramic or panning modes. It works pretty well, too.
The EOS R10 does a decent job at being a small, carry-around camera that isn't built for professional filmmaking – but it doesn't really pretend to be.
There is no headphone jack, for example, so it's not good for monitoring audio. But it does have the latest multi-function accessory shoe, so you can use the Tascam XLR adapter which does have a headphone jack. But it's unlikely that the purchaser of a camera like this will splurge £515/$499 on such a pro bit of kit.
The EOS R10 also fits far smaller batteries than the LP-E6-style cells of the R7, meaning it runs out of juice relatively quickly. That's the price you pay for a camera so small and light.
For the money, it's a decent performer – and 4K/30p footage is actually very good. But if you want it for much more than that, it's a little bit lacking.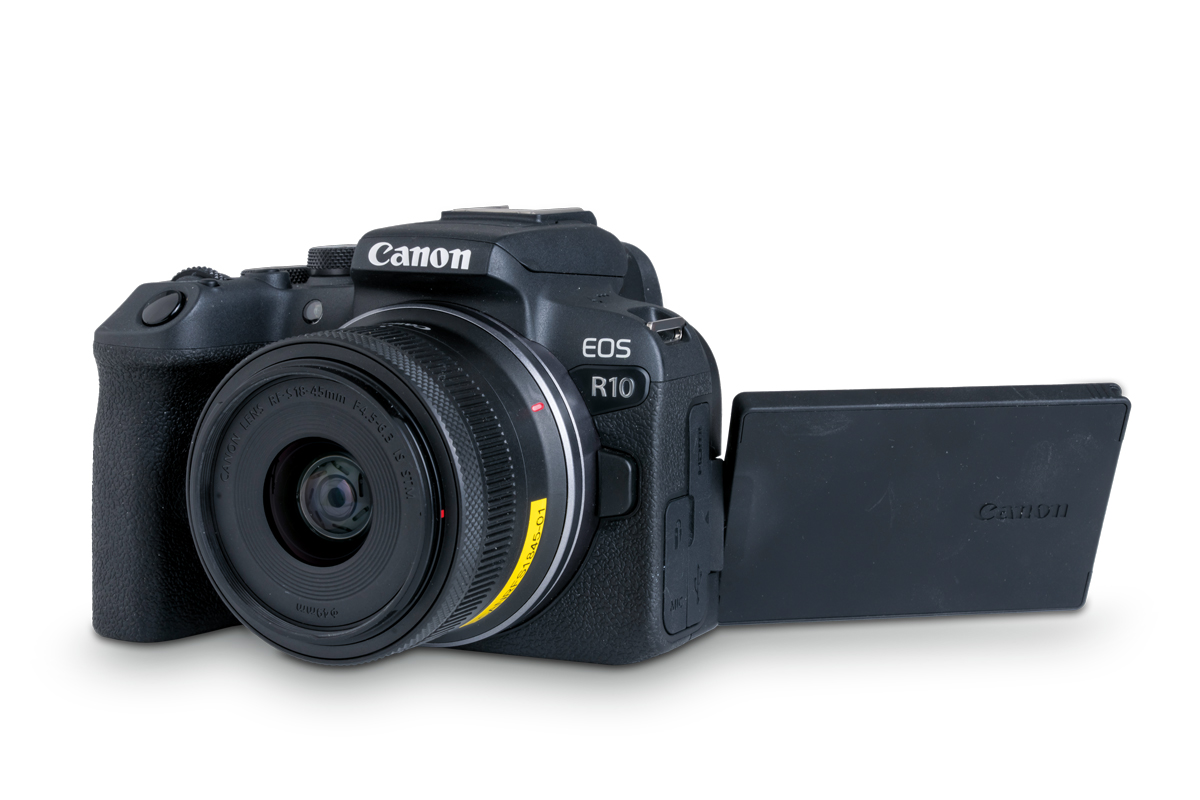 The Verdict
If these cameras were released a few years ago, we'd have been bowled over by the spec and the low, low price. But time marches on and the EOS R7 and R10 just don't set the world alight any more in terms of features. When you get to know what the real specs are, they actually fall behind some of the competition.
However, for committed Canon users they are affordable, light and – if you understand their limitations – can produce excellent footage.
Colours are great, detail is good and rolling shutter isn't too bad. There's decent IS in the R7, too. 
The R7 is the star of the duo and a solid performer – especially if you don't want slow motion. 
OVERALL RATING: 8/10
In-depth verdict in the Jan/Feb issue of Pro Moviemaker.
More information at canon.co.uk