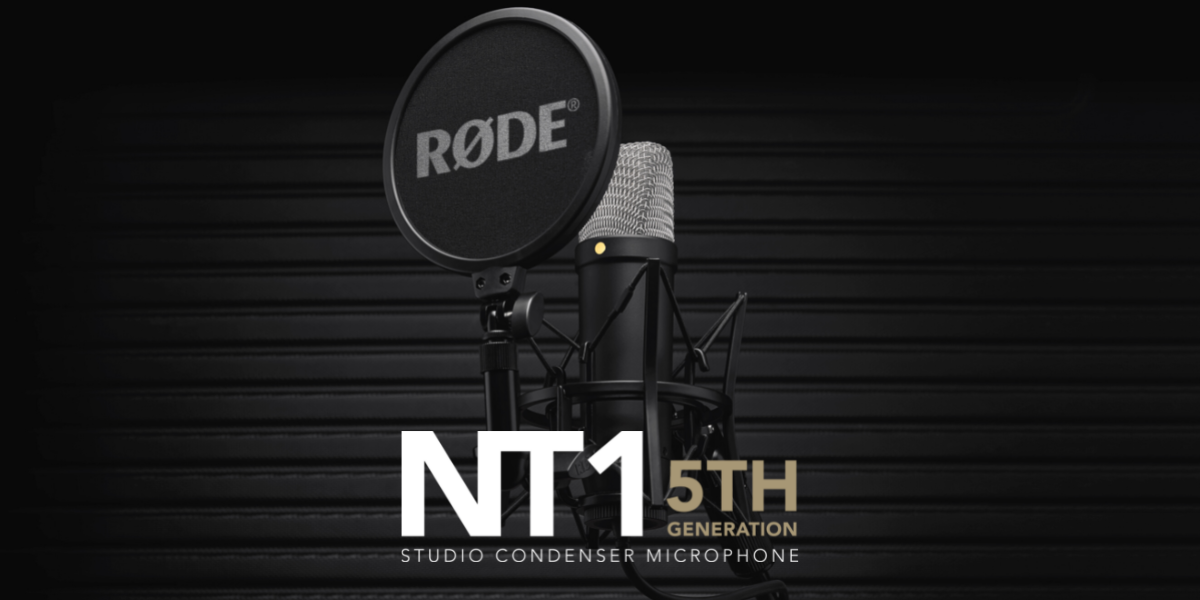 The ultimate studio microphone: Rode's NT1 5th Generation
Posted on Feb 22, 2023 by Samara Husbands
Rode infuses tradition with innovation in latest NT1 5th generation condenser microphone for iconic sound for any studio recording
Spanning every discipline from 1991, Rode's microphones have shaped the way creators capture audio. In the nineties, the first microphone became an overnight success, giving a voice to DIY musicians and studio-professionals alike. Over the past three decades, it has become a household name for audio and earning the title of 'world's best-selling studio condenser'. The warm, classic sound has become a signature sound for many.
This year, the world's most popular studio microphone is getting a makeover. The revolutionary NT1 5thgeneration studio condenser microphone blends classic sound with cutting-edge technology. The 5thiteration harnesses the iconic sound quality and world-class performance of old with Rode's ground-breaking, patent-pending Dual Connect output.
The NT1 5th gen is a large-diaphragm condenser microphone that delivers exceptional performance. Featuring Rode's own HF6 capsule, it produces sparkling top end, detailed midrange and rich bass that makes every sound source shine. A tight cardioid polar pattern coupled with smooth frequency response and high sensitivity means it can handle anything from vocals and speech to acoustic and electric guitar, drums and percussion, piano and more. Expect astoundingly low 4dBA of self-noise from enhanced circuitry, making it the world's quietest studio condenser microphone. It also boasts high SPL handling capabilities for maximum flexibility in the studio. But this is only half the story.
Remaining largely unaltered for years, the XLR connector is finally getting an update. The NT1 5thgeneration integrates Rode's patent-pending Dual Connect output, which offers XLR and USB connectivity in the same housing. This means you can connect to a user interface, mixer, console of other audio equipment via XLR for traditional analogue workflow or plug directly into a computer via USB for plug-and-play. Don't worry, both offer the same sonic characteristics with a pro-grade audio interface built into the microphone. Audio capture is easier than ever.
Ultimate sonic purity comes from Rode's ultra-low-noise, high-gain Revolution Preamp™ and ultra-high-resolution analogue-to-digital conversion. With on-board DSP, you can apply advanced APHEX® audio processing, including a compressor, noise gate, two-step high-pass filter, and legendary Aural Exciter™ and Big Bottom™ effects.
Two processing modes ­– VoxLab™ editor controls depth, sparkle and punch, and an advanced editor that offers granular control over every parameter for fine-tuned processing – are accessible via Rode's free companion apps, Rode Central and Rode Connect.
A studio-grade shock mount and pop filter ensure ease of set up, while the HF6 capsule is precision manufactured to sub-micron tolerances for consistency in tonality and frequency response.
The NT1 5th Generation is available to pre-order now for £205 (US$249) and will be available in March 2023. To find out more, head to rode.com.