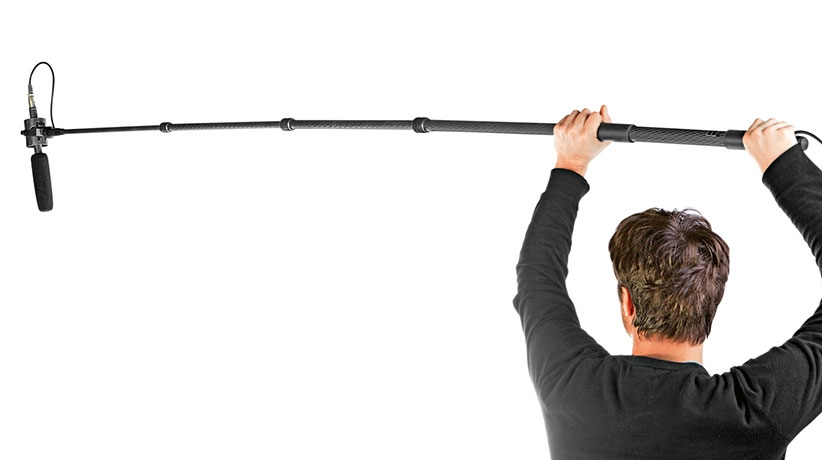 Gitzo's superlight boom poles
Tripod giant Gitzo has launched a new range of super light boom poles for microphones, using the same carbon fibre as in their Systematic tripods. There are a variety of different sizes, with the larger ones being able to take a full-size XLR cable internally to made it as neat as possible. We ran world first photos of the poles from last week's BVE Show in London, and now the official information has been released which says:
Gitzo, pioneers in developing some of the most advanced and revolutionary technologies for professional camera equipment, proudly introduce the launch of the Microphone Boom poles. The Gitzo Booms are built for expert and professional audio technicians and sound operators who are looking for reliable and easy-to-use tools to comfortably manage microphones.
 Smart cable handling
The new Gitzo Booms enable effortless internal cabling. The audio cable can be easily inserted thanks to smart, removable top and bottom attachments, and exits naturally from the side. This allows boom operators to hold the boom vertically on the floor without pinching the cable. 
Stiffer and Lighter
The tubing has been upgraded to Gitzo's latest-generation Carbon eXact carbon fibre, making these models stiffer than any of their predecessors yet just as lightweight. The new mic booms end with larger tube sections than the previous range, reducing unwanted flexion and keeping the microphone stably in its desired position.
Comfortable and Ergonomic
G-lock Ultra: the new booms feature G-lock Ultra, Gitzo's latest-generation quick and rigid tripod leg locks.
Front hand rubber grip: an additional rubber grip for the front hand helps users hold the boom stably and comfortably for long periods of time.
Popular Sizes
The new range covers popular lengths (250-350cm) and tube diameters, meeting the needs of most locations and providing an optimal balance between lightness and stiffness. The new range also introduces a 7-section XL model that stretches out to an impressive maximum length of 473 cm.
The new Gitzo booms range consists of 4 models:
Series 2 (first section diameter 29.0mm): GB2551, GB2551L
  Series 4 (first section diameter 37.0mm): GB4541, GB4571XL
Pricing for the new Microphone Boom starts at £299.95.
More information from Gitzo
.