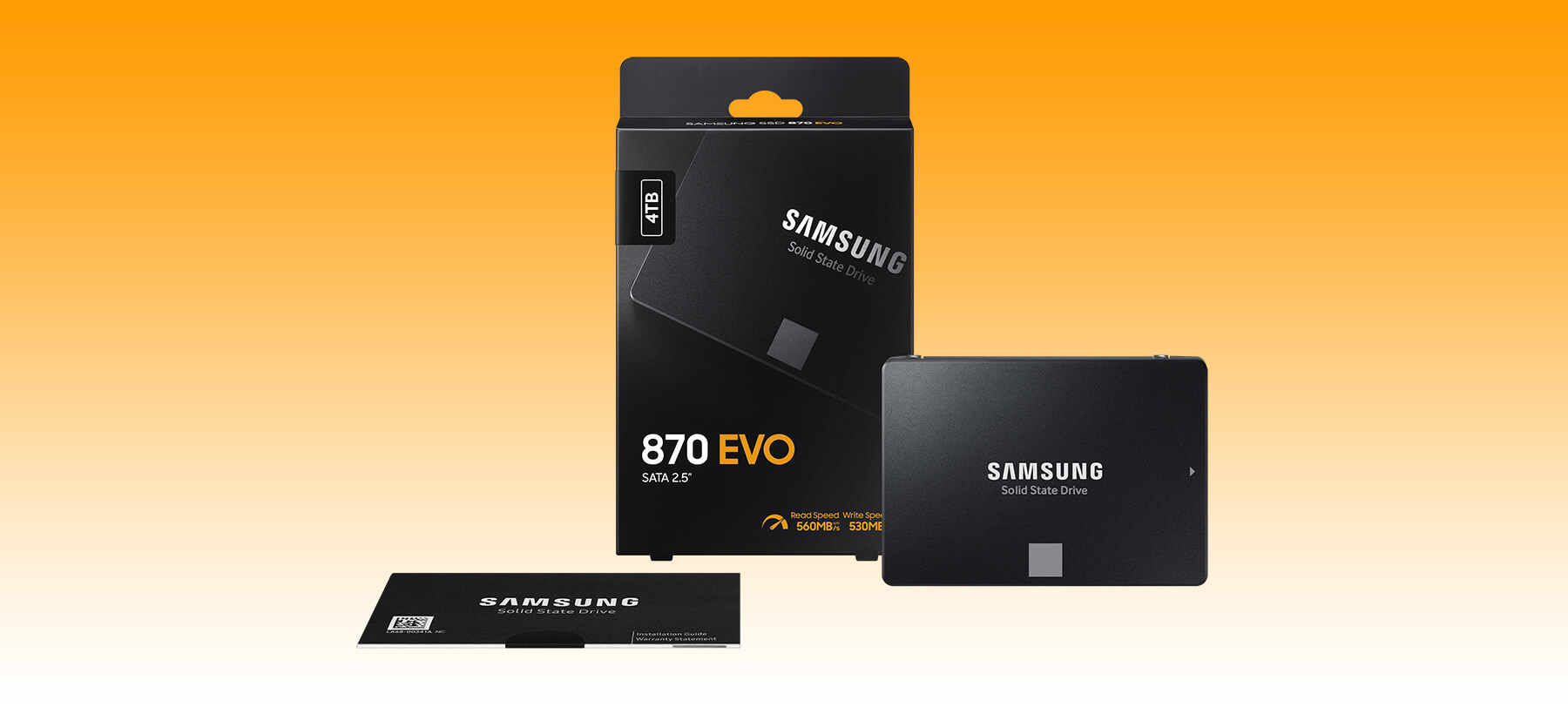 Hands-on with the Samsung 870 EVO SSD
Posted on Jan 19, 2021 by Pro Moviemaker
As the amount of data that cameras produce continues to increase, thanks to both escalating resolution and bit depth as well as large Raw formats, then finding a hard drive that's suitable can be a real issue. What's essential is an SSD for its reliability and fast speeds but getting hold of large-capacity versions has been problematic and they have often been very expensive.
Samsung's new 870 EVO ticks all those boxes as it is fast, robust, comes in large sizes and is very affordable. Think £395.49 for the largest 4TB drive and it means an all-SSD workflow is now within reach of most productions.
SSDs like this are ideal for use in laptops that use the standard 2.5-inch SATA interface connection, meaning they are fast enough to edit high-res files on location. They can be used in NAS drives and desktop PCs, too. But perhaps of most interest to most filmmakers is using an SSD in an external monitor/ recorder. We used a 4TB 870 EVO inside an Atomos caddy, which slots into any of the Aussie brand's monitor/ recorders.
We put it in a Shogun 7 and used it to record Raw files from a Sony FS5, which are then converted to ProResRaw in the monitor. The Shogun 7 is capable of Raw at high frame rates up to 240p in HD, 5.7K ProRes Raw files in SDR or HDR. So it's a real test of whether a drive is fast enough to keep up.
Click the images to see a larger view
The 870 EVO was up to the job with ease. The Atomos immediately recognised the drive, it was formatted with no issues and then worked flawlessly at all settings. No issues with the drive nor being able to keep up. And when the drive was transferring footage to a desktop hard drive for editing, it was fast and there were no glitches.
The 870 EVO features Samsung's latest V-NAND and controller, allowing it to reach the maximum SATA sequential read and write speeds of 560 and 530MB/s respectively. Samsung says the 870 EVO offers nearly 38% improvement in random read speed over the previous 860 model, and around 30% improvement in sustained performance. Random performance really shows up in things like the time it takes to boot up the drive and use applications such as editing programs. It definitely was quick to boot up in our first test, with no waiting. It also has a power-saving sleep mode compatible with devices that support Window's Modern Standby function.
Th drive also supports Samsung Magician and Data Migration software. Magician gives an overview of the drive status and the used volume amount, as well as availability of updates. The Data Migration software is simple to use and gives an easy upgrade experience for Samsung SSD users.
The Samsung 870 EVO starts at £38.79 for the 250GB model and goes up to £395.49 for the largest at 4TB. As Samsung makes every SSD component in-house and therefore has confidence in its gear, there is a limited five-year warranty.
Samsung 870 EVO specs
Interface: SATA 6Gbp
Form factor: 2.5in
Memory: Samsung V-NAND 3-bit MLC
DRAM: LPDDR4
Sequential Read/Write Speed : Up to 560/530 MB/s
Random Read/Write Speed: Random Read 98K, Write 88K IOPS
Management Software: Samsung Magician
Sizes: 250GB, 500GB, 1TV, 3TB. 4TB
For more information, visit the Samsung website.