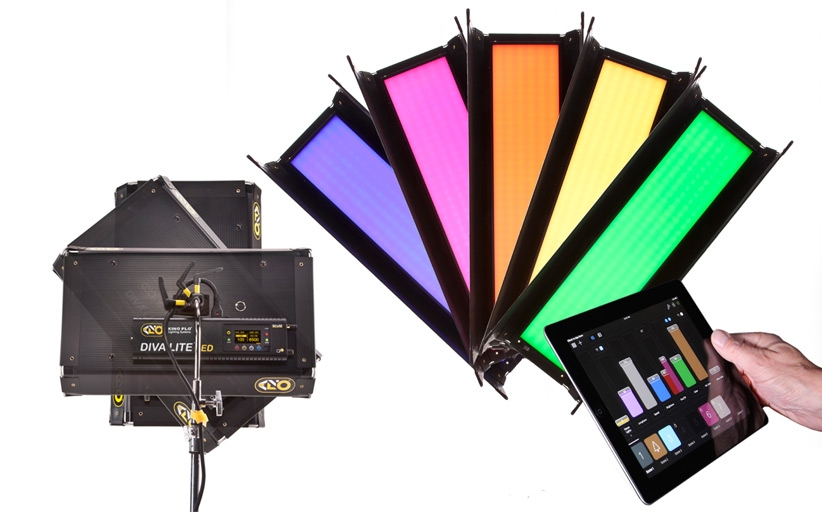 Kino Flo Debuts 360° Color on LED's
Kino Flo has unveiled its new colour swatch offerings for Select and Diva-Lite LED's, alongside a new firmware update enabling users to dial in almost any colour. For more information read the official press release below.  
Kino Flo Lighting Systems has unveiled its new colour swatch offerings for Select and Diva-Lite LED's at Camera Image. A new firmware upgrade adds a vast palette of colours to its LED line of portable soft lights. Kino LED lightweight location systems can reproduce a rich menu of professional cine gel colours, blend with warm white fluorescents, mix to sodium vapor, and balance to any lighting or camera colour sensitivity profile.
The new firmware upgrade enables users to dial in nearly any colour, from deeply saturated violet blue, to a visual effects 560nm supergreen, and upward into the warmer climes of light straw, flame and salmon red with all hue, angle and saturation values of the colour wheel in between.
Using the green/magenta settings, Kino LED's can color balance to any professional or practical light source on the set. Cinematographers are able to map the lights onto the spectral sensitivity curves of all makes and models of digital cameras, and save the profiles as presets.
Two Display Modes                                
The new Colour Mode piles on creative value to Kino Flo's award-winning True Match white light, lauded for its >97 colour rendering and large, soft spread. In the White Light Mode (default mode) the mired shift is 2700K to 6500K; the new Colour Mode includes the seemingly endless colour choices, as well as an expanded Kelvin range from 2500K to 9900K.
Combined with an advanced Smoothing feature and selectable dimming curves, board operators can rely on stable, flicker-free control from high light output, to the lowest light levels. Simply turn off the Smoothing feature to achieve lighting special effects such as a dancing candle flame or the pulsing light of a television screen.
Cutting Loose
Kino Flo has partnered with LumenRadio Wireless DMX for the most stable, reliable wireless control systems in the industry. Full control via on-board manual or DMX cable inputs are still available on every fixture as well. In the DC Mode, the portable Selects and Diva-Lite LED's operate completely free from an AC power cable.
In Rio de Janeiro, the wireless Select LED's became the go-to interview light source during the Olympics. Scores of portable Select 30 systems dominated the television sports news set lighting, on location and in the studio. Making movie magic as glamour lights and stage area lighting, the wireless Select LED's are also continuing Kino Flo's 30-year production soft lighting legacy, from  Hollywood to Beijing, from Toronto to London, Dubai, Sydney and beyond.
Select and Diva-Lite LED Features 
Complete with built-in LumenRadio wireless receivers, 100-0% dimming, soft white diffusion panel, focusing louver, barn doors, 360 degree center mounting.
Wireless DMX, and standard DMX operation
Full white soft light + full gama selection
Variable Green/Magenta to match lighting & camera profiles
Four models: Select 30, Select 20, Diva-Lite 30, Diva-Lite 20
Lightweight fixture designs with passive cooling (no fans)
For more information visit: www.kinoflo.com