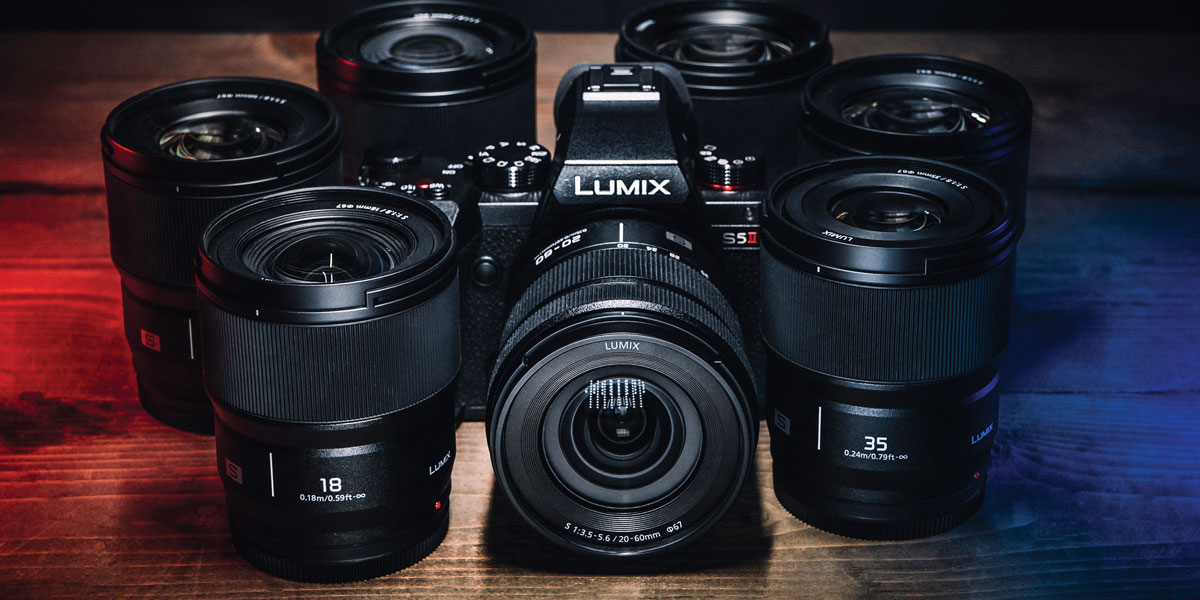 Lumix S5II: for the solo creator
Posted on Oct 15, 2023 by Samara Husbands
The Panasonic Lumix S5II packs an incredible amount of technology inside a light, compact mirrorless body
Advertisement feature
When it comes to modern full-frame mirrorless, the Panasonic Lumix S5II is a market leader. Lightweight, affordable and matching the needs of even the most demanding creatives, this is a hybrid machine for the ages.
Built around a newly developed 24-megapixel 35mm full-frame CMOS sensor and imaging engine, the S5II offers hybrid phase detection autofocus, a first for Lumix cameras. The new sensor and image processor deliver incredible image quality and high-bit-rate video performance on a par with the flagship Lumix S1H. 
To keep everything in sharp focus, the S5II's hybrid autofocus combines phase and contrast detection. Thanks to 779 AF points, this system detects target subjects in tough conditions like low light and backlighting. And once locked on, it will track them even with other moving objects in the frame. This includes face, body and head tracking, human and animal detection, multi-zone AF and adjustable speeds.
Made for movies
Video spec is incredible, offering internal 4:2:0 10-bit 6K (3:2), 5.9K (16:9) at 30fps as well as 4:2:2 C4K and 4K at up to 60fps. You can shoot with the entire sensor in 6K open gate, cropping into multiple aspect ratios but retaining maximum resolution. While its low-profile heat management allows unlimited recording times. For creative shots, the S5II supports high-frame-rate recording at up to 120fps and Slow & Quick capture at up to 180fps.
An optional paid firmware upgrade will unlock Raw video output via HDMI to Atomos or Blackmagic recorders.
Find a range of pro picture profiles, including 14+ stop V-Log/V-Gamut, as well as a new real-time LUT function enabling colour grading LUTs to be uploaded to an SD card and directly applied in-camera rather than in post-production.
Even in standard gamma settings, the footage has an organic appearance. And for a more filmic look, the flatter V-Log setting increases dynamic range and is simple to grade in post. As a mark of a truly professional camera, waveform monitor, vectorscope and zebra pattern have been added, as well as features such as System Frequency (24.00Hz) and Synchro Scan.
A highlight is the new IBIS system that is 200% improved over the previous S5 model. The new Active IS provides super-stable video recording by optimising horizontal, vertical and rotational correction. It aids shake-free handheld shooting when using telephoto lenses or filming while walking. And Boost IS makes video footage so stable, it feels almost like the camera is on a tripod. 
Stills superstar
For stills, an electronic shutter blasts through frames at 30fps, or 9fps using the mechanical version. And a high-resolution mode combines four shots to produce a 96-megapixel still. Like video, stills are excellent-quality with natural colours and loads of detail. Dual Native ISO sensitivity minimises noise and allows a maximum ISO of 51,200 or 204,800 when extended.
With a magnesium alloy front and rear for ruggedness, dust-resistant build and improved Wi-Fi, the S5II is great value and works with the growing range of L-Mount lenses. Thanks to its high-class video and stills performance, there's no wonder it's a smash hit with buyers and is shortlisted for a Gear of the Year award. Try the camera for free for 48 hours and judge for yourself at lumixloan.com. 
Originally published in the September/October 2023 issue of Pro Moviemaker.