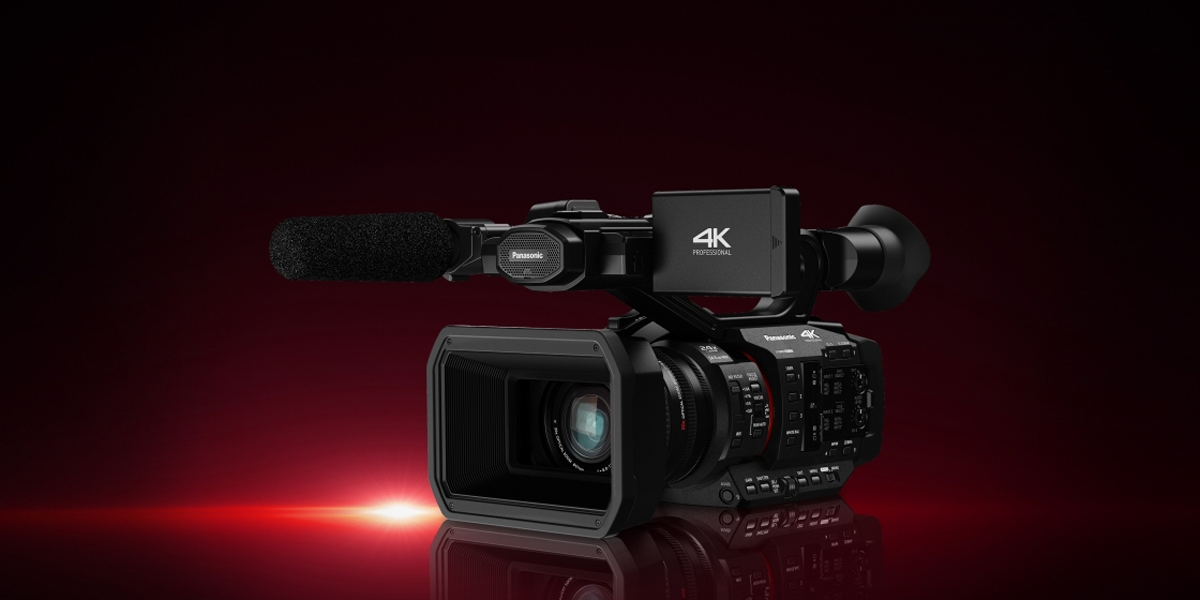 Panasonic HC-X2: Call The A-Stream!
Posted on Jan 8, 2023 by Samara Husbands
Having problems livestreaming? Panasonic is here to help with this great-value, yet capable camcorder, the HC-X2
Words    Adam Duckworth
Header image © panasonic.com
Article images © Adam Duckworth
Splash out around three grand on a Panasonic HC-X2 and you've got the basis of an entire outside-broadcast-ready camera in your hands, which is not only light and portable, but has a massive zoom range and records in 4K/60p. You don't need that sort of codec, but it lets you stream in a low-bandwidth codec while recording 4K footage, often in 10-bit 4:2:2, allowing a high-quality edit after the event. It's the best of both worlds.
Of course, if you're used to a modern mirrorless or cinema camera with a full-frame or Super 35 sensor, then you're not likely to be bowled over by the spec of the X2. The sensor is a one-inch type 15.03-megapixel 4K sensor that tops out in 4K 3840×2160 10-bit 4:2:2 in up to 30p, or 4:2:0 if you want 60p. There's no 6K or 8K here – but that's not what this camera is about. 
There are 13 stops of dynamic range, but this is when using V-Log – which isn't what most livestreamers will do. In standard gammas, dynamic range is good, although the narrow dynamic range of streaming in the commonly used Rec. 709 colour space is the limiting factor. An HLG option does exist for HDR, though.
Its 20x zoom lens is a permanent fixture, so there isn't any way of attaching your T1.3 cinema prime for super-shallow depth-of-field or boshing on an anamorphic. The fixed 8.8-176mm f/2.8-4.5 optic comes with a large lens hood to stop flare. It's the 35mm equivalent of 24.5-490mm, which is the sort of vast range camcorder users want. It's certainly more than enough for the majority of events, giving a wide end that's good for in-your-face close-ups and a long end ideal for sports. If you need more range, a 32x digital zoom lets you crop in tight on distant subjects.
With a decently wide maximum aperture, you can get a semblance of creative shallow depth-of-field if you focus close enough and select focal length wisely. But there's no funky extreme focus pulls with touch-to-focus technology or on-sensor phase detection. Face tracking AF does feature, but only seems to work in full-auto mode.
It works decently, though. 
What's more important is a camera that works for virtually every shot you could possibly need without having to resort to screw-on teleconverters – and one that is always in focus. And the power zoom actually lets you smoothly zoom in and out at a controlled speed. That's the sort of thing the X2 is for – and excels at.
If you want more creativity, you can record 1080p in VFR (variable frame rate) in increments from two to 60fps, as well as recording slow motion at up to 120fps.
All the footage is recorded onto a pair of inexpensive SD cards, with U3-rated or faster cards needed for video bit rates above 100Mbps. You can record to both cards simultaneously, either as a backup or for recording high- and low-quality files at the same time to different cards. Or, simply use it as more space for relay recording.
But the camera's real strength is that it's built for broadcast and streaming. So there's timecode input and output, HDMI and 3G-SDI output, plus built-in Ethernet, USB and Wi-Fi. Those combinations cover just about every single type
of livestreaming.
These connections allow you to stream via the common RTMP/RTSP protocols, both of which are designed for seamless low-latency video streaming, with RTMP more widely used by broadcasters and RTSP mostly for localised video streaming. The X2 uses H.264/MPEG-4 AVC/AAC-LC compression for streaming. It can connect via USB or in wired/wireless LAN tethering mode to a switcher, or directly to a computer for livestreaming to applications such as YouTube or Facebook.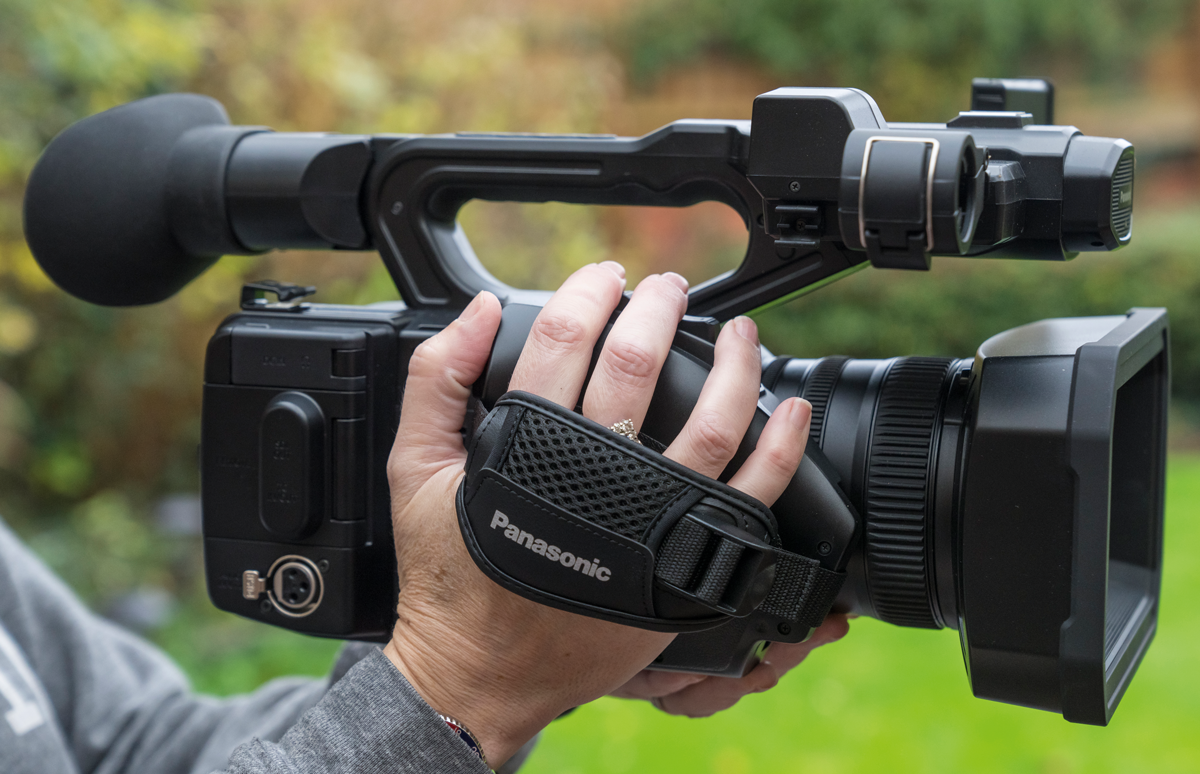 This connectivity means you can also remotely control the camera using a tablet or smartphone with a free Panasonic app, which will control up to eight cameras. The 2.4GHz Wi-Fi is built-in, so there's no need to buy a separate wireless LAN module, and a built-in Ethernet connection for adding the camera to a wired LAN.
Simultaneous SDI and HDMI output is also a feature. The HDMI outputs up to 3840×2160 UHD 4K 4:2:2 10-bit and 3G-SDI outputs 1920×1080 FHD in 4:2:2 10-bit. It's a camera that offers pretty much every streaming option right out of the box, and it's very easy to do.
As the X2 is built for events such as sport, the sensor uses a global shutter, leaving no worries about skewed vertical lines even in the fastest of whip pans.
The whole camera is designed to be fast and ergonomic – either handheld or on a tripod. The body is compact and light, with lots of customisable control buttons for accessing essential functions. If you're used to mirrorless or DSLR cameras, these might take time to become accustomed. But once you're familiar with a camcorder, it makes plenty of sense when applying fast changes to shutter speed, iris, white-balance, built-in ND filters or audio. Push the auto slider and the camera quickly sets everything for you. This is ideal for inexperienced users, or those grab shots that only happen once.
In all auto settings, this Panasonic performed perfectly well, with nothing managing to fool it too easily. The exposure was consistent, with occasional clipping of highlights – and everything was smooth, from focus and zooming to exposure changes.
Of course, most professionals will want to take full control. That is easy, too. Set the main slider to manual, then you can select all the settings you want, or set each one to auto if need be. The lens has three control rings: adjust them in the old-school way by turning the rings, or select the settings and adjust them with a control wheel. Whatever works for you.
Settings are shown on the sharp OLED EVF and the high-bright 3.5in touchscreen that neatly slides into the top handle for easy carrying. The screen can be used for monitoring and menu control, with waveforms and scopes displayed in order to help nail exposure.
The handgrip has a large zoom rocker – as well as an additional Rec button hidden behind a clear cover to prevent it from accidentally being activated. And the 5900mAh battery lasts for ages. It was still going strong after four hours and even larger batteries are available. The X2 also comes with a charger and power supply for fixed-position use near an AC socket.
What's also impressive is the five-axis hybrid image stabilisation, which works in both 4K and HD modes. The lens has optical image stabilisation (OIS), which combines with electronic image stabilisation to detect and correct camera shake. There are three modes that dial in different levels of improvement. It's an impressive system, and much-needed for a camcorder that won't spend its life on a tripod.
Another essential feature is high-resolution audio – the X2 has two XLR inputs with switchable 48v phantom power. Audio can be recorded in 24-bit linear PCM (MOV), 16-bit AAC (MP4) or Dolby Audio (AVCHD).
There are volume dials to enable two-channel control, a level meter and a 3.5mm stereo headphone output. Overall, audio is excellent and easy to set up.
The X2 boasts pro image adjustment functions like 16-axis independent colour correction, similar to full broadcast video cameras, as well as detail, skin detail, chroma level, chroma phase, master pedestal, gamma and knee setting functions. The IR cut filter can be turned off, so IR lights may be used for shooting in darkness.
In terms of actual footage, it's excellent – especially in 10-bit 4:2:2 4K. The colours are natural and the images sharp, with good contrast and just the right amount of saturation. The sensor size means that the X2 will never be the prince of darkness, and noise rears its head at high ISO settings, but that noise isn't too distracting. It's fairly smooth and organic – not too bad at all. As a camera made for so many situations, such as ENG and event livestreaming, it's a winner.
Overall rating 9/10
Article originally published as part of the 'Streaming Special' in the December 2022 issue of Pro Moviemaker. Want the final verdict? You can also view in the online article.