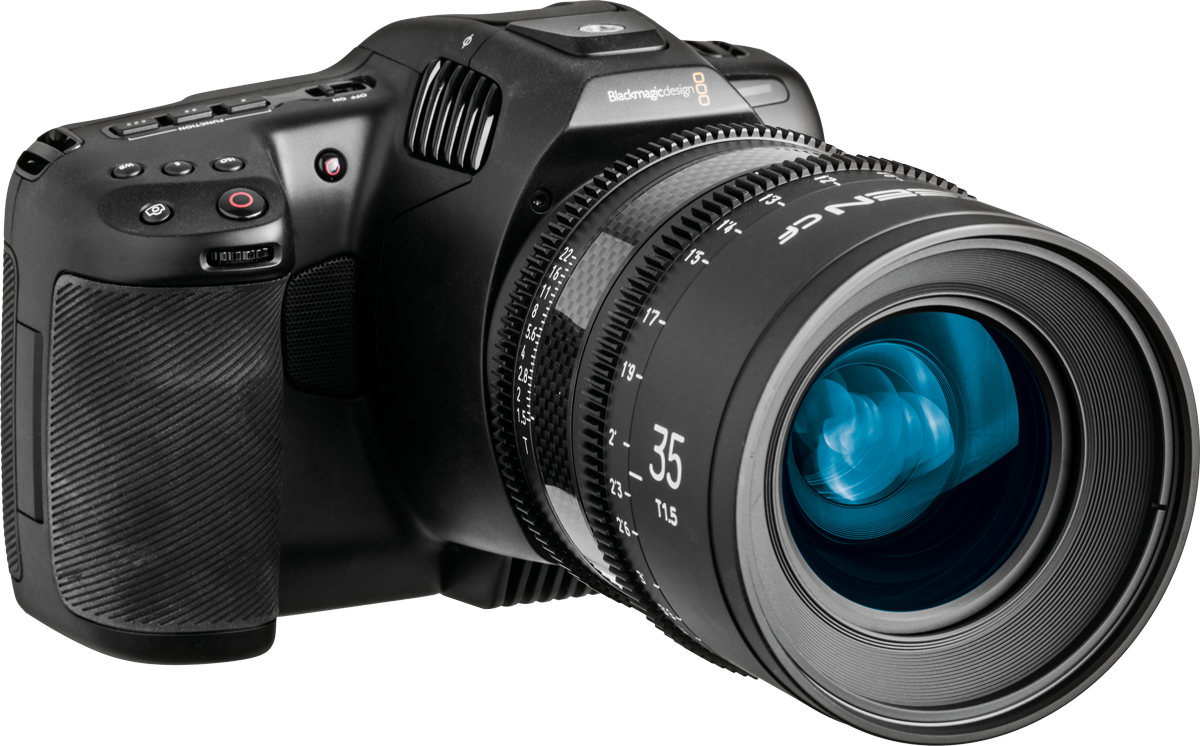 Pocket rocket G2
Posted on Sep 8, 2022 by Samara Husbands
Do we have lift-off for Blackmagic's stripped-back, more accessible version of the Pro model?
Words Adam Duckworth
There are two ways of looking at the new Blackmagic Design Pocket Cinema Camera 6K G2. You could consider it a massive upgrade to the existing 6K 'standard' model. It keeps the same Super 35 sensor, but adds a whole new body, tilting screen, longer battery life, Blackmagic's latest Generation 5 colour science and a port for optional EVF and battery grip. Alternatively, you could consider it simply a cheaper Pocket Cinema Camera 6K Pro, with the built-in ND filters removed and a less bright screen, because that's essentially what it is, apart from a few changes to the menus.
If you fancy a 6K Pro, but don't need the built-in ND filters since you always use your own on the front of the lens, save yourself £491/$500 and buy this model. It's even a tiny bit – and we mean tiny bit – lighter. Roughly the weight of two USB cables. 
The G2 uses all the technology – and even the body – from the Pro model, including its mammoth size, much bigger than any other mirrorless or hybrid camera – even those with full-frame sensors or even bigger. And like the Pro, you can add the optional EVF and battery grip to make it more akin to a stills camera. You would need exceedingly large trousers to consider this a 'Pocket' camera! 
It also doesn't cure any of the issues we had with the Pro and earlier 6K model. AF is old-school contrast detect and laggy, there is no autoexposure or IBIS and a substantial crop in fast frame rates.
But what you are left with is a very attainable and impressive camera that produces stunning images from its 6K Super 35 HDR sensor, and can be adopted for a broad range of applications. 
Blackmagic claims 13 stops of dynamic range and dual native ISO in this model. It records up to 60fps from the full sensor or 120fps windowed, using 10-bit Apple ProRes in all formats up to 4K, or 12-bit Blackmagic Raw in all up to 6K. These are recorded internally to a CFast card, or externally to a USB-C drive. This is becoming a very popular solution for Pocket Cinema Camera users, and many accessory companies now make rigs that let you attach popular SSD drives. However, using the USB-C port to record externally means you can't trickle-charge the battery while shooting. The camera now takes Sony-fit NP-F batteries, which are plentiful and inexpensive – from all sorts of vendors.
The big screen
A new, large touchscreen isn't as bright as the Pro model's, but it's still good enough for most scenarios. The vast majority of video-focused cameras now have fully articulating screens, whereas this only tilts.
The camera is an odd mix of styles, but easy to get to grips with. Controls are clear, with a large Rec button on the top-plate and dial on the front to adjust iris, if you use a lens with auto controls. We tried an AF-style Canon DSLR optic and set of Xeen CF primes. These made far more sense, as it's clearly designed as a cinema-style cam – not a fast-action, run-and-gun machine.
There are buttons for ISO and white-balance, plus three customisable function switches which can be set to toggle features including false colour, display LUT and frame guidelines. 
On the back-plate are instant autoexposure, high frame rate, menu access, playback and AF buttons. The latter uses slow contrast detect AF – this works OK on an AF lens, as long as you understand the unsophisticated nature of one-shot, old-school AF. It's like going back in time, if you are used to modern mirrorless or even cinema cameras. 
AF tracking does not feature at all. To help nail manual focus, the punch-in focus button helps enormously, especially in tandem with the large screen and focus peaking function. 
Navigate to, and change, settings using large, touch-screen menus. These are a joy. And to prove this is a camera for serious filmmakers, you can select shutter speed or angle. Once recording starts, all the main info is around the outside of the screen – or swipe to turn it off for a clear view. However, waveforms aren't present – and only a small RGB histogram. A graphic shows how much space you have left on your CFast card, SD card or external SSD, and there are audio meters – everything you need at a glance. To change most settings, just touch the screen and make adjustments. Or dig into the menus, if you wish.
The CMOS sensor has dual native ISO, with one at a base setting of ISO 400 and the other around 3200 ISO, prioritising low noise.
For the most intensive codecs, you will need a high-capacity CFast card. The camera shoots Blackmagic's own Raw format in 6K open gate and 6K 2.4:1, 5.7K in 17:9, C4K, 4K, 3.7K anamorphic and 2.8K in 17:9. Or you can record 10-bit 4:2:2 in a range of ProRes settings, C4K, 4K or FHD. The fastest frame rate is 60fps, but precise, off-speed frame rates are allowed. 
There's 120fps slow motion in 2.8K 17:9 Raw or HD ProRes scaled from 2.7K. But the crop in 120fps is a huge 3.388x – not especially useful, unless you're shooting wildlife. 
Behind solidly fitting rubber doors on the left-hand side of the camera is a full-size HDMI socket to output clean 10-bit ProRes, mini XLR input with phantom power for professional mics, plus 12v DC input socket, as well as headphone socket and mini XLR jack. The internal mics and preamps are good quality, with on-screen audio monitoring.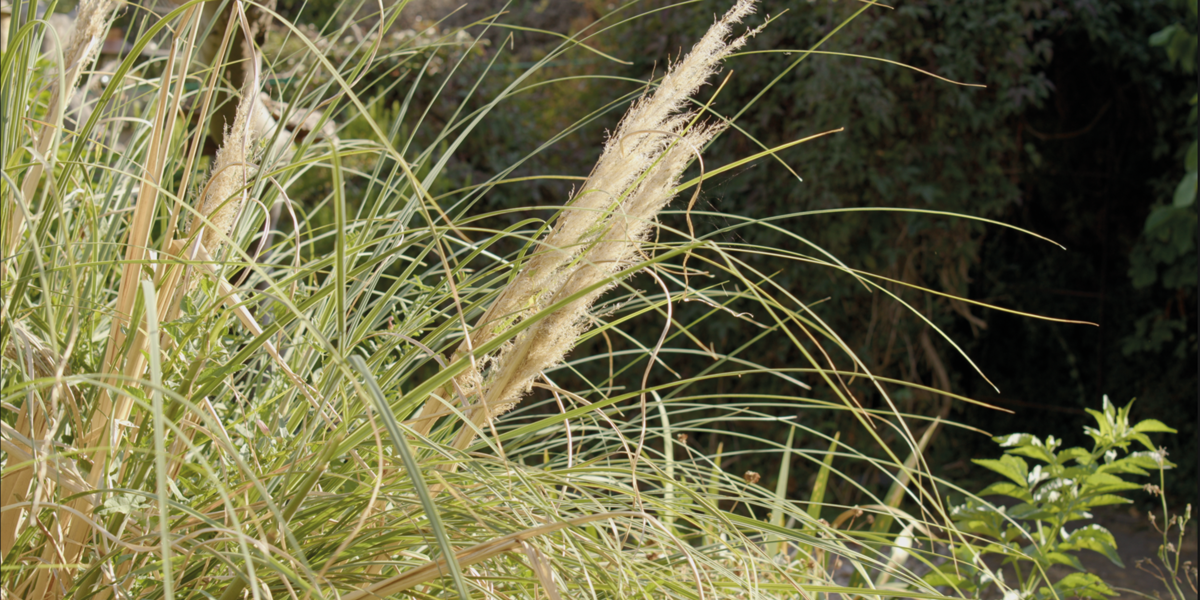 Believe in the science
The real raisons d'être of this new camera are image quality and colour science, which are beautifully filmic. And Raw provides lots of options for post-production, too. BRAWs have to be processed in Blackmagic's DaVinci Resolve, but you get a free, full Studio version with the camera. For cutting in Resolve, it's easy, but if you want to edit in your usual NLE, you have to process it in Resolve and export, adding another stage to the workflow – not to mention creating loads more data.
Data could be an issue, especially if you shoot Raw, which generates very large files. The G2 allows you to select different compression levels for its Raw files – from 3:1 to 12:1 if you keep the bit rate constant, or four quality levels from Q0 to Q4 for a consistent standard. Recording in 6K, even the most compressed files give amazing quality and detail. You can get around an hour of 6K recording on a 256GB card. Recording 4K or lower in ProRes creates edit-ready files that are easier to use, and can save on space compared to Raw. With a choice of compression levels, some of the 10-bit ProRes files are larger than certain 12-bit BRAWs.
For higher resolution than C4K, you have to shoot Raw, but 10-bit ProRes HQ and 422 files are very rich and detailed. Shooting 4K ProRes is much easier to handle in terms of file size and workflow.
Just like the Pro model, the G2 makes the most of fifth-generation colour science taken from high-end Blackmagic cameras, delivering beautifully realistic colours. The camera offers three basic colour settings and you can upload your own LUTs.
Video is the standard high-definition Rec. 709 look that's quite high-contrast, extended video has a wide dynamic range, while film mode produces a more cinematic style. Standard LUTs included changing Gen 5 film to normal video, extended-range video, Rec. 2020 Hybrid Log Gamma and Rec. 2020 PQ Gamma for HDR.
We got the best results from film settings, choosing Gen 5 film and extended video LUT. This gives a subtle, yet cinematic feel and very low noise, even at high ISO. Image quality, highlight roll-off, lack of noise and colour science are all astonishingly good. Shooting in Raw at 6K offers insane amounts of detail, with natural colours, neutral skin tones, no noticeable moiré and very little rolling shutter; noise does appear at ISO 6400.
Record with one LUT, then select a Blackmagic LUT in your NLE – that works pretty well. We shot in ProRes and imported to Final Cut, getting instant results from a standard Blackmagic LUT. But with files of such high quality, it's down to you to dial in the look you really want – especially if you use Raw.
The verdict
The Blackmagic Pocket Cinema Camera 6K Pro is stunning, if you realise it's a mini cinema cam rather than a run-and-gun camcorder, or mirrorless packed with advanced AF tech.
But this 6K G2 is a clone of the Pro, minus the built-in ND filters and super-bright screen, for significantly less money. To some, that's a bargain; but to others, the bright screen and NDs are worth the extra price. You now have a choice, at least.
The G2 has a bigger battery, but still drains quickly – and an EVF is an optional add-on. Autoexposure, continuous AF tracking and in-body image stabilisation are still lacking.
A recent firmware upgrade to the whole Pocket Cinema Camera range has enabled a built-in gyroscope to measure camera movement when shooting. Then, with Resolve, this can remove the shakes to give a stabilising effect better than any NLE's regular steadying software. Sony has a similar system for cameras in its Catalyst Browse software. Again, this adds another level of complexity to the workflow.
But, like the 6K Pro, the 6K G2 is fantastic for considered, slower working when image quality is paramount. Shoot in Raw, then invest time working on the files in DaVinci Resolve, and you'll get stunning results from an affordable machine.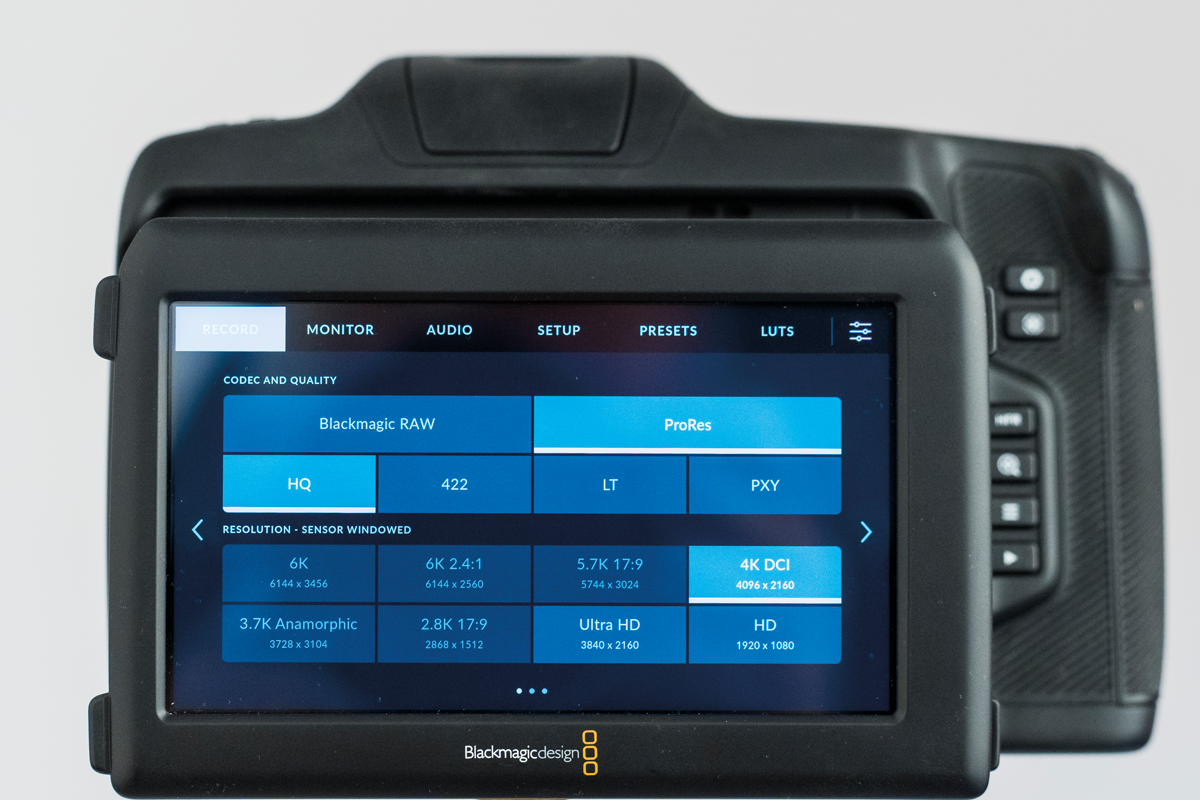 Overall rating: 8/10
Pros: 6K Raw internal, image quality
Cons: Sluggish AF, size
Specifications
Price: £1899/$1995
Sensor: 23.1×12.99mm Super 35
Image stabiliser: None
ISO range: 100-25,600. Dual Native ISO 400 and 3200
Dynamic range: 13 stops
Lens mount: Canon EF
LCD: 127mm/5in LCD touchscreen, 1920×1080
Viewfinder: Optional
Autofocus: Contrast detect
Recording format: Blackmagic Raw 6K 6144×3456 50p/30p/29.97p/25p/ 24p/23.98p 49-483Mbps, 6144×2560, 5744×3024 60p/ 59.94p/50p/30p/29.97p/25p/ 24p/23.98p 37-395Mbps. ProRes 422 HQ, 422, 422 LT, 422 Proxy, DCI 4K 4096×2160, 4K 3840×2160 60p/59.94p/ 50p/30p/29.97p/25p/24p/ 23.98p 22.2-118Mbps. 2.8K  2868×1512, FHD 1920×1080 120p/60p/59.94p/50p/30p/ 29.97p/25p/24p/23.98p 5.6-27.5Mbps. 3.7K 3623×3020 anamorphic 60p 2.4:1.
External recording: FHD 4:2:2 10-bit 60p/59.94p/ 50p/30p/29.97p/25p/24p/ 23.98p via HDMI, Blackmagic Raw via USB-C 6K 6144×3456 50p/30p/29.97p/25p/24p/ 23.98p, 6144×2560, 5744×3024 60p/59.94p/50p/30p/29.97p/ 25p/24p/23.98p
Connectivity: USB-C, HDMI, mini XLR, 3.5mm stereo input for mic and timecode, Bluetooth
Storage: 1x CFast, 1x SDXC UHS-II slot
Battery: Sony NP-F
Dimensions (wxhxd): 180x112x123mm/7.1×4.4×4.8in
Weight: 1200g/2.65lb with battery and card
Originally featured in the September 2022 issue of Pro Moviemaker.