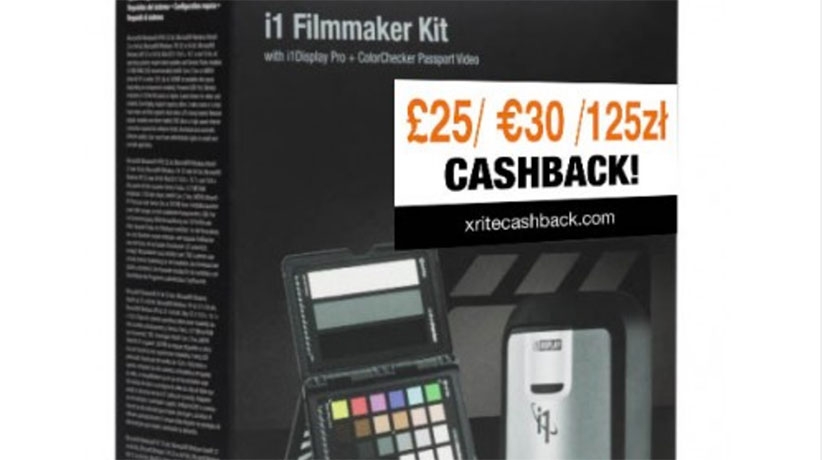 Perfect Colour With X-Rite's New Bundle
Solve the age-of problem of getting the colours in your edit spot on, and save some money, with a new filmmakers kit bundle from colour management specialists X-Rite. The press release says:
Cashback offer of £25/€30 with colour calibration kits for both photographers and filmmakers
XP Distribution, the specialist distributor for X-Rite's range of colour management products aimed at the photographic and video markets, today announced a series of product bundles that enable both photographers and filmmakers to benefit from a colour accurate workflow and make valuable time savings at the editing stage.
Three product bundles – the i1 Photographer Kit, the ColorMunki Photographer Kit and i1 Filmmaker Kit are designed to save the user money against purchasing the products individually, however they now also come with a cashback of £25/€30 for a limited time, to offer even better value.
X-Rite's commitment to quality products and services has ensured that kits are available for both amateur and professionals alike, without compromising on accuracy and quality.
Kit components:
Each kit contains essential colour calibration tools for photographers and filmmakers, designed to save the user both time and money.
The i1 Photographer Kit for professional photographers
i1Display Pro
ColorChecker Passport Photo
The ColorMunki Photographer Kit for photographic hobbyists and enthusiasts
ColorMunki Display
ColorChecker Passport Photo
The i1 Filmmaker Kit for filmmakers/videographers
i1Display Pro
ColorChecker Passport Video
Products Details
i1Display Pro – The X-Rite i1Display Pro is the ultimate choice for filmmakers, who are looking for a high level of on-screen colour accuracy for their displays. There are two user modes (basic and advanced) which provide unrivalled colour precision, speed and controls to fit all workflows.
ColorChecker Passport Photo – ColorChecker Passport Photo is a powerful 'capture to edit' color solution for any photographer looking for more accurate, consistent colour and creative flexibility. Three photographic colour targets combine into one pocket sized protective case that adjusts to any scene. Together with the included camera calibration software, you get the ultimate in functionality, flexibility and portability.
ColorMunki Display – The ColorMunki ​Display offers a colour accurate, consistently calibrated screen or projector that displays the true colour in your images with just a few clicks. The wizard-driven interface and the option of 'Easy' or 'Advanced' modes make it quick and easy to calibrate your display regardless of your abilities.
ColorChecker Passport Video – The X-Rite ColorChecker Passport Video provides colour balance and ideal camera exposure. This essential colour chart will give an accurate colour match between multiple cameras, and the ability to achieve your ideal exposure for mixed lighting shoots.