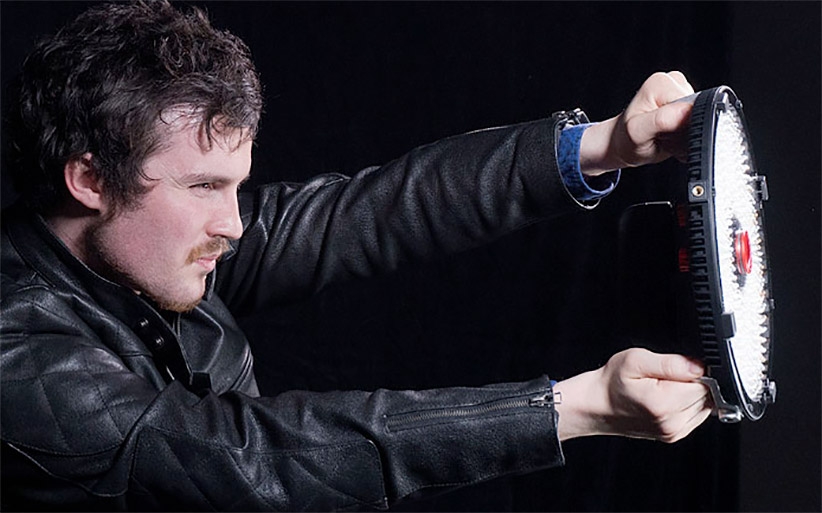 Rotolight's slimline lighting solution
The new Rotolight Aeos is a slimline bi-colour LED fixture aimed at filmmakers and photographers to use on location. It's less than an inch thick, weighs under 1.5kg and will last for three hours on a single battery. It will be available in the next two months at £749 or $999 
The official information says:
Introducing the new Rotolight AEOS — a powerful, ultra-portable, bi-colour LED light that brings tremendous versatility to any shoot. Designed for portrait and location photographers and videographers on the move, AEOS is a bi-colour, location LED light with a unique 'ultra-thin' design concept. Weighing in at under 1.5kg and just 1cm(<1") thick, AEOS is one of the most portable lights on the market.
Featuring a powerful light output (5750 lux @ 3ft), industry leading colour accuracy (CRI:96+) for perfect skin tones, and unrivalled battery performance (3 hours on a single 95 w/h battery), AEOS is the ultimate light for any location shoot.
Uniquely, AEOS includes integrated aluminium handles, giving you the freedom to 'work the light' to achieved your desired lighting setup.  A high quality professional ball head is also included as standard, providing full 360° rotation and 200° of tilt when mounted on a light stand.
AEOS simply eliminates the need for time consuming lighting setups, providing you more time to unleash your creativity, and to compose the perfect shot.
High Speed Sync Flash(HSS) provides a powerful HSS flash mode with zero recycle time at 200% of the maximum continuous light output for traditional photographic workflows, enabling you to 'freeze action'. This feature eliminates the need for users shooting both stills and video to buy a strobe, as it provides an all-in-one solution.
CineSFX™ provides a suite of customizable cinematic lighting effects, such as lightning, fire and TV flicker to enhance your video production.
True Aperture Dimming™ calculates and displays F-stop for a subject at a given distance, eliminating the need for trial and error shooting, or a light meter.
Designer Fade™ provides custom fade up/down production effects for interviews.
AccuColour™ LED phosphor technology ensures the AEOS delivers exceptional colour rendering (CRI:96+, TLCI 91)eliminating the need to spend time and money correcting colour and skin tones in post production.
FEATURES
Designed For Portrait / Location Photo & Video
Bi-Colour (6300-3150k) with Accurat Kelvin Display High Speed Sync (HSS) Flash Mode (at 200% of max. continuous light output), No Recycle Time
Ultra-Thin, Industry leading Lightweight Design (< 1.5kg/ 3lb)
Integrated Aluminium Handles & Pro Ball Head for 360 rotation included
Powerful, soft light output (5750 lux at 3ft), signature catch light
Unrivalled battery performance (3 Hours w 95w/h battery)
Accucolour™ Technology For Best In Class Colour Rendering CRI>96, Tlci 91
Cinesfx Mode ™ Delivers Custom Lighting Fx (Fire, Lightning, Tv etc)
True Aperture Dimming™ Calculates Your Aperture At A Given Distance
Totally Flicker Free Output, at any frame rate
Designer Fade ™ for Custom Fade Up/ Fade Down for interviews/ video
Includes 4 piece filter kit (Full and half diffusion, cosmetic peach skin diffusion, and magenta), V lock battery plate(battery not included), DMX, Ball Head
TECHNICAL
Accu-Colour™ Technology:
Best in Class CRI = 96  & R15 Skintone = 98
TLCI (Television Lighting Consistency Index) = 91 Ideally suited for professional Television use
Colour Range:
3150 Kelvin – 6300 Kelvin, integrated accurate Kelvin display.
Control:
Local, DMX, or PC sync (Flash). Compatible with any HSS flash trigger received with PC sync socket.
Power :
V-Lock Battery or Mains Power, (42W consumption at 100% power). Delivering over 3 hours run time on a standard 95 w/h battery.
Mounting:
Integrated Aluminium Handles, Integral ¼" 20 mounting tripod mounting points, or included 360 Pro Ball Head (Selectable 3/8 or ¼"20 thread)
LED's:
100,000 hour LED lifespan – Totally Flicker Free Technology
Included filters :
216 full Diffuser, 250 Medium Diffuser, 184 Cosmetic Peach, 279 1/8 Magenta.