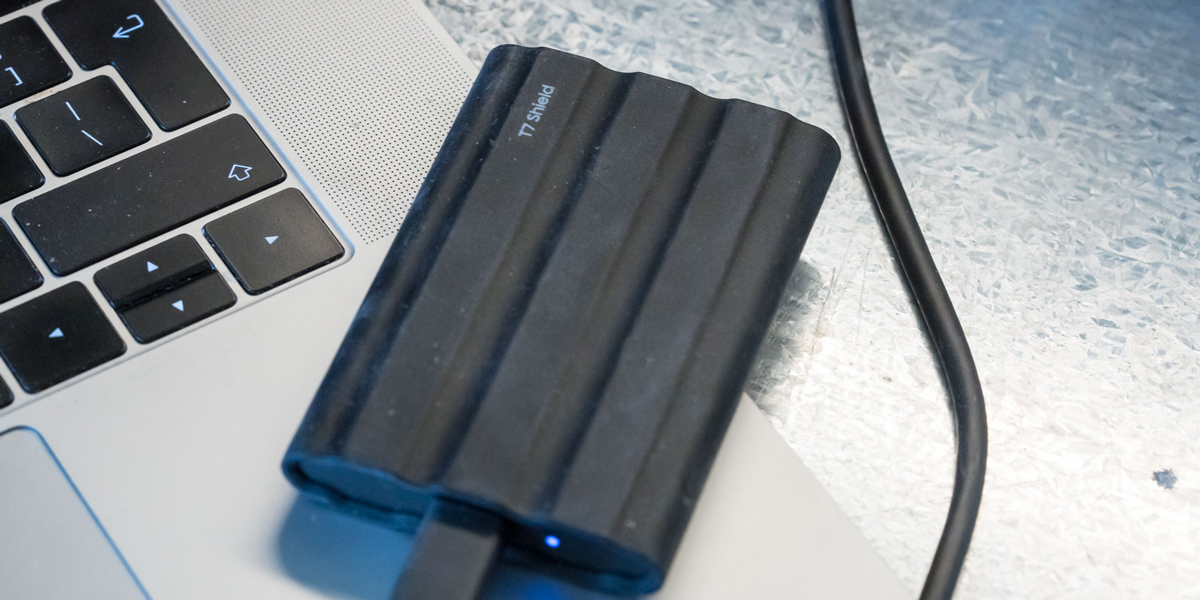 Samsung's bigger SSD Shield
Posted on Feb 1, 2023 by Samara Husbands
Samsung's T7 Shield range now features a larger, all-black 4TB version for £395. That's twice as big as the old flagship and is just what pro filmmakers need in the face of faster cameras and computers plus escalating file sizes.
Like the 2TB Samsung Portable SSD T7 Shield, the 4TB also uses a USB 3.2 Gen2 interface, and on our Mac Studio with an Apple M1 Ultra chip that has Thunderbolt 4 connections, it is blazing fast. It writes a 50GB folder to the Samsung in 58 seconds and from the SSD to the computer in 55 seconds consistently.
Like the rest of the T7 Shield range, it provides high-sustained write performance, which allows you to shoot 8K or 12K video and is compatible with Blackmagic's cinema cameras that can record direct to SSD. More cameras are starting to offer this in future, such as the Panasonic S5 IIX we feature in this issue.
All the T7 Shield series use a tough aluminium body which offers good heat dissipation, and the drive never got hot in our tests. The body has a rubber cover to provide drop protection as water and dust resistance. It is IP65 rated to stop water ingress.
As always with Samsung, it is plug-and-play simple to use, with both our Macs recognising it instantly as an external drive. It comes with drivers for Mac and Windows and software to let you set a name and a password. And the included Samsung Magician software monitors the health of the drive and lets you change settings. The T7 Shield can also be used on an Android phone.
As an external SSD for filmmaking use, like its 2TB sibling it's well priced, rugged, fast and very compact but now offers double the storage space.
Full review in the forthcoming January-February issue of Pro Moviemaker.
Read about the previous T7 SSD model here.
Or to find out more, keep an eye on the Samsung website.