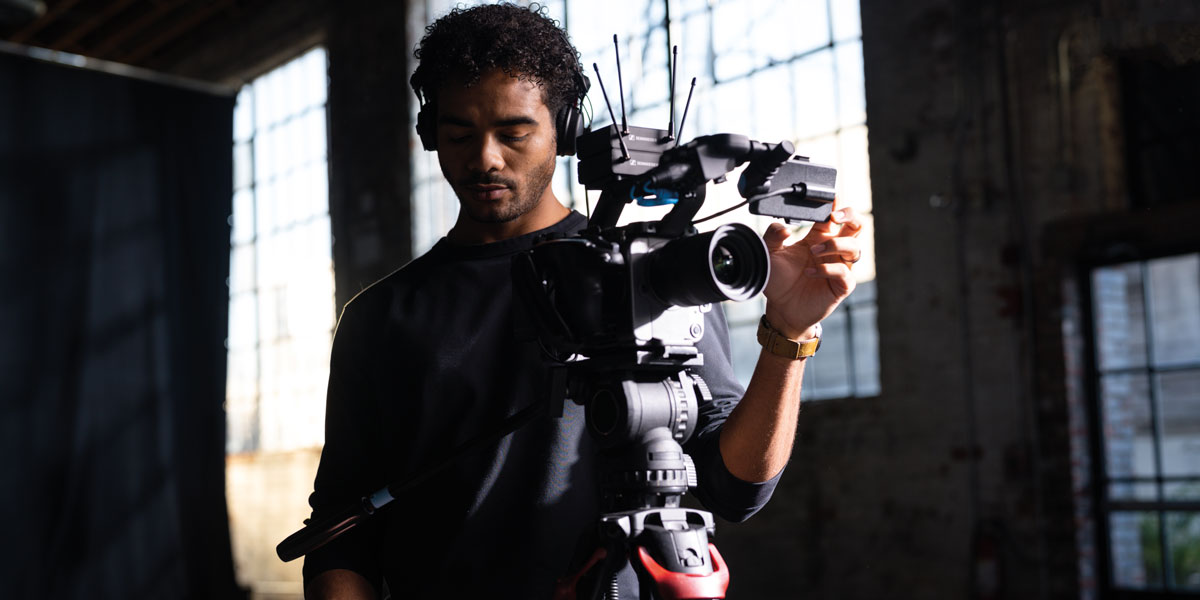 Sennheiser's big audio dynamite
Posted on Jul 12, 2023 by Samara Husbands
Great video needs awesome audio – and this brand delivers the best bang for your buck
Advertisement feature
Accessory microphones, used on- or off-camera, make the difference between a production that appears amateurish and one that comes across as truly professional. There's nothing worse for viewers than sound glitches and clipped audio, or the camera's internal microphone picking up the sound of it being handled. It's much easier to watch bad video with decent audio than the reverse. However, with most manufacturers understandably focusing on picture quality first, audio via built-in mic often does not reach the same level.
Enter Sennheiser, an established and acclaimed sound specialist providing the option to enhance the audio quality of whatever device you're filming on. It is the brand professionals trust when giving a voice to their video productions.
For those seeking a solution to more demanding filmic challenges, Sennheiser's compact, supercardioid/lobar MKE 600 shotgun microphone is a great choice. 
This legendary shotgun mic picks up sounds from the direction it is pointing, while effectively reducing noise from the side and rear. Wind noise when outdoors isn't an issue, thanks to a switchable low-cut filter and separately available fur windshield (blimp). Some cameras don't provide phantom power, so the MKE 600 can be AA battery powered, with a warning notification that helps avoid interruption. 
Constructed with a rugged all-metal housing, the microphone is supplied with a foam windshield, shock mount and adapter cable for cameras with a 3.5mm TRS jack connection. With an approximate operating time of 150 hours, the MKE 600's weight is a perfectly portable 128g without battery included, while measuring a mere 20x256mm.
An even more compact, high-end XLR microphone alternative is the Sennheiser MKH 416 short shotgun microphone with compact dimensions of 19x250mm. This matte-black supercardioid/lobar mic is designed to breeze through any difficult filming and reporting conditions. It is highly immune to humidity thanks to its RF condenser design, and comes supplied with a windshield. Other benefits include high directivity, low self-noise, high consonant articulation plus feedback rejection.
Sound worthy of a mic drop
For those who want to keep their shooting rig highly compact and mobile, Sennheiser offers on-camera microphones for DSLRs and mirrorless cameras. A popular option is the MKE 400. Weighing just 93.5g, supplied interchangeable 3.5mm coiled cables offer compatibility with DSLR and mirrorless cameras or mobile devices, while a headphone output allows for levels to be monitored while recording. Like the smaller Sennheiser MKE 200, the feature-packed MKE 400 includes built-in wind protection and integrated shock absorption. A furry windshield is included for windy days.
A three-step gain sensitivity switch enables the MKE 400 to provide distortion-free sound in any environment you could encounter, with the switchable low-cut filter focusing audio recording on the most essential frequencies, resulting in clear and intelligible speech. Power comes courtesy of two AAA batteries. In short, this is a microphone designed to isolate and enhance audio. Smartphone videographers should investigate the MKE 400 Mobile Kit, which includes the MKE 400 microphone, Sennheiser smartphone clamp plus Manfrotto Pixi mini tripod.
Also available in a mobile kit as well as stand-alone is the Sennheiser MKE 200; a directional on-camera microphone with coldshoe mount for universal use, built-in wind protection plus shock mount for enhanced audio recording when on the move. This is a fledgling filmmaker's first step in upgrading their camera's sound, and like its bigger brother MKE 400, the MKE 200 comes supplied with 3.5mm TRS and TRRS coiled cables to offer compatibility with DSLR and mirrorless cameras along with mobile devices. 
Powered via the camera through its lead, the microphone is directional despite its short length, and features a supercardioid capsule for capturing clear sound in noisy environments. This also makes it ideal for vloggers and videographers. Actual build is unobtrusively compact and sleek, while its flexible connectivity means your video recording doesn't have to be limited to a single, specific piece of gear.
Tune into wireless
We live in world where cables are disappearing in place of wireless – and Sennheiser has been a market leader for decades. Offering best-in-class technology and an ergonomic build, its wireless EW-DP microphone is part of its Evolution Wireless Digital family. At the heart of EW-DP is a compact digital receiver providing an intuitive user experience, while allowing Bluetooth synchronisation and control.
Used by professionals the world over, Evolution Wireless operates in the UHF spectrum and is known for its reliability, flexibility and comprehensive feature set. It's the first portable wireless system with magnetically stackable receivers and a front-facing OLED display. This feature affords flexibility when mounting a receiver on-camera; offering optimum visibility regardless of placement, angle or light. During long hours on-set, powering options include primary cells, lithium-ion rechargeable battery packs and USB-C. 
Sennheiser's smart notifications provide suggestions should errors occur; for example if a piece of audio clips then the system will suggest lowering the gain, or if a transmitter and receiver are not linked, the operator will be prompted to press the sync button. Automated set-up, operation and monitoring is provided via the Sennheiser Smart Assist app, available for any iOS or Android device via Bluetooth. Various EW-DP kits offer a range of options for filmmakers – Sennheiser has you covered for great audio! 
Originally published in the July/August issue of Pro Moviemaker.