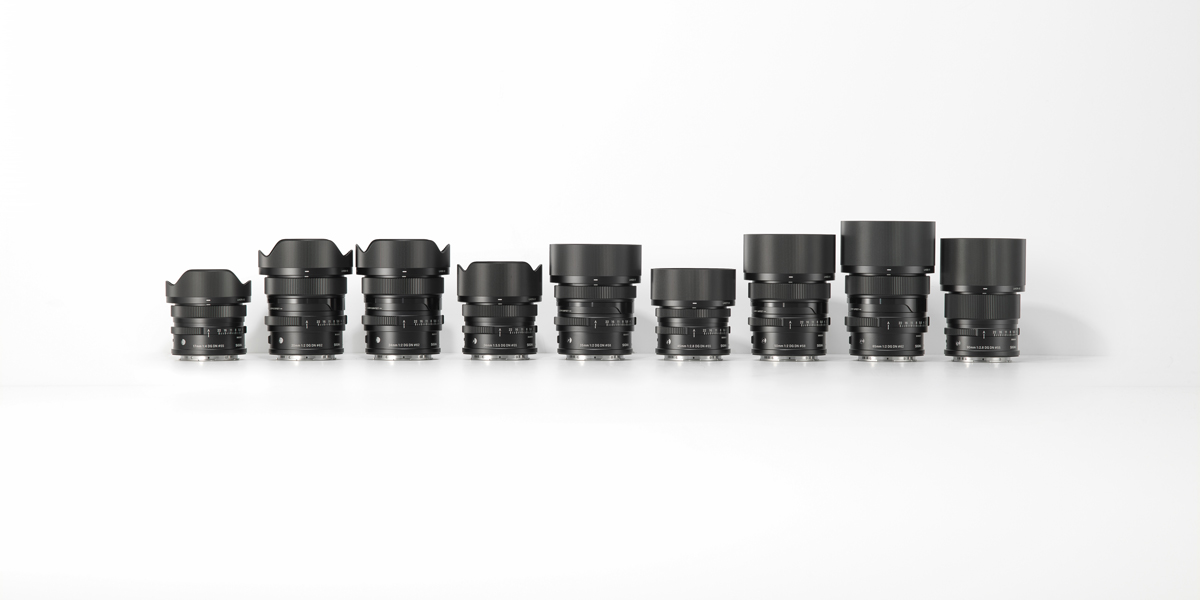 Sigma's new trio of lenses
Posted on Apr 5, 2023 by Samara Husbands
These Sigma lenses include an ultra-wide-angle, a classic focal length and a wide-standard prime, which are perfect for landscapes, portraits and a range of other styles
Sigma has announced the release of three prime lenses that will be added to the Contemporary line-up: The 17mm F4 DG DN | C, the 23mm F1.4 DC DN | C, and the 50mm F2 DG DN | C. They're designed to be portable without sacrificing image or build quality.
17mm F4 DG DN | C
The 17mm Contemporary lens is an ultra-wide-angle lens promising edge-to-edge sharpness, while being portable enough for travelling. Its release brings the total number of I series lenses to nine, increasing the choice of compact focal lengths to suit your style.
Retailing at £549, the 17mm lens is available for L-Mount and Sony E-Mount mirrorless systems and is perfectly suited for travel, landscape and street photography. Or make use of the 12cm close-focus distance for close-ups and hand-held vlogs.
Using optical expertise, the 17mm promises to correct lens aberration and create images with edge-to-edge sharpness.
Despite being constructed with an all-metal barrel, the lens only weighs 225g (L-Mount) and features a dust- and splash-proof mount for added protection against the elements. A tactile knurled metal lens hood, focus ring and aperture ring help grip on the lens for greater control – handy when mountaineering. You can easily swap filters and reduce overall kit weight thanks to the 55mm thread which is like other I series lenses.
23mm F1.4 DC DN | C            
Next up is the 23mm F1.4, a versatile, crop sensor wide-standard prime lens. This one is for creative shooters, expanding Sigma's range of APS-C F1.4 prime lenses.. The 35mm equivalent focal length and rich bokeh makes for a versatile shoot.
Effective for low-light landscapes and creative portraits, the 23mm helps convey personality in photos with F1.4 aperture. It has 13 elements in 10 groups, including 3 SLD elements and 2 aspherical ones, which promises sharp and clear images, even in backlit environments.
Designed exclusively for APC-C mirrorless cameras, the 23mm features quiet AF modes, and Dynamic Manual Focus (DMF) for locking onto moving subjects. The lens suits everyday use due to its small size and light weight (340g – L-Mount).
Pick this up for £449.
50mm F2 DG DN | C    
Last, but by no means least, the 50mm F2, adding to the I series. This classic focal length lens lends itself to portraits by professional and enthusiast photographers looking for an upgrade.
Available for L-Mount and Sony E-Mount, the 50mm promises versatility and brilliant bokeh for true-to-life portraits. If street or travel photography are more your thing, Sigma has focused on minimising aberrations with high-quality optics and a lightweight feel (350g).
Dust- and splash-proof mount helps combat contamination, while the tactile metal lens hood, focus ring and aperture ring improve grip.
Get yours for £619.99.
All lenses are available from 21 April 2023.
Nikon Z Mount lenses
Sigma is also announcing the release of its first three Nikon Z Mount lenses with ultra-wide aperture and lightweight build.
These are: the 16mm F1.4 DC DN | C, the 30mm F1.4 DC DN | C and the 56mm F1.4 DC DN | C.
Available from 21 April with prices starting from £349.99.
For more information, head to the Sigma website.