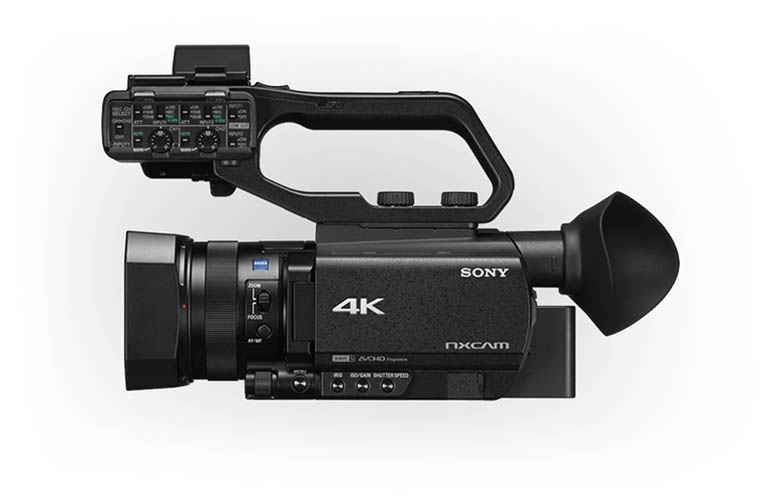 Simple Live Streaming for Sony camcorders available via free firmware upgrade
Sony has announced that its Simple Live Streaming service, a new proposition for users to streamline the process of acquiring live content, will be available from today
The additional workflow flexibility for Sony's palm-sized 4K HDR professional camcorders, the HXR-NX80 and PXW-Z90, can be accessed via a free firmware upgrade to enable content creators to shoot wherever and however they want.
With Wi-Fi connectivity, Simple Live Streaming enables high quality live streaming to major video sharing websites and social media platforms such as Vimeo, YouTube and Facebook with a single camcorder. Offering simple operation, it further enhances the remote delivery of content quickly without compromising on image quality.
Norbert Paquet, Head of Product Management for Sony Professional Solutions comments: "The introduction of Simple Live Streaming for the HXR-NX80 and PXW-Z90 streamlines the overall workflow, from shooting to live distribution. Equipped with Simple Live Streaming, the camcorders will have online sharing features, further empowering content creators to concentrate on what they do best – storytelling on the go."
The "Simple Live Solution" is achieved by combining the MCX-500 multi-camera live producer and the RM-30MP remote commander to provide multi-camera based simple live production. When a user needs to expand live streaming to multiple camcorder operation, the HXR-NX80 and PXW-Z90 camcorders can be connected to MCX-500 via SDI or HDMI – enabling livestreaming onto social media platforms with rich live features such as tally, title and transition.  

Users can access the free firmware upgrade from 12th December 2019. For more information, please visit the Sony Pro website.