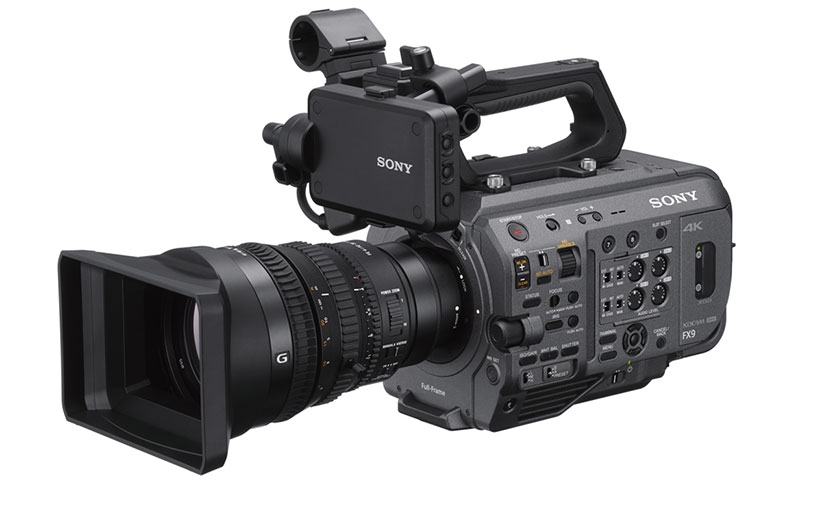 Sony reveals flagship full-frame FX9
Sony has revealed the new full-frame FX9 camcorder with a 6K sensor, Fast Hybrid Auto Focus system similar to the A7 and A9 mirrorless cameras and dual base ISO for great low-light performance. Hot on the heels of the full-frame £17,000 Canon C500 Mark II launched last week, the new flagship Sony camcorder is set to be significantly cheaper at around £12,000 but doesn't record Raw internally. For that, it has to go to an external recorder. And although the Sony sensor is 6K, the camera only records in 4K as it downsizes the footage.
The FX9 builds on the success of the Super35-sized FS7 and adds a super-advanced AF system and impressive slow-motion capabilities thanks to its new sensor. The FX9 also inherits its colour science and Dual Base ISO 800/4000 from the Venice motion picture camera. It also offers High Dynamic Range features.
The 6K Full-Frame sensor offers wide dynamic range with high sensitivity, low noise and over 15 stops of latitude that can be recorded internally in 4K 4:2:2 10bit. Oversampling by the Full-Frame 6K sensor allows high-quality 4K footage. The camcorder can also capture content up to five times the slow-motion speed with FHD 120fps shooting, but only when output to an external recorder.
The enhanced Fast Hybrid AF system with customisable AF transition speeds and sensitivity settings also combines phase detection AF for fast, accurate subject tracking with contrast AF for exceptional focus accuracy. The dedicated 561-point phase-detection AF sensor covers approximately 94% in width and 96% in height of imaging area, allowing consistently accurate, responsive AF tracking, even with fast-moving subjects while maintaining shallow depth of field.
Like the FS5 and FS7 Mark II, there is an Electronic Variable ND Filter. And by recording image stabilisation information and using it in Sony's Catalyst Browse/Prepare software option, image stabilisation is possible. Sony is also working to encourage other third party none-linear editing tools to adopt this functionality.
The FX9 comes with a range of customisations and expansion features. These include compatibility with the new UWP-D series of wireless microphones via Multi Interface Shoe (MI Shoe) with digital audio interface, the XDCA-FX9 extension kit enabling 10bit S35 4K 120fps and 16bit RAW output, compatibility with Sony BP-GL and BP-FL series batteries, D-Tap, RJ-45 interface and stable "Dual Link" streaming by using two carrier lines, as well as DWX slot-in type digital wireless receiver commonly used in broadcasting settings.
The FX9 will also be compatible with the newly launched E-mount lens FE C 16-35mm T3.1 G cine lens.
The FX9 will be available towards the end of 2019 for 11,000 Euros body only plus tax. It will be on display at the Sony stand at IBC 2019 from the 13– 17 September. For more information visit www.pro.sony/ibc.