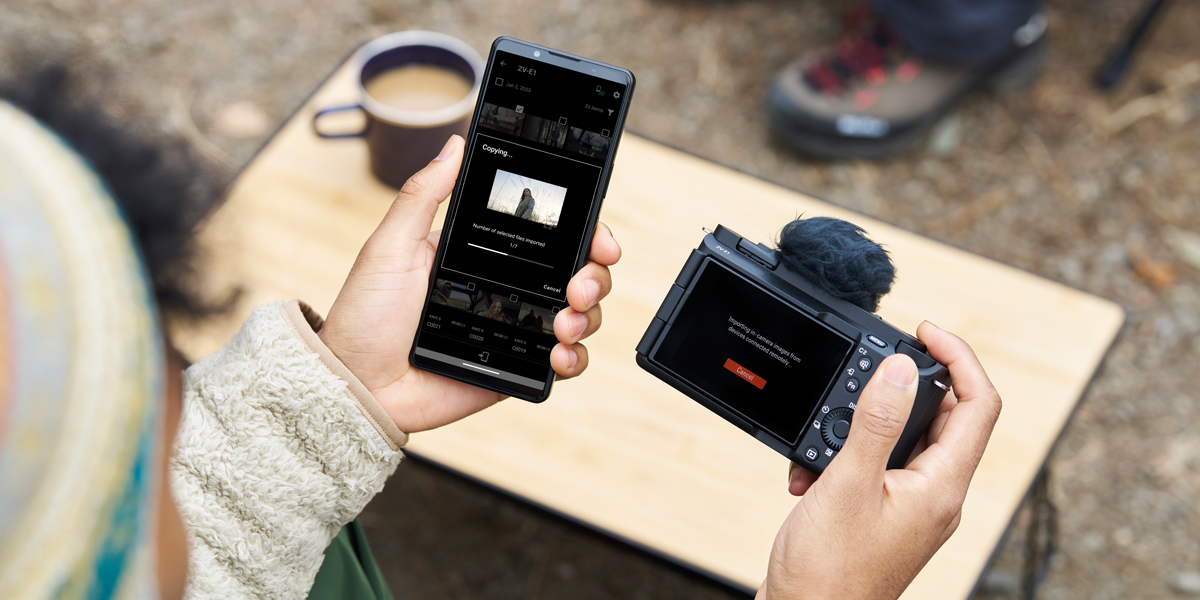 Sony ZV-E1: not just for vloggers!
Posted on May 20, 2023 by Samara Husbands
The new Sony ZV-E1 is so much more than a small full-frame mirrorless for the TikTok generation
Sony's ZV-E1 is being touted as an interchangeable-lens vlogging camera, but is actually based around the full-frame sensor of the A7S III and FX3 in a smaller, lighter body. It retains the 12-megapixel, back-side illuminated CMOS Exmor R sensor of the two more expensive models – with 15+ stops of latitude – and uses the same Bionz XR image processing engine. 
It also adds the latest AI-based real-time recognition AF and real-time tracking for even better autofocus, as found in the Sony A7R V. But unlike that camera, which has a new flip-and-tilt screen, the ZV-E1 has a simple flip-out, vari-angle screen. It does undercut all the other full-frame Sony models, costing just £2349/$2198.
Like the FX3, it does not have an EVF, so you have to use the monitor. Also, there's no mechanical shutter, separate menu tab for Log profiles or Cine EI mode. It has just one SD card, instead of the twin CFexpress cards from the FX3 and A7S III. This limits it to less data-intensive codecs. None of the heat management of the FX3 is present, with runtimes limited by heat build-up to around an hour when shooting 4K/60p. It has a micro HDMI slot instead of full-size, but does have mic and headphone jacks, as well as Sony's MI shoe for plugging in audio accessories.
At launch, the camera can shoot up to 4K/60p, but Sony says it will be upgradable to 4K/120p soon. There are no details of whether this will be a free or paid upgrade. It will also unlock 240fps HD footage in the XAVC S format, up to 10x slow motion. High-quality 4K video can be recorded with full-frame readout at 10-bit 4:2:2, without the need for pixel binning. The ZV-E1 can record 10-bit 4:2:2 video internally when using Long GOP or All-Intra compression, supports internal intra-frame (All-I) recording and XAVC HS using the MPEG-H HEVC/H.265 codec.
The camera does offer S-Gamut3.Cine/S-Log3 and S-Gamut3/S-Log3, as well as S-Cinetone, five-axis optical IBIS. There is dynamic active stabilisation, which is claimed to be 30% more effective than the active mode of previous models.  
Showing its vlogger credentials, an intelligent three-capsule microphone with variable directivity and easy, stable smartphone connectivity is included.
The standard ISO range extends from 80 to 102,400 for both stills and movies. The expanded range for stills is 40 to 409,600, and for movies it's 80 to 409,600.
A new feature is AI-based auto framing for video – ideal for recording interviews, music performances and cooking. Using AI-based subject recognition tech, this feature automatically crops the frame to keep the subject in a prominent position. Even without moving the camera, framing is continually adjusted to follow the subject smoothly, which will also aid
one-person shooting. The subject to be tracked may be selected via the camera's touch-sensitive monitor or the Creators' App on a smartphone.
Breathing compensation suppresses image shifts while focusing to maintain a consistent angle of view. And Multiple Face Recognition automatically adjusts bokeh and focus on recognised faces when shooting group selfies or group portraits.
A lever on the top of the grip controls compatible powered zoom lenses and also allows Clear Image Zoom to be used with unpowered zoom and prime lenses with less image degradation. 
In-camera time-lapse creation is possible, and USB PD supports fast charging. Its design is dust and moisture resistant, and the camera can livestream when connected to a computer or mobile.