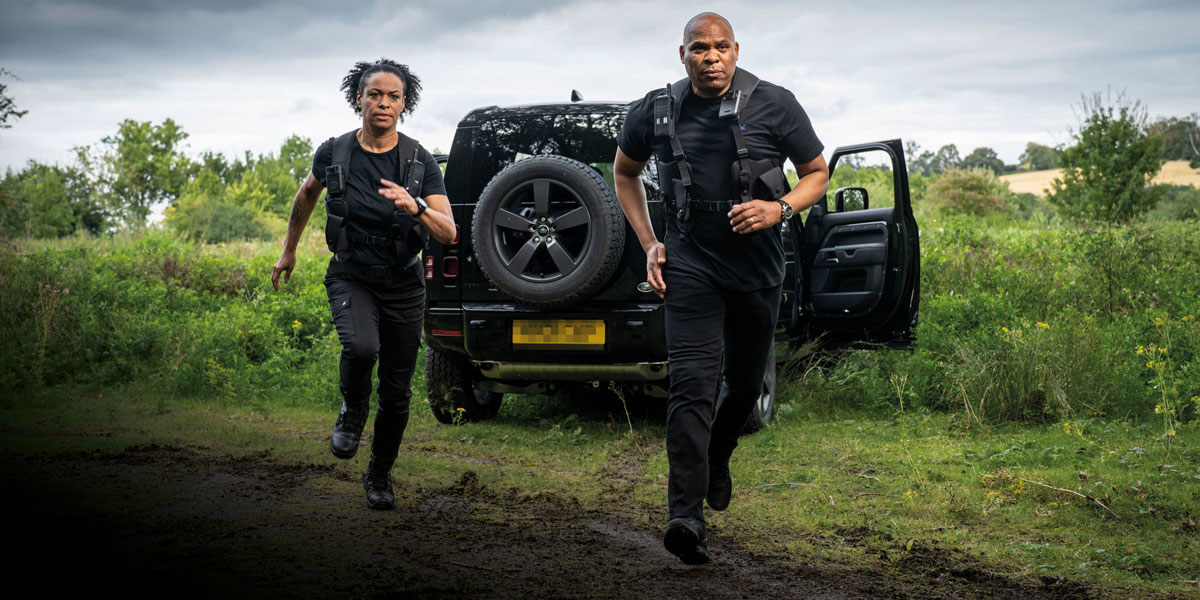 Unconditional adventure with Danny Etheridge & Canon
Posted on May 28, 2023 by Samara Husbands
Survival filmmaker Danny Etheridge is the go-to action man for some of the most challenging and fast-paced shoots
Advertisement feature
If a production needs someone to be shooting from a helicopter just 500ft from where an airliner will be crashed into the desert, be on a 4000-mile journey across the Pacific in a small open boat, keep up with Bear Grylls in some of the world's toughest environments, or join Special Forces in action, Danny Etheridge is often first to get the call.
"Well, I'm certainly one of them!" he says, fighting back the jet lag upon arriving back in his London home after a three-day trip from Hanoi. "There's a few of us out there and my name is in those circles."
While sweating in jungles, freezing in Arctic conditions, being dangled from high buildings or shooting underwater might strike fear into most, Danny Etheridge loves what he does; it's his childhood dream come true.
"Growing up, I always imagined myself going out on big adventures somewhere. It was a bit of a pipe dream – I never really thought it would happen." After university, he followed the more conventional route of getting into TV in the UK, working on sketch shows with Vic Reeves and Bob Mortimer, Holby City, Countryfile, Gardeners' World and even Doctor Who.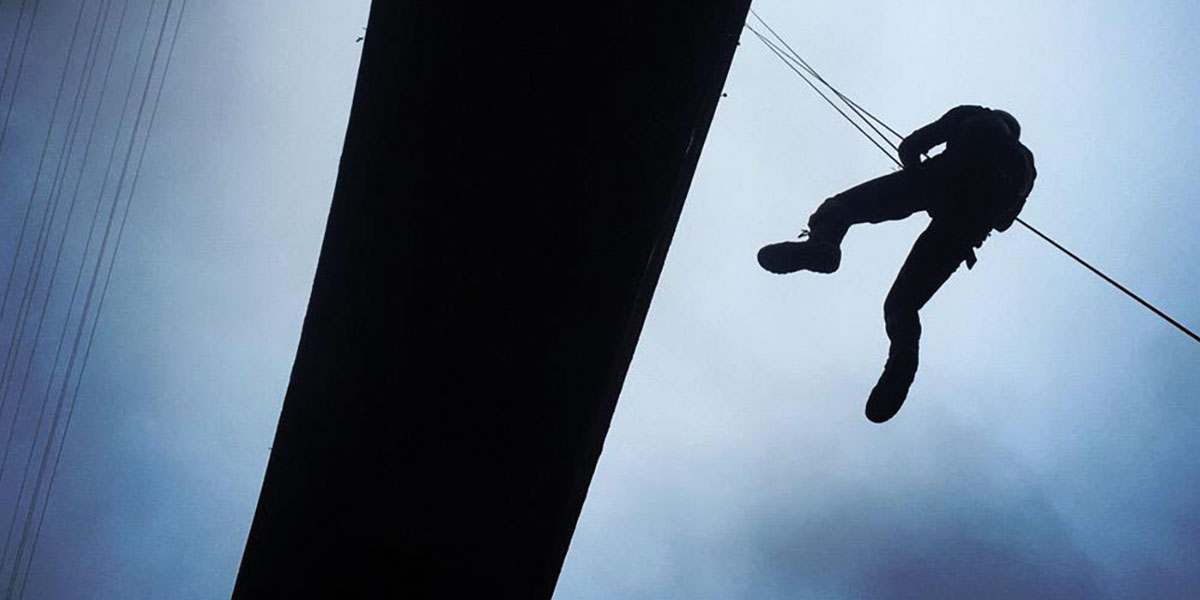 Living on the edge
"I like the comedy, but drama is not my bag," Etheridge continues. "I prefer the madness, the moving around, and can't stand doing things over and over again. Most of all, I like the uncertainty of documentary, where anything could happen at any moment. It's more exciting.
"So I had it fixed in my head that I wanted to do crazy adventures, and every decision I made was turning me toward that direction. I don't think a lot of people necessarily want to put themselves through a lot of pain when it comes to that sort of thing – but I wanted it.
"I always thought, if ever I got the opportunity to do something absolutely crazy, I would snap it up in a heartbeat. When I was younger, I was thinking about war zones. Then, as I hit my twenties, I mellowed out a bit and thought maybe I don't necessarily want to die for it. And I wasn't interested enough in current affairs or news or anything.
"So I was lucky enough to be in the room when they were coming up with some pretty crazy ideas for TV shows – and I jumped at it. When I ended up on the shoots, it meant everything to me, so I put a lot of effort into it."
Of course, that has involved Etheridge facing hardship and taking risks many times. Such as when he was filming The Plane Crash for Channel 4 and Discovery. "I was in a helicopter waiting for an airliner to come in and purposefully crash in the middle of the desert. No one had ever been close to a plane crashing like that, so you didn't know if loads of little bits of debris were going to be flying around.
"The helicopter pilot said to me: 'If you see stuff coming up towards us then scream, and we'll get out quick.' So I'm sat there in the blistering sun. My eyes were killing me because the difference between the viewfinder and the desert was intense. And that was a moment where I wondered how I ever found myself in that situation."
Other memorably tough shoots include an expedition exploring what was thought to be the world's biggest cave. "You could fly an airliner through it. And it's got holes in the roof the size of the Millennium Dome. Survival was in the forefront of my mind when I was down there. For three days, you couldn't see your hand in front of your face. And then you come out to a jungle that's popped up in the middle of the floor in a quite bizarre landscape," he explains.
"There's the time I spent 50 days on a small boat in the ocean filming Mutiny." That caused him to drop an unbelievable amount of weight as he pushed himself to the limit of human endurance.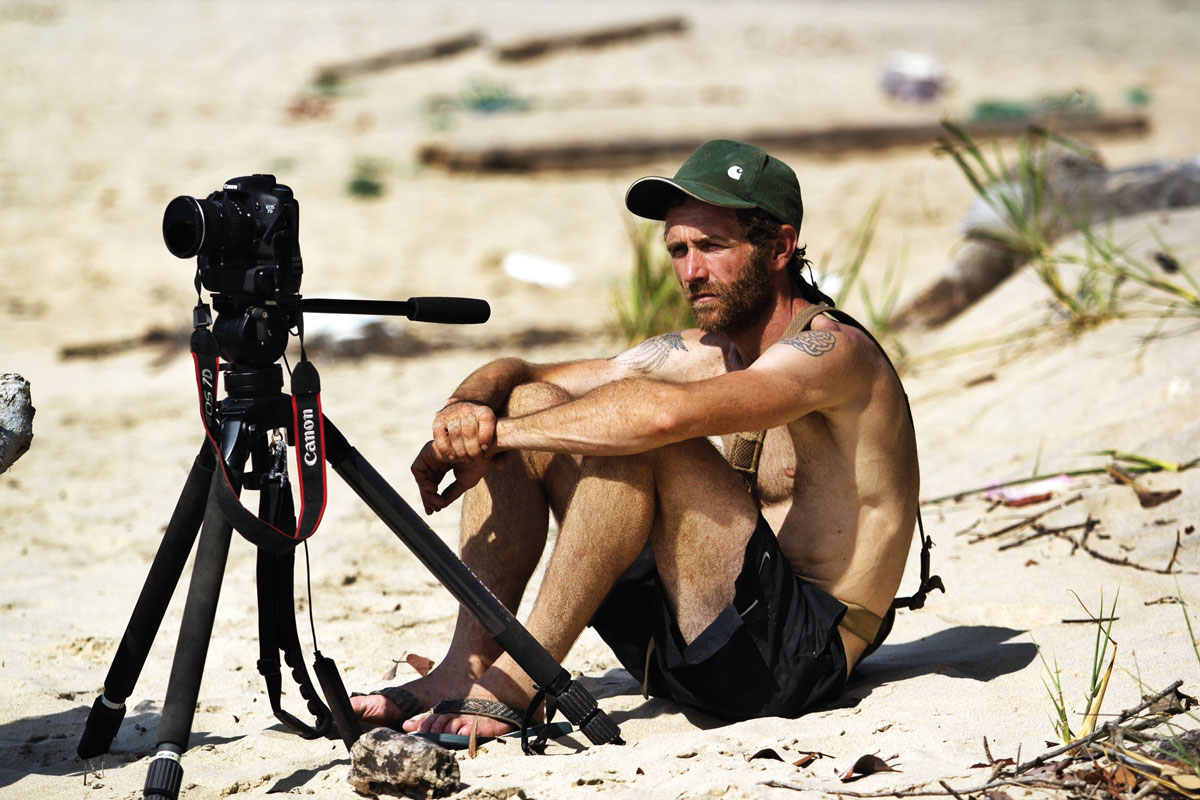 The true purpose
But just surviving in gruelling conditions like this is not enough, as Danny Etheridge is paid to make incredible, TV-worthy films.
"When filming from a helicopter, under the water, hanging off the side of a cliff, I need to film it in a way that can be cut into a coherent programme. That's the main focus of your attention. You can't panic about how much air you've got left or whether your knots are done up properly, you've got to be good enough that you can do it almost without thinking – but to the point where it's absolutely safe. And then you fully concentrate on the filming."
That also means you need camera equipment you can rely on and work with easily. It has to be second nature.
"There is a saturation point, especially when things are going a bit awry. Your brain can only compute so many things at the same time, and some things might suffer. Chances are that's going to be on the camera. You could be on Auto ISO or something. The key is having cameras that are so good, you can set them up in a way so that on Auto Iris you can make sure it doesn't go over 3200 ISO, for example."
With each job so different, Etheridge has worked with many cameras over the years. But so often, he has stuck with Canon, including his current favourite, the XF series of all-in-one camcorders.
"I've used XF205s for years – now the XF605. I never got rid of those. They have played a huge role in massive jobs during my career. The most recent one is a job for Discovery called Gold Rush: Parker's Trail. I'm on screen, and the camera I have with me is the Canon XF605. I now own two.
"It's got an incredible range – it's frightening how good it is! For a run-and-gun, in-the-hand camera, it's incredible what you can do with it. And the XF205 was my main camera for the whole of Mutiny."
Etheridge has also recently tried the EOS R5 C full-frame mirrorless. You can tell one will soon be added to his collection. "I really like that as well. It was like having a great stills camera and Cinema EOS C300 all in one. It's amazing."
Though he didn't have access to RF lenses for the R5 C, he used his range of EF glass with an adapter. "I have a bunch of lenses I could use with it. So I used my 70-200mm f/2.8L and 24-105mm f/4L lenses plus a 50mm prime. It's lovely."
What won Etheridge over was that it can run timecode – vital for multicam documentaries. "I was amazed it's got a little timecode slot, so you can put an UltraSync on it. And the menu system is easy and quick to navigate. It felt like a proper filmmaking camera."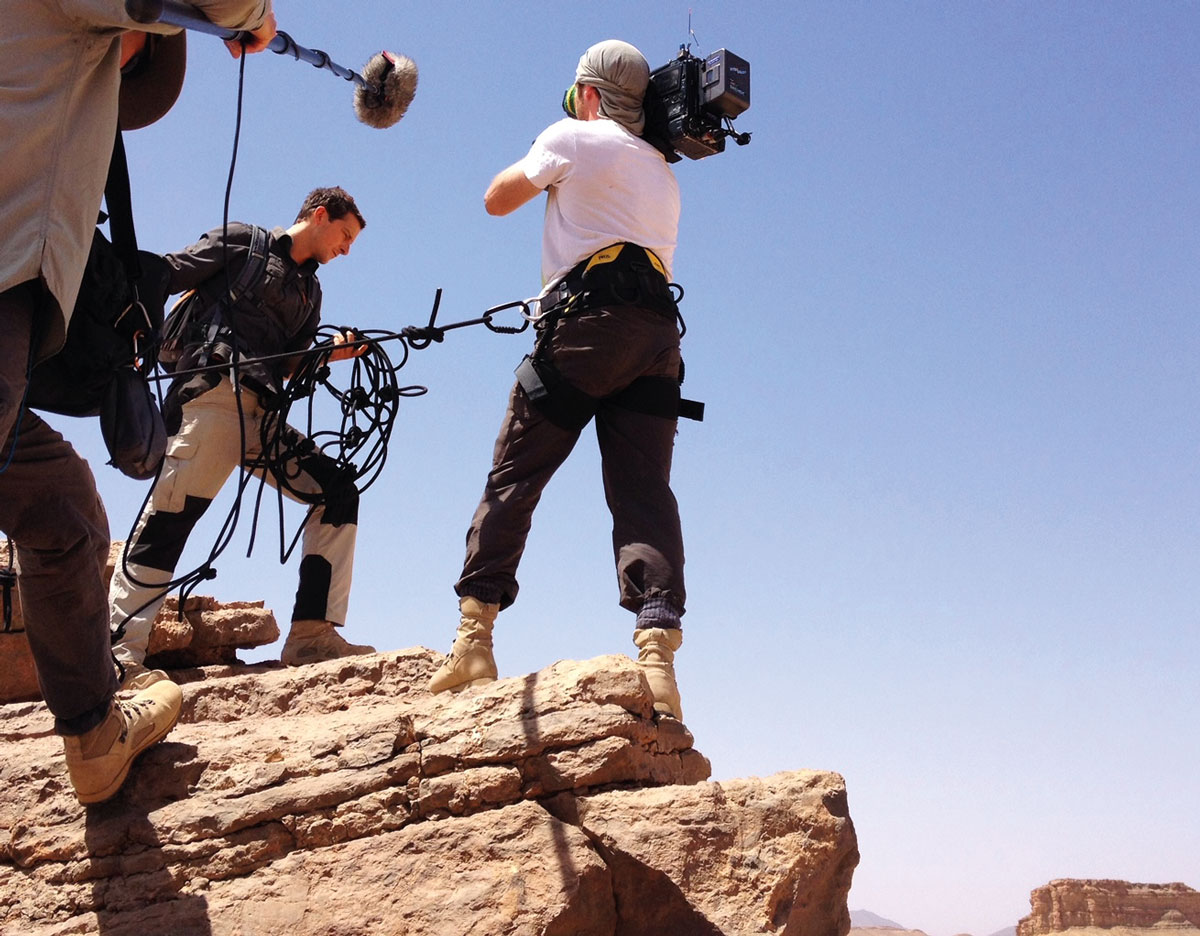 On the run
Menu and timecode are also reasons Danny Etheridge loves his XF205 and XF605, as well as their portability and great image quality, even in low light. That's partly why Danny Etheridge chose to spec Canon XF605s to all the camera operators on the Channel 4 series he works on as DOP – Hunted. Rather than the depths of the jungle, contestants are let loose in Britain and attempt to stay hidden while 'hunted' by a team of chasers. "For all the cameras used by the embedded camera operators on the run with the fugitives, I decided to go with the XF605 this year – that's ten cameras.
"The fact it can shoot Log now is amazing. IR is another huge benefit of that camera. I can't think of another on the market with both timecode and IR, a massive lens range and 1.0-type chip. A lot of boxes are ticked," he expresses.
They're proving a smash hit with the crew. "Everybody loves them. Producer/directors are always panicking that they'll get a large format camera with a Super 35 zoom lens, which is obviously quite a beast. It strikes fear into PDs when they're given something like that because there is no autofocus and it's front-heavy. So they all love the XF605."
And the footage is excellent. From performance in low light to outside on the brightest days, the XF605 delivers.
"We don't have to worry how the footage will look, because we want it to feel rugged and on the move. We wouldn't use an image stabiliser or anything like that, for example. You'd want it to feel in the moment, shaky and rough," says Etheridge. "Then there's footage coming from phones or action cameras, so we don't go too crazy on the look of things for the fugitives. It's more about the practical usability of the camera."
One thing all the PDs agree on is the Dual Pixel CMOS AF, which works so well on many shots. "I don't see any shame in flicking to AF at all, especially with a camcorder or a lens with an electronic servo," Etheridge adds. "For much of my work over the years, I've used a Canon CN7x17 17-120mm lens and there isn't the option of AF. I like to manually focus because I like full control. I treat focusing the same as zooming. There's a creative element to what you're focusing on and when you're focusing on it. But Canon AF is so good for so many things, especially fast-paced run-and-gun documentary work."
Though the latest series of Hunted is still in production, Danny Etheridge is already planning a year full of more adventures to film, and will have his trusty XF605s by his side.
"I have my own small production company now, but it's growing quickly. We finished our first six-part docuseries for Discovery last year, and we've got lots of short film docs and even bigger projects in the pipeline. I'm doing an Ed Stafford show for Channel 4 this summer," he tells us.
It's no surprise that a lot of it will be focused on worldwide travel, survival and adventure in inhospitable locations.
"There's always stuff bubbling in the background, and it's all adventure-based content around the world – quite exciting stuff. There's something going on late in the year where I'll probably be going to the Congo for maybe a good two months or so."  And you can bet it won't be in a nice hotel with a swimming pool. "No. It never is and that's just how I like it."
Originally featured in the May/June 2023 issue of Pro Moviemaker.