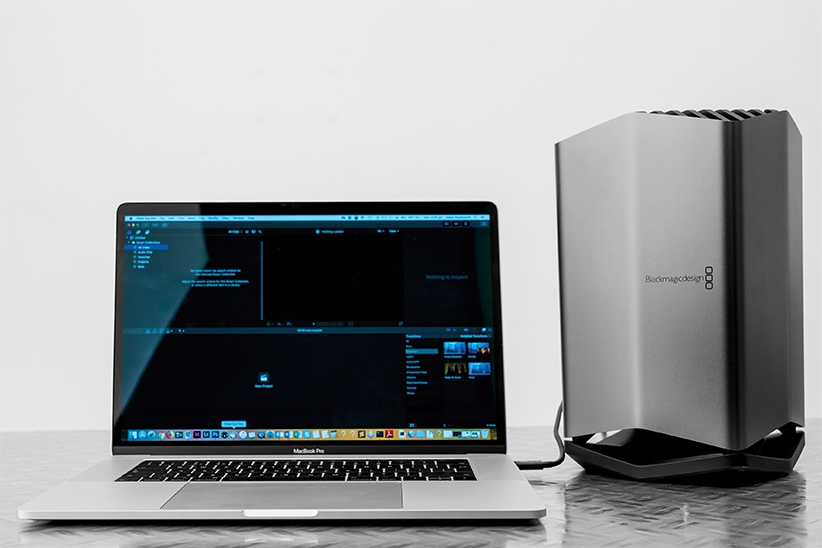 Blackmagic Design eGPU
If you love using your new Apple MacBook Pro for editing but just wish it was quicker, then the Aussie filmmaking mavericks at Blackmagic Design have come to the rescue with a Thunderbolt 3 external graphics processor that boosts its performance to rival that of desktops, writes Pro Moviemaker magazine's Krishan Parmar.
The Blackmagic eGPU is a high-performance graphics processor for pro creative software such as DaVinci Resolve, Final Cut Pro and Adobe Premier Pro, as well as 3D games and VR. But it also works on processor-hungry applications like Adobe Photoshop, InDesign and lots more, speeding them up noticeably. So it's useful for filmmakers, photographers, gamers and anyone who just wants a faster MacBook Pro.
Instead of using your MacBook's internal GPU, the eGPU uses the quick Radeon Pro 580 graphics card, which is one of the best out there. It has 8GB of GDDR5 RAM, 256-bit memory bandwidth and 36 discrete compute units for up to 5.5 teraflops of processing power; this is a lot, and significantly improved from even the latest, top-of-the range MacBook Pro laptop which comes with Intel Iris Plus Graphics 655. All this makes it quick enough to be an alternative to having a fast desktop for editing and a laptop for use on location. You can buy one fast Macbook Pro and just get more use out of it.
However, this isn't the only way to get a fast GPU: you can buy a standalone GPU unit and put it into housing that will plug into your MacBook Pro via Thunderbolt 3 and give the same results. This actually costs as much as the integrated Blackmagic eGPU, although obviously you can't upgrade the eGPU like a separate GPU-and-housing set-up.  
As well as the speed improvement, the eGPU offers additional benefits as it has two Thunderbolt 3 ports, an HDMI 2.0 port, 85W of charging power and four USB 3.1 connections, so it can act like a hub. Plug the eGPU into the mains and instead of having to power your laptop through its own charging cable, you run a Thunderbolt 3 lead from the eGPU to it. You'll need to use a real Thunderbolt 3 cable, bundled with the Blackmagic device, as the MacBook Pro's own power lead fits but uses a different protocol.
Another benefit is that it has an HDMI 2.0 connection and another Thunderbolt 3 port, so with the more powerful GPU it makes it possible to run higher-spec, large 4K and HDR monitors or TVs from your laptop. As a GPU accelerator, it brings high-end, desktop-class graphics processing to the MacBook Pro and is the first external processing unit to support Thunderbolt 3 displays. It also works as a docking hub for connecting devices such as keyboards, big screen HDMI televisions and high speed storage. For £599/$699 and available exclusively from Apple, it offers a lot for your money. 
Specification
GPU: Radeon Pro 580, 8GB video memory
Connections: HDMI 2.0 port supporting screen resolutions up to UHD and 4K DCI at 60fps, 4 x USB Type A ports supporting USB 3.1 providing a charging current up to 1.5A each, 2 x Thunderbolt 3 USB-C ports with 85W charging capability
Operating system: MacOS 10.13.6 High Sierra or newer
Power usage: 315W
Noise: 18dB
Dimensions (WxHxD): 177x294x177mm/ 6.96×11.59×6.96in
PRO MOVIEMAKER RATING: 9/10
It's an instant turbocharge for your MacBook Pro with lots of other benefits
+ Pros: Plug and play, makes your laptop more useful
– Cons: Internal eGPU can't be upgraded
PRICE: £599/$699