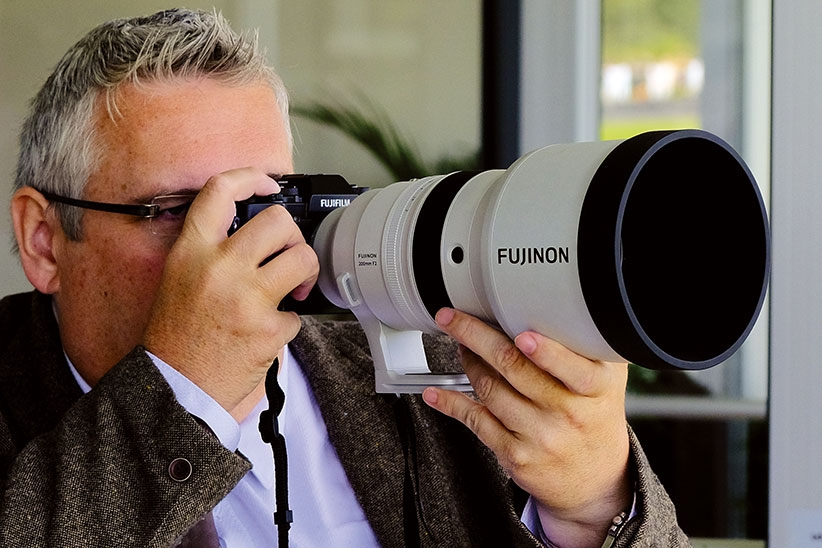 Fujinon XF 200mm f/2 OIS WR Lens
Very fast telephoto prime lenses are often the workhorse of sports and wildlife photographers. Fujifilm has now joined Canon, Nikon and Sony in offering lenses like this. Canon and Nikon only make fast tele primes for their DSLRs, but Sony and Fujifim do for their mirrorless cameras, too.
The latter's entry is this Fujinon XF 200mm F2 telephoto lens, which will be bundled with a matching 1.4x teleconverter. On APS-C size cameras like the X-T3, it's the equivalent of about a 300mm lens – albeit one with a very fast aperture. With the 1.4x converter, it equates to a 427mm f/2.8 – the sports standard. We used a lens prototype on the new X-T3 at the Goodwood Revival festival. Although not 100% production ready (with visual details missing plus firmware that's still being finalised), it performed very closely to how the final optics should. 
The lens appears white but has a matte silver finish and is sealed against dust and moisture. Its design includes one Super ED and two ED elements; the front glass is fluorine coated to deter fingerprints. High-precision polishing technology, developed for Fujifilm's costly TV broadcast lens range, achieves the best image-resolving performance. An image stabiliser gives up to a five-stop increase of shutter speed at which you can handhold the lens.Image stabilisation worked well and gave a real increase in usability at lower shutter speeds. You would want to use a tripod, though. Like many super telephotos, it has a Focus Preset function, instantly changing focus to a preset position.
"…fast, silent and its AF performance was incredible"
In use, the lens was fast, silent and its AF performance was incredible, possibly thanks to the bright image of the f/2 aperture. It quickly picked up focus and held it, as you'd expect from a modern lens that's built for professional use and has the latest linear motors for ultimate speed.
It tracked moving subjects well, and was quick to change from distant to near subjects, locking on with accuracy and speed. In manual focus, it's less of a joy as the fly-by-wire system doesn't give the precise feel of a real cine lens. But for Fujifilm shooters, that lens isn't available.
Image quality is superb, with middle apertures giving stunning results. Wide open, there appeared to be very little vignetting and softening in our real-world tests. Bokeh was smooth and pleasing, too.
The obvious issues are weight and the £5399/$5999 price – although this will include the 1.4x matched teleconverter. At 2265g/4.98lb it's no lightweight, but is lighter than older rivals such as Canon's 2520g 200mm f/2 prime and Nikon's 2930g version. They cost a similar sum but don't come with a teleconverter. New tech glass like Sony's 400mm f/2.8 giant is not much heavier at 2895g and Canon's 400mm f/2.8 is 2840g.
When used with an X-T3 and battery grip, it balances well and sports shooters used to heavy telephoto primes won't be complaining about the weight much. It's what's expected for fast lenses with wide maximum apertures, and means Fujifilm's X-series cameras are now finally ready for more widespread professional use.
Specifications:
Type: 200mm autofocus lens
Aperture range: f/2-f/22
Format: APS-C
Optical design: 19 elements in 14 groups
Diaphragm blades: 9 rounded
Minimum focus: 1.8m/5.91ft
Filter thread: 105mm
Dimensions DxH: 122x205mm/4.8×8.07in
Weight: 2265g/4.98lb
PRO MOVIEMAKER RATING: 8/10
A fast tele prime lens that's just right for sports photography
+ Pros: Great image quality, fast AF
–  Cons: Heavy, expensive