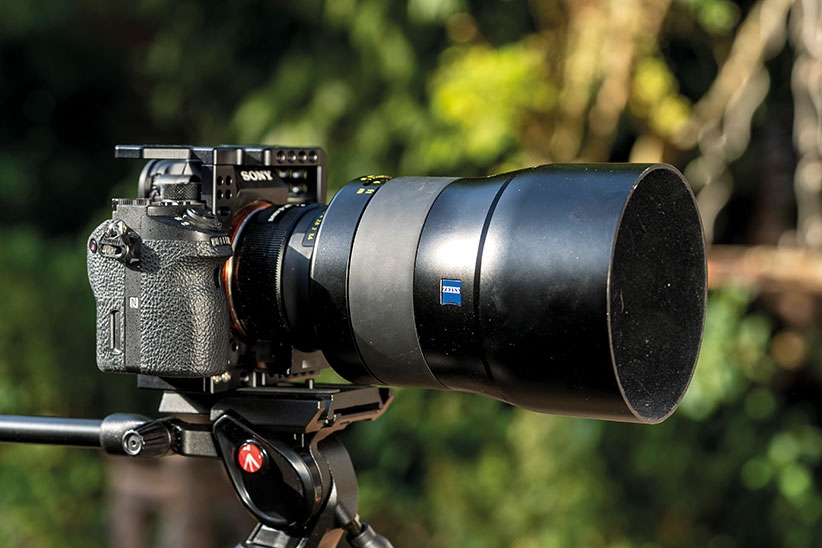 Zeiss 85mm f/1.4 Otus
For the ultimate in image quality for a DSLR or mirrorless camera, the Zeiss Otus is about the best you can get. But it comes at a high price compared to other lenses that are designed for smaller cameras – all of which have very effective autofocus systems.
So dropping several grand on a manual-only lens that's not specifically for cine may seem like madness. Especially for a lens that goes as wide as f/1.4, where focusing is super-critical. So, perhaps manual focus is the only way to go, as AF might focus on the end of the eyelashes rather than the eye, say.
However, the Zeiss was tricky to use, especially outdoors, wide open. We used a Nikon mount version on both a Nikon and Sony with a Metabones adapter. The Sony has the advantage of focus peaking. Modern DSLRs like the Nikon aren't really geared up for an optimal manual focus experience, and the Sony's peaking is tough to see. But when in sharp focus, results are breathtaking. 
The Otus is a no-compromise lens focused on image quality. There are six special glass elements and five aspheric lenses. At 1140g with an 86mm front filter thread, it's a big lens that oozes quality and will last for years. When you get it right, you get superb detail and contrast, accurate colours and no distortion.But shooting manual focus on DSLRs with a shallow depth-of-field is a huge challenge.  
With a lens like this, the law of diminishing returns means you are paying a lot extra for quality that is definitely better and with smoother bokeh than a cheaper 85mm lens.
Specifications:
Type: 85mm manual focus lens
Aperture range: f/1.4-f/16
Format: Full frame
Optical design:
11 elements in 9 groups
Diaphragm blades: 9 rounded
Minimum focus: 80cm/ 2.62ft
Filter thread: 86mm
Dimensions DxH:
101x124mm/ 3.98×4.88in
Weight: 1140g/ 2.65lb
PRO MOVIEMAKER RATING: 8/10
If you demand the ultimate in optical and build quality, this lens is it
+ Pros: Simply the best image quality
– Cons: Pricey, hard to focus wide open, heavy