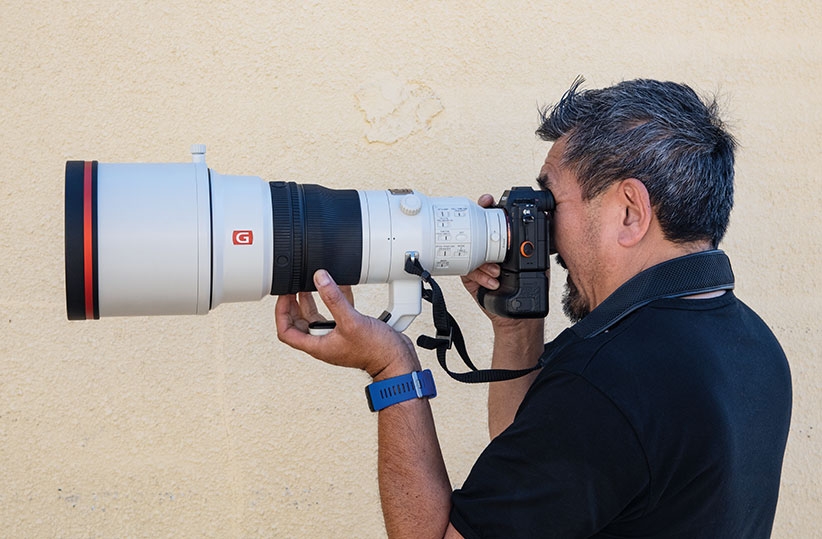 SONY FE 400MM F/2.8 GM OSS
If you shoot Sony and want a fast, super-telephoto for wildlife or sport, then you've been out of luck until now. But the premium G Master lens series is now up to a magnificent seven, thanks to the new, eye-wateringly expensive FE 400mm f/2.8 GM OSS.
The five-figure price tag goes with the superfast prime territory. It's just the thing for wildlife and sports pros, especially if you add in the 23 elements including three fluorite, linear motor AF and built-in stabilisation all wrapped up in a dust- and moisture-resistant body. 
Despite Sony's claims to its being the world's lightest 400mm f/2.8 (until Canon's recent launch), it still weighs 2895g/ 6.37lb so it's for tripod-only use. Even with the image stabilisation, you'll never hold it still enough for shake-free video. And I also noticed wind buffeting, probably down to the large profile of the lens. That's something that you can't get over, even with support. 
The lens' AF skills were impressive. The AF system features XD (extreme dynamic) linear motors which give fast, silent and smooth AF performance. Scenes just zip into focus with great accuracy and, given the very shallow depth-of-field this lens delivers, that is a good thing. I tried different focus zone options but mostly kept it simple and used single spot AF using the focus lever to move it around. AF activation was set to the four focus-hold buttons situated towards the front of the lens. However, these buttons can also be assigned other functions. 
"Scenes zip into focus with great accuracy and, given the very shallow depth-of-field this lens delivers, that is a good thing"

 
The next ring back from the focus-hold buttons is the function ring. This can be used for power focusing, which gives a smooth and controllable focus transition from one AF point to a preset focus point in the scene. 
Image quality was awesome. If you buy a fast aperture lens you expect great performance at its maximum aperture – even more so if you've handed over so much money for it. And that's the case here: sharpness is breathtakingly impressive wide open. In fact it is good at every aperture, so should you need to use f/16 and f/22 you can and still get critically sharp results. With this long telephoto you get the results you'd expect in a top-end short telephoto – impressive.
If you're a Sony user with the need for a long, superfast lens and have the budget, the Sony FE 400mm f/2.8 GM OSS is a great purchase. It is hugely capable in terms of AF speed and accuracy, and image quality is nothing short of incredible, but then you'd expect that of a lens that costs this much.
Specifications:
Type: 400mm autofocus lens
Aperture range: f/2.8-f/22
Format: Full frame
Optical design:
23 elements in 17 groups
Diaphragm blades: 11 rounded
Minimum focus: 2.7m/ 8.86ft
Filter thread: 40.5mm slot-in
Dimensions DxH:
158.1x359mm / 6.22×14.13in 
Weight: 2895g/ 6.37lb
PRO MOVIEMAKER RATING: 9/10
You get what you pay for and, in this case, that's a lot, with smooth, silent autofocus and awesome image quality
+ Pros: Optical quality, fast AF, good stabiliser 
– Cons: Price, still a heavy lens, designed for stills
PRICE: £10,500/$11,998