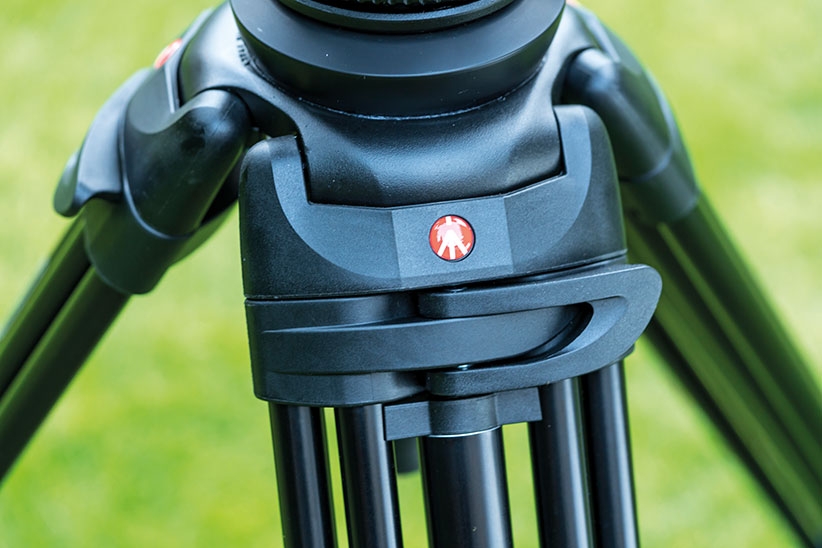 Manfrotto 545B with Nitrotech N12 head
When Manfrotto unveiled the revolutionary N8 Nitrotech fluid head last year with a payload capacity limited to a not-surprising 8kg/17.6lb, it was only going to be a matter of time before a head suitable for larger cameras was introduced. That head is the Nitrotech N12, suitable for payloads up to 12kg/26.5lb. What is surprising is that the head is the same size as the smaller N8 and has the same 75mm flat base rather than a 100mm bowl. So like the N8, it needs an adapter, available separately, to use on bowl-top tripods.
The alternative is to buy the head as part of a kit, and Manfrotto's 545B aluminium tripod with the N12 is a formidable partnership for all but the very largest broadcast cameras.
A traditional twin-tube design with a mid-level spreader, the tripod may not be as light as carbon-fibre alternatives but it doesn't cost as much, either. At just £1100/$1100 for the complete set-up which includes a decent carry bag, it's a decent price considering the head alone retails at £600/$600. It's solid, the legs are well proven and should give many years of service, as many working professionals will testify. It's fast and easy to set up, and is strong enough to resist twisting or bending. That's why it is used by so many filmmakers.
The high-tech bit is in the minimalist head, which is designed to be quick and easy to balance for lots of different cameras and lenses, and, of course, give silky-smooth pans and tilts.
The head uses a nitrogen-charged piston to control the balancing of the camera, and it works quickly and without any fuss as you use the knob on the side to dial in the right amount of balance. It also works for small cameras so is good if you use a variety of kit for different shoots. The camera plate is long enough to work for most cameras, and has metric ruler markings to make set-up consistent. There's also an illuminated spirit level to get the head levelled up when it's dark.
A head is measured on the quality of its movements and the Nitrotech N12 is excellent. The variable fluid drag system lets you dial in the precise amount of controlled drag for the camera, lens and speed of movement that you need. There's no snatchiness or bounce-back at the end of the movement.
Like the Nitrotech N8, the N12 has quick-release style fitting, so you simply lower your camera into place from above and click it in firmly. It's ideal for larger cameras that can be a pain to slide onto tripod heads. And there is Manfrotto's 3/8in Easy Link connector on the side, ideal for mounting arms to hold external monitors or mics.
For the price, it's a great buy for a working professional and is better than anything Manfrotto has offered before. It is a popular set-up and it's easy to understand why. 

Specification
Head fitting: 75mm flat
Counterbalance: Variable continuous 4-14kg/ 8.8-30.9kg
Leg sections: 2 aluminium
Height range: 47-170cm/18.5-66.9in
Maximum payload: 12kg/26.4lb
Spreader type: Mid-level
Head type: Nitrotech N12
Weight: 6kg/13.2lb
PRO MOVIEMAKER RATING: 8/10
+ Pros: Good price for high-tech kit
– Cons: Not as light as some rivals

PRICE: £934/$1227