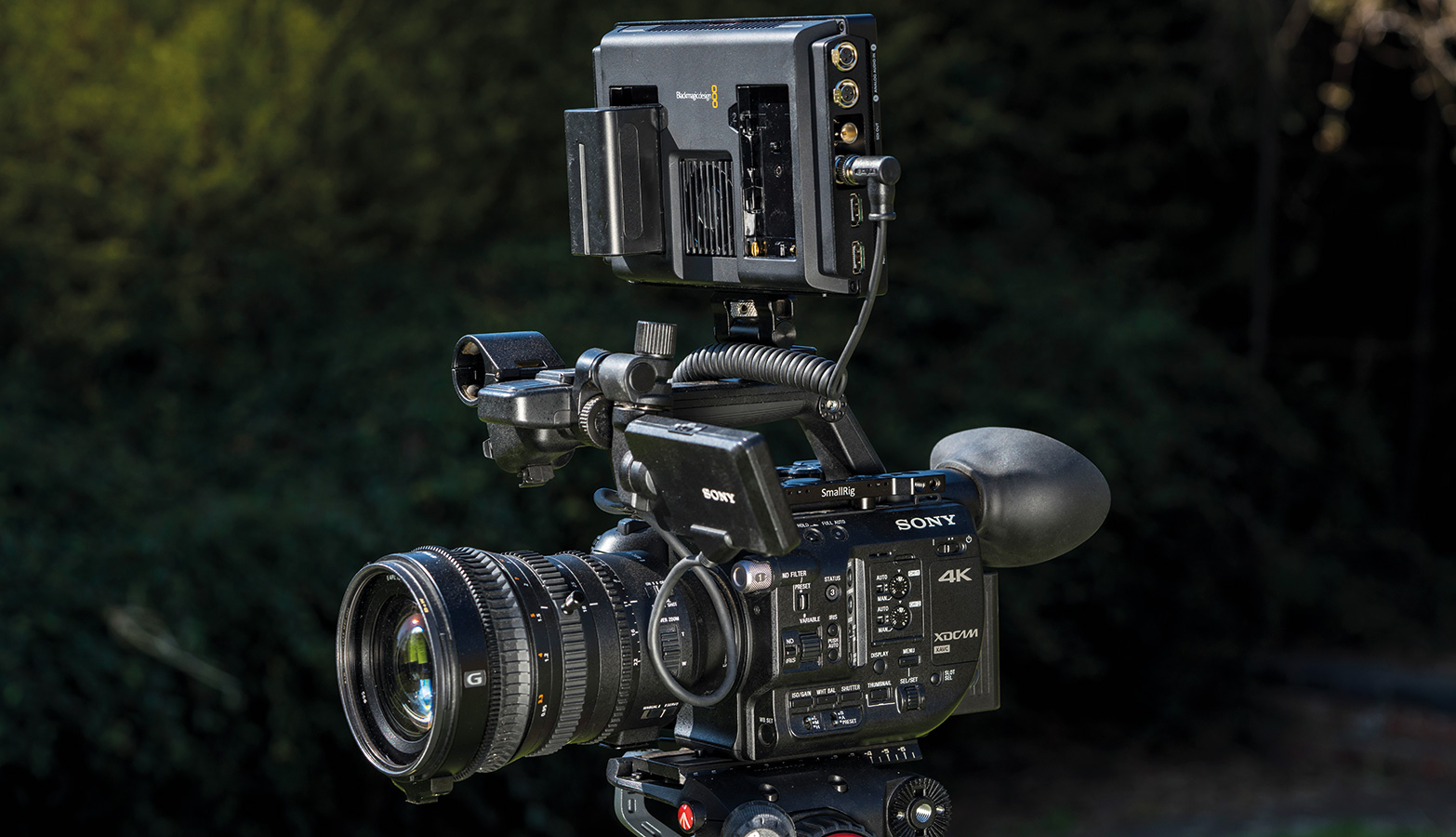 Mini test: Blackmagic video assist 7in 12g HDR
Posted on Aug 19, 2020 by Adam Duckworth
There is nothing like monitoring your footage on a large, seven-inch monitor/ recorder on top of your camera
£934/$995
Compared to the LCD, the view is much bigger to help composition, it has all the tools you need (waveforms, RGB parade, vectorscopes and focus peaking) and can often improve on the actual quality of footage.
The new Blackmagic Video Assist 7in 12G HDR has all this, and lots more. It can take a camera signal in all formats up to DCI 4K, record it and output that signal to another monitor. Both SDI and HDMI connectivity mean it works whether you're shooting on a mirrorless or a big cinema camera. Often this is the only way to get a 10-bit signal out of smaller cameras.
There are also twin mini XLR inputs for audio recording, too. So if you don't want to record via the camera itself, you can use full-size professional XLR mics and plug them right into the monitor if you have the right cable. That's a big bonus for users of DSLR or mirrorless cameras, as you're not relying on the camera's internal amps.
The unit is powered by two Sony NP-F batteries, which clip on to the back or can plug into the mains. Such a bright screen does suck up battery power, so you'd need spares for a full day's shooting. There are two battery slots, so you can change batteries without interrupting recording.
While some recorders make you use SSD media, the Blackmagic Video Assist records 10-bit 4:2:2 footage on to two high-speed SD cards. You can change full cards during recording, so there's no limit on recording length. There is also a USB-C socket at the base, so you can plug in an SSD drive if you want. You'd have to concoct some way of holding the drive, though, as there is no slot for it.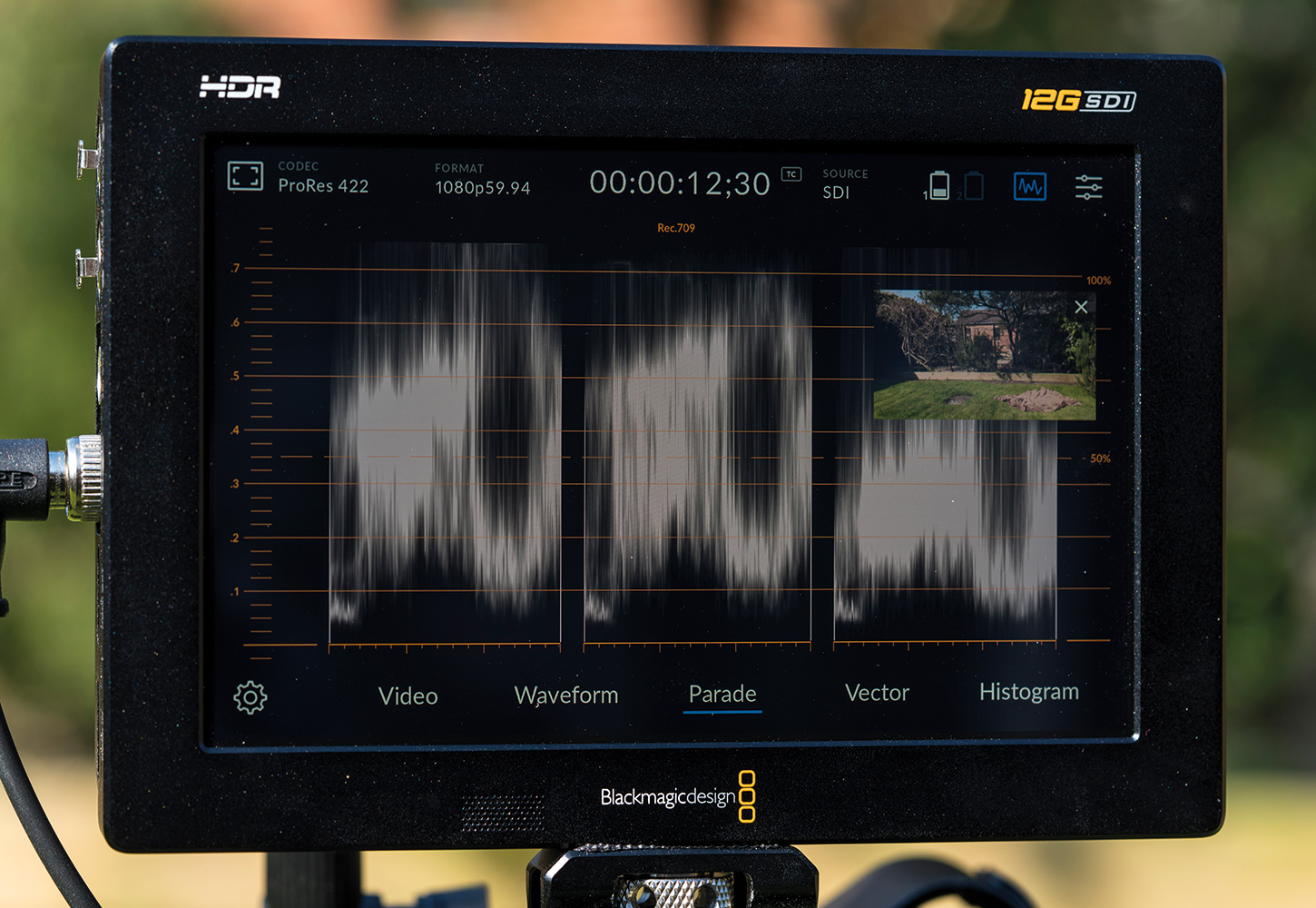 The 1920×1200 touchscreen is very responsive, sharp and bright. It's a huge 2500 nits so it's bright enough for use outside on a sunny day, and there isn't much glare, although a sunscreen is a good idea. For nailing exposure, the built-in scopes can be overlaid on live video, or as a small picture in picture view at the top right. The touchscreen lets you change recording formats or view the current input frame rate, histogram, audio levels, time code or any of the other tools.
The 12G Video Assist records HD and 4K DCI up to 60p in full broadcast-quality 10-bit, 4:2:2 ProRes or DNxHD files and also Blackmagic Raw recording with selected cameras, which now includes the Panasonic EVA1 and Canon C300 Mk II. And you can load and save 3D LUTs so you can get a clear look at what your final, graded footage will look like. LUTs can be applied for monitoring only, or they can be burned into files for use in editing when capturing Blackmagic Raw.
The monitor is also ideal for HDR work, as files are tagged with HDR information, then SDI and HDMI inputs automatically detect HDR video standards. Both PQ and HLG formats are catered for, and the LCD works in both Rec. 2020 and Rec. 709 colour spaces, so it's a full HDR solution.
Specifications
Display: 7in 1920×1200 touchscreen
Brightness: 2500 nits
Recording Media: 2 x UHS-11 SD cards
Codecs supported: 10-bit 4:2:2, ProRes 422 HQ/422/LT, DNxHD
SDI and HDMI formats: HD: 1080p 24/25/29.97/30/50/59.94/60. UHD: 2160p 23.98/24/25/ 29.97/30/50/59.94/60. 4K: 4K DCI 23.98/24/25
Inputs: SDI video; HDMI video USB-C
Output: SDI video; HDMI video
Colour space: Rec. 601, 709, 2020. HDR10, HLG
Audio: Inputs/outputs 16 channels via 12G SDI, 8 channels via HDMI. 3.5 mm stereo analogue audio output jack, 2 x mini XLR analogue audio inputs with phantom power.
Power: 12xDC or 2x Sony NP-f fit batteries
Dimensions (wxhxd): 193x 130.5x 37mm/7.6×5.14×1.45in
Weight: 825G/1.82lb
Pro Moviemaker rating
9/10 It's a well-built and affordable monitor that can improve the quality of your footage
Pros: Bright screen and packed with features
Cons: No Apple ProRes Raw support
This article first featured in the Summer 2020 issue of Pro Moviemaker magazine.