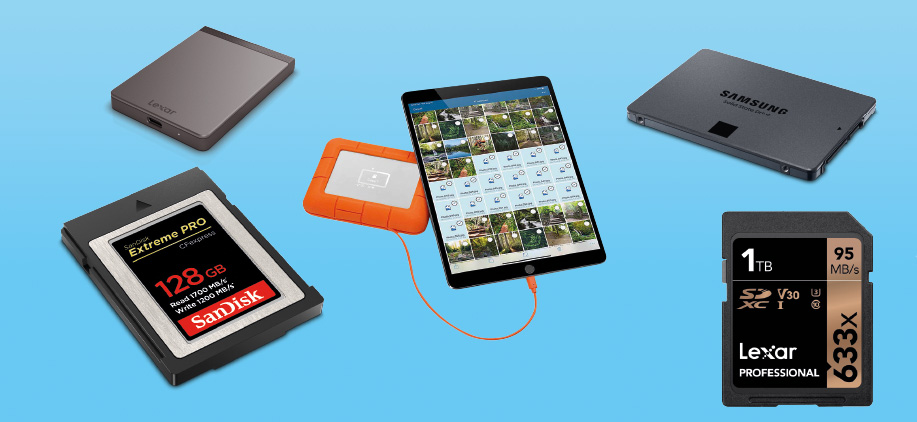 Buyers' Guide to storage: The cutting edge of memory!
Posted on Aug 25, 2020 by Adam Duckworth
We take a look at some of the very latest gear to store your precious data – from memory cards to portable drives and more
Once you've recorded your masterpiece, the last thing you want is for the footage to be lost forever. From the memory card or USB drive attached to your camera, to portable drives on-location, long-term storage and working drives back at base, buying reliable and fast media is crucial.
Any failure is a total nightmare, so it makes sense to invest in some of the best media. Scrimping here is a huge gamble, especially for a professional.
Speed is of the essence, as it needs to keep up with the data from your camera when recording, or to stop the dreaded buffering when editing from a hard drive. And with different cameras now using a range of media such as SSD, CFexpress and CFast, and computers now moving to Thunderbolt or USB-C, it's time to take a look at some of the best kit on the market.
LaCie 1big Dock SSD Pro 2TB
£1249/$1301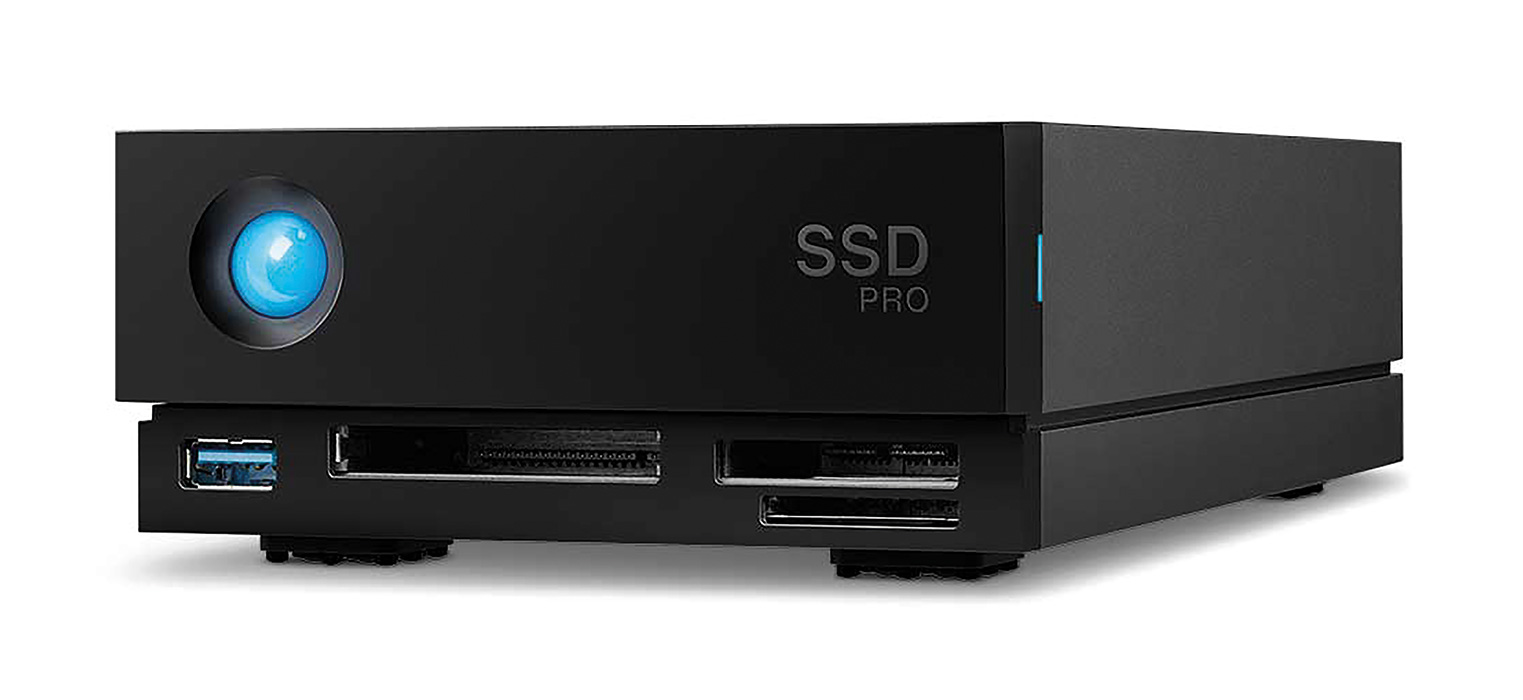 LaCie has been a brand trusted by filmmakers for years, and rightly so. Now the French company, part of Seagate Technology, has revealed one of the fastest, most compact, reliable and powerful desktop drives that is so much more than a standard external hard drive. The new LaCie 1big Dock SSD Pro, available in 2TB and 4TB capacities, is ideal for editing data-intense 6K, 8K, super slow-motion, uncompressed Raw video and VFX content.
It uses Seagate's cutting-edge FireCuda NVMe SSD and Thunderbolt 3 connections to deliver read speeds of up to 2800MB/s. It has two Thunderbolt 3 ports that are USB-C compatible, and a docking station including a built-in USB 3.0 port, cinema-grade memory card slots for CFast 2.0, CFexpress and SD, and a DisplayPort 1.4 output connection. It is the ideal peripheral for professional cinema cameras, including leading brands like Arri, Blackmagic, Red and Canon.
And having an SSD inside rather than a spinning hard drive means it's much quieter, faster and reliable, as it has no moving parts to wear out.
However, if you need more capacity, LaCie also has the revealed the similarly styled 1big Dock, which uses HDD drives and comes in 4TB, 8TB and 16TB capacities.
Both SSD and HDD units can deliver up to 45W of power to a laptop or 30W when daisy-chaining compatible devices.
Both come with a five-year warranty with Rescue Data Recovery Services and a free one-month Adobe Creative Cloud All Apps plan.
The Lacie 1big Dock SSD Pro retails for £1249/$1301 for a 2TB version, while the 1big Dock is £330/$354 for a 4TB unit.
Lacie Rugged BOSS ssd 1TB
£446/$452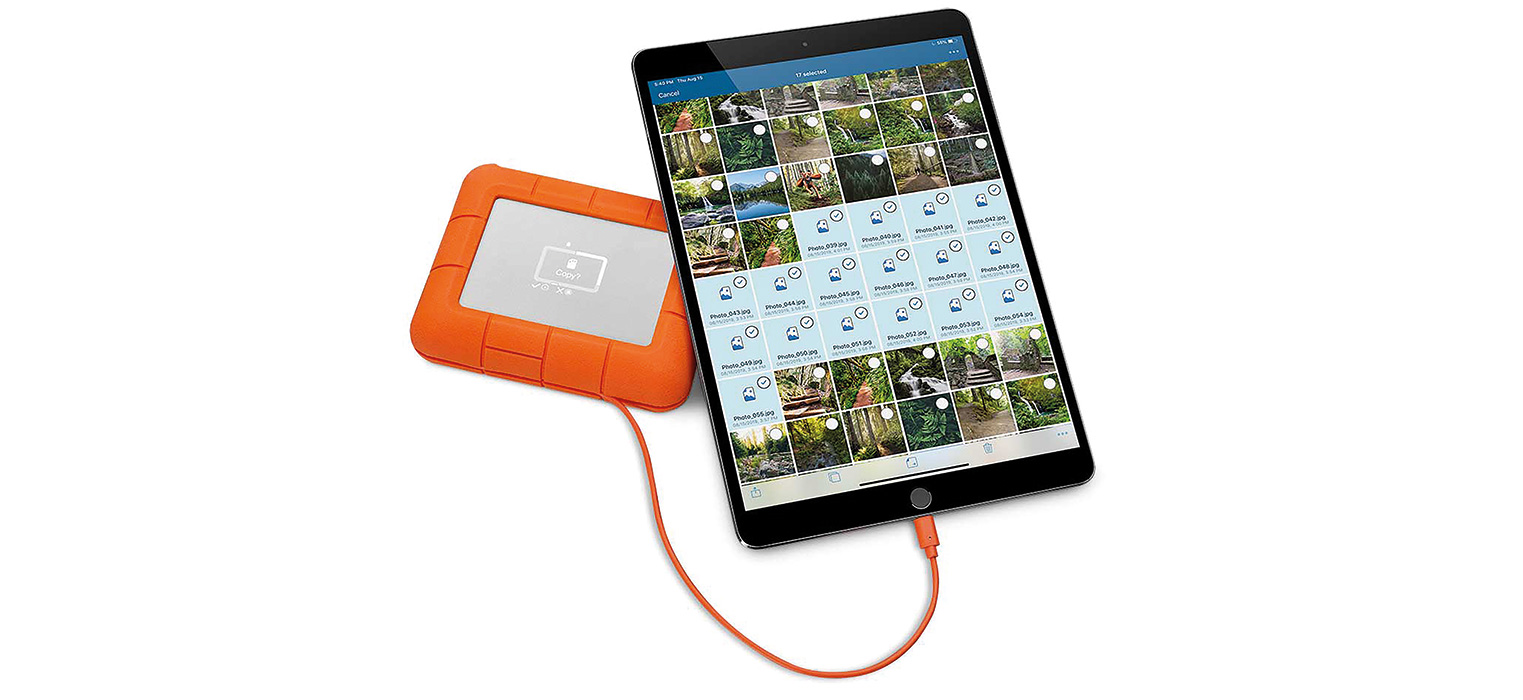 LaCie aims to make it easier than ever to manage content on the go with the 1TB Rugged Boss SSD. It offers SSD speeds of up to 430MB/s with direct file transfers via the integrated SD card slot and USB port. There's a built-in status screen for real-time updates on transfers, capacity and battery life.
Managed via the LaCie Boss app on iOS and Android, you can view, name and delete footage using your mobile device. And of course, being part of the rugged range, it is drop, splash and dust resistant. It can also be used as a portable power pack for USB devices like phones. It has a three-year warranty and comes with Seagate's Rescue Data Recovery Services and a one-month subscription to Adobe Creative Cloud.
Lexar SL200 Portable SSD 1TB
£145/$160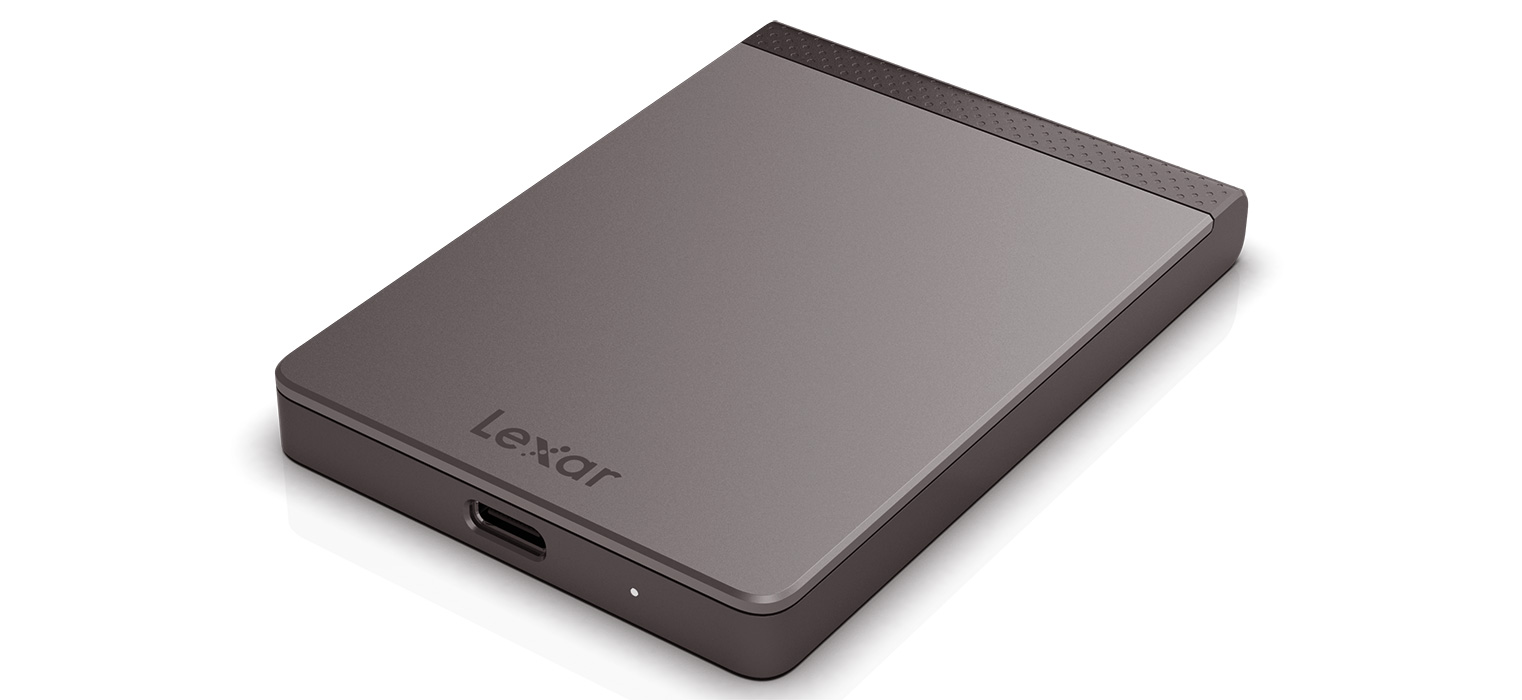 SSD hard drives are the way to go for location backup units since they are fast, small, quiet and rugged. Lexar's new affordable SL200 fits the bill as it is resistant to drops, shocks and vibration, and features an advanced security solution with 256-bit AES encryption. You can create a password-protected 'safe' to protect files against corruption or accidental deletion.
The SL200 looks like a top-quality bit of kit in its sleek metal outer and is available in 512GB and 1TB of storage space. It has transfer speeds of up to 550 MB/s and a write speed of up to 400 MB/s. It's easy to connect to most systems using the included USB 3.1 Type-C to USB Type-C or USB Type-C to Type-A cable.
The Lexar SL200 Portable SSD is one of the more affordable units at £81/$90 for the 512 GB and £145/$160 for the 1TB versions, and comes with a three-year warranty.
£234/$180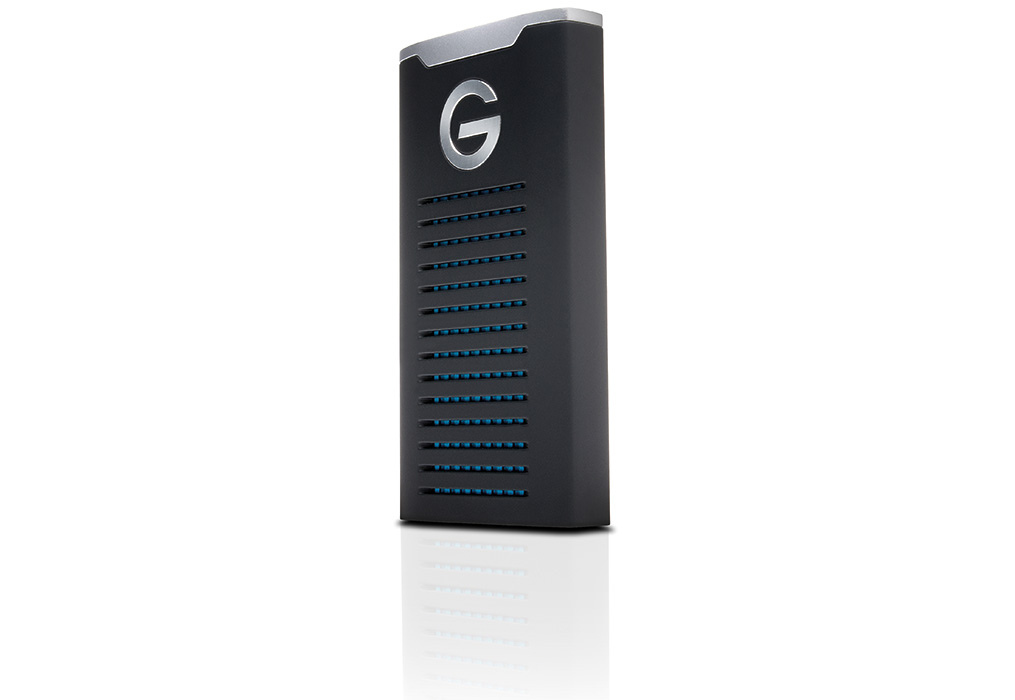 G-Technology's G-Drive Mobile SSD uses rugged components to fend off the toughest conditions in the field, thanks to the fast and reliable SSD being inside an insulated custom enclosure housed in a tough aluminium core. This helps prevent overheating. It's ideal for filmmakers in the toughest environments, as it has IP67 water and dust resistance, drop protection for up to 3m and a crush resistance of 454kg/1000lb. It has a five-year warranty and comes in 500GB, 1TB and 2TB versions.
The G-Drive Mobile SSD has the fast USB 3.1 Gen 2 connection, compatible with USB-C, USB 3.0 and Thunderbolt 3 computers. And with a transfer rate of up to 560MB/s, it offers speed of performance that is so much faster than even the quickest HDDs.
G-Technology ArmorATD 1TB
£80/$70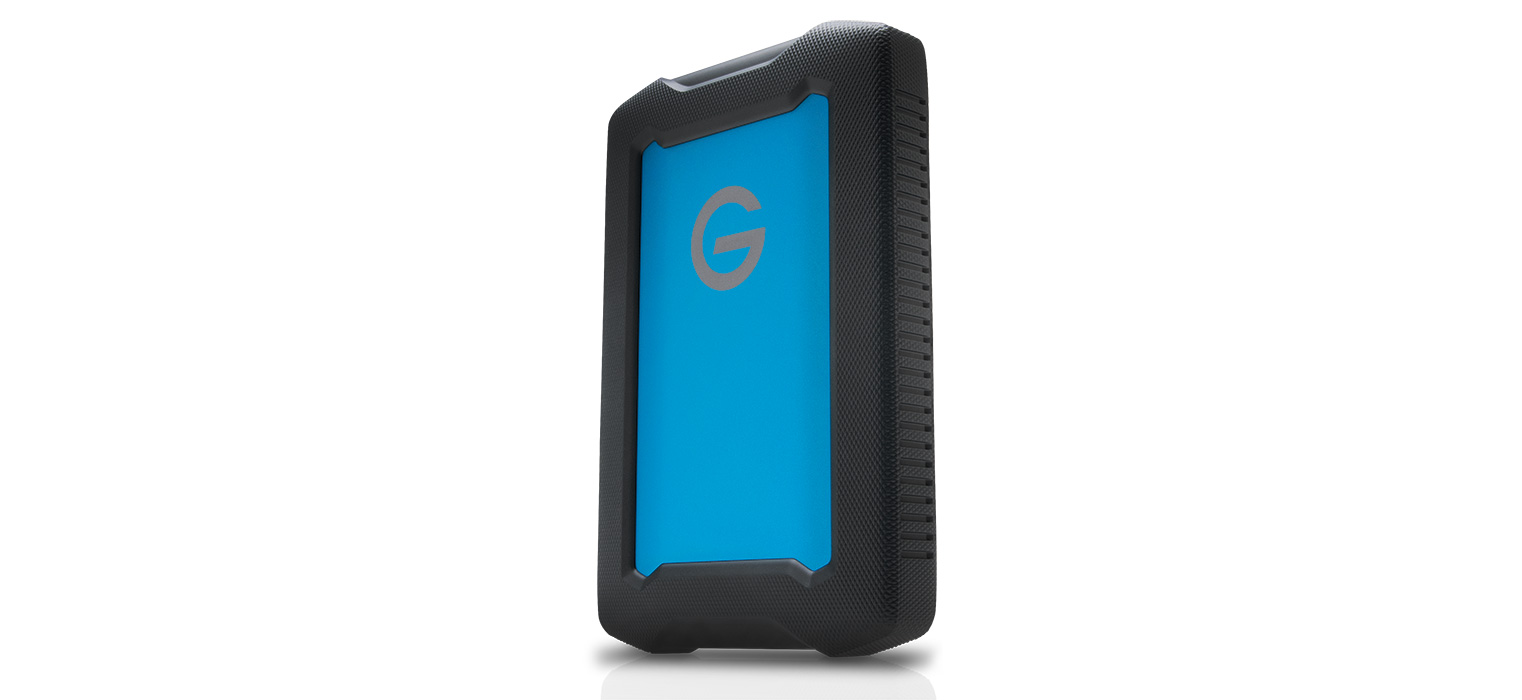 A tough and rugged external drive at an inexpensive price is what makes G-Technolgy's ArmorATD a winner. Available in 1TB, 2TB, 4TB and 5TB sizes from £80/$70, it's still compact, but has a triple layer of shock resistance to give protection from drops and from the elements.
The drive is mounted inside a solid aluminium enclosure and is suspended from internal shock mounts to keep the hard drive as safe as possible. Around the outside of the case is a protective rubber bumper. It's resistant to rain and dust, and has a crush resistance of 454kg/1000lb. It's so good, it won the Pro Moviemaker Gear of the Year award for external hard drives in 2019, as voted for by readers.
Samsung SSD T7 Touch 1TB
£196/$200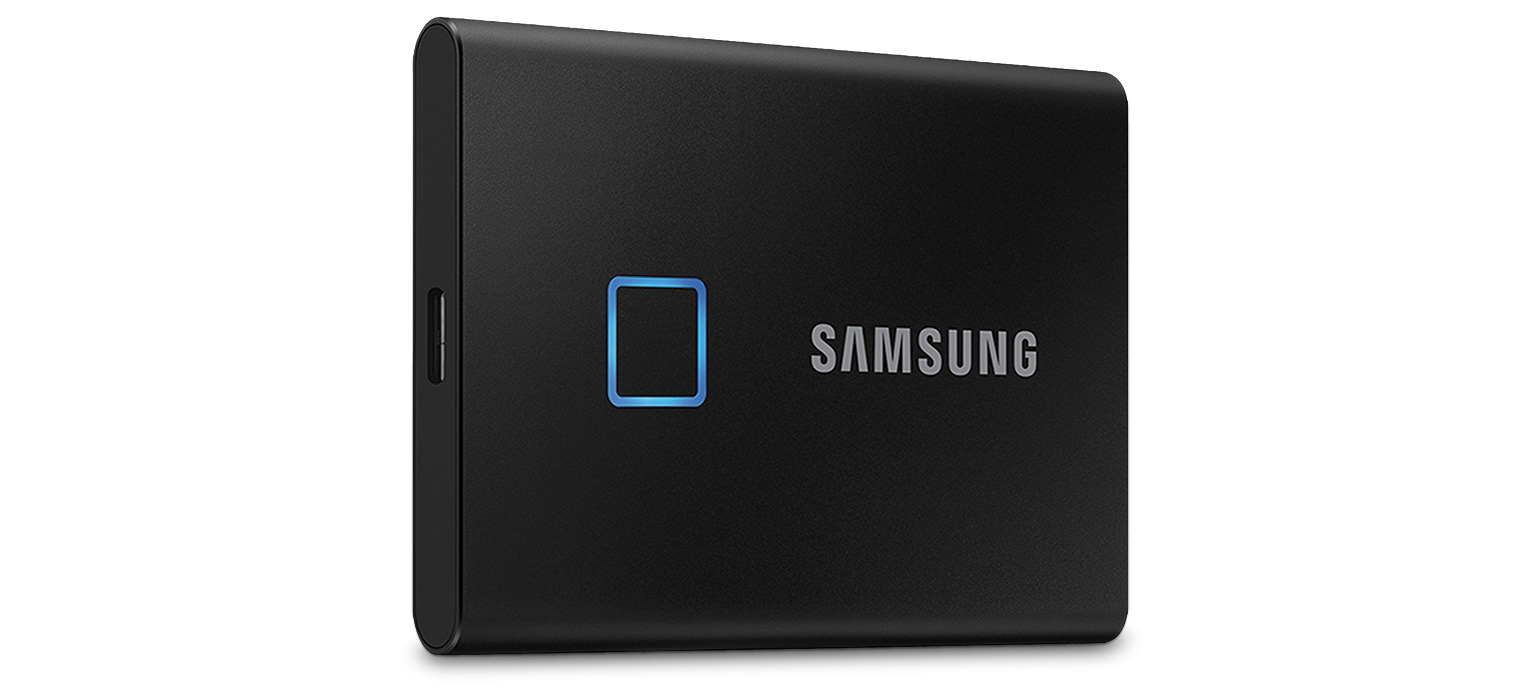 Keeping your data safe is key for Samsung with the T7 Touch SSD, which has a built-in fingerprint sensor to stop just anyone accessing your precious data. The sleek and compact unit has USB 3.2 Gen 2 standard with a read speed of 1050MB/s and a write speed of 1000MB/s. It's approximately twice as fast as its predecessor, the T5, and up to 9.5 times faster than external HDDs. The T7 can reach its maximum speed when used with the NVMe interface.
As well as the first built-in fingerprint scanner on an SSD, there is password protection and AES 256-bit hardware encryption. Despite the considerable speed boost and hardware additions housed in solid aluminium, it weighs in at just 58g/0.13lb.
Available in black or silver, the T7 Touch comes in 500GB, 1TB and 2TB. The drive comes with a USB-C-to-C cable and a USB-C-to-A cable, and is compatible with Windows, Mac and Android operating systems. The T7 Touch also includes a three-year limited warranty.
Samsung SSD 870 QVO 1TB
£111/$130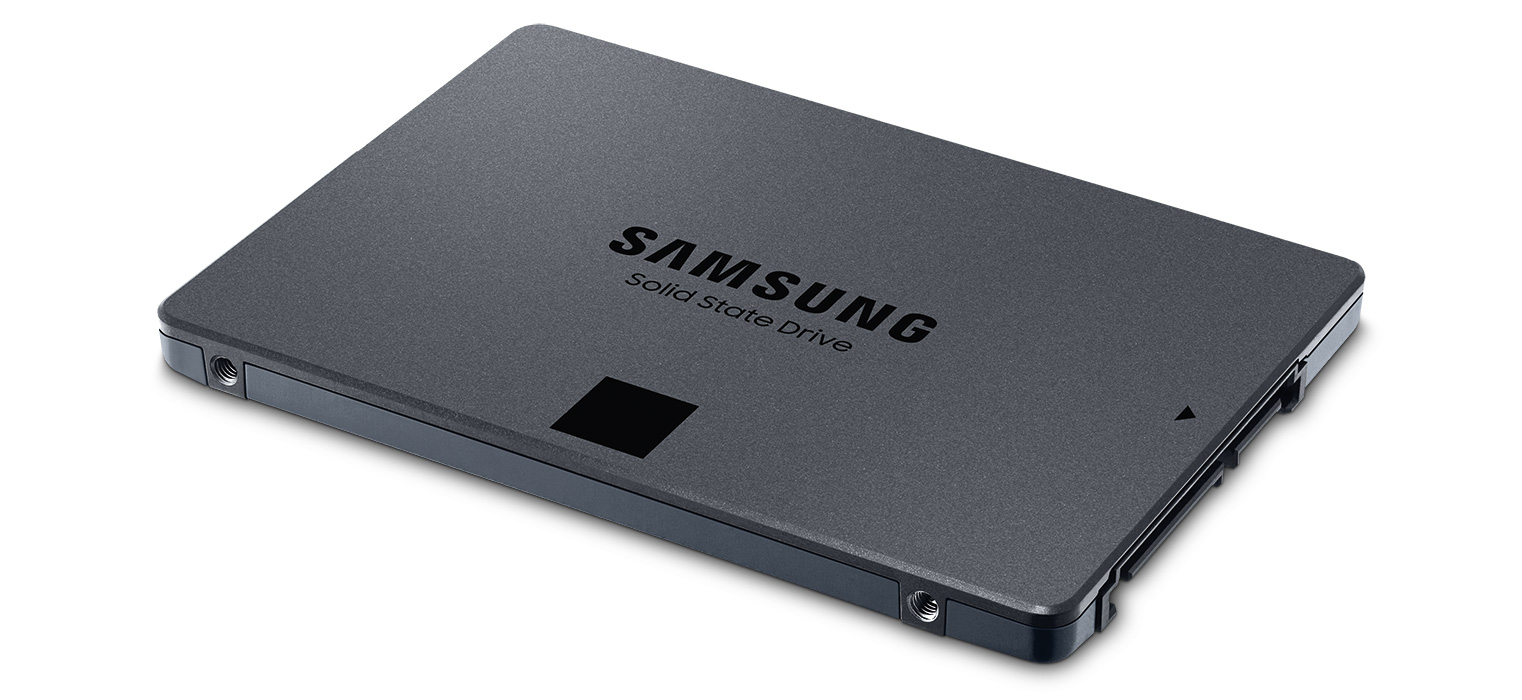 Internal SSD drives might be more regularly used for laptops and PCs, but are also essential for filmmakers for use inside caddies to fit some of the faster monitor/ recorders, or even inside cameras.
The 870 QVO SATA SSD is a quad-level cell (QLC) flash drive and comes in capacities from 1TB up to 8TB, and has a great mix of speed, storage capacity and reliability. Large capacities like this were previously the domains of HDD drives, rather than the faster SSDs.
The 870 QVO offers sequential read and write speeds of up to 560 MB/s and 530 MB/s respectively, with the drive's Intelligent TurboWrite technology allowing it to maintain peak performance levels using a large variable SLC buffer.
The 870 QVO also delivers a 13% improvement in random read speed compared to the 860 QVO. It provides an endurance rating of up to 2880TB written data or a three-year warranty.
Lexar 633x SDXC UHS-1 1TB
£299/$379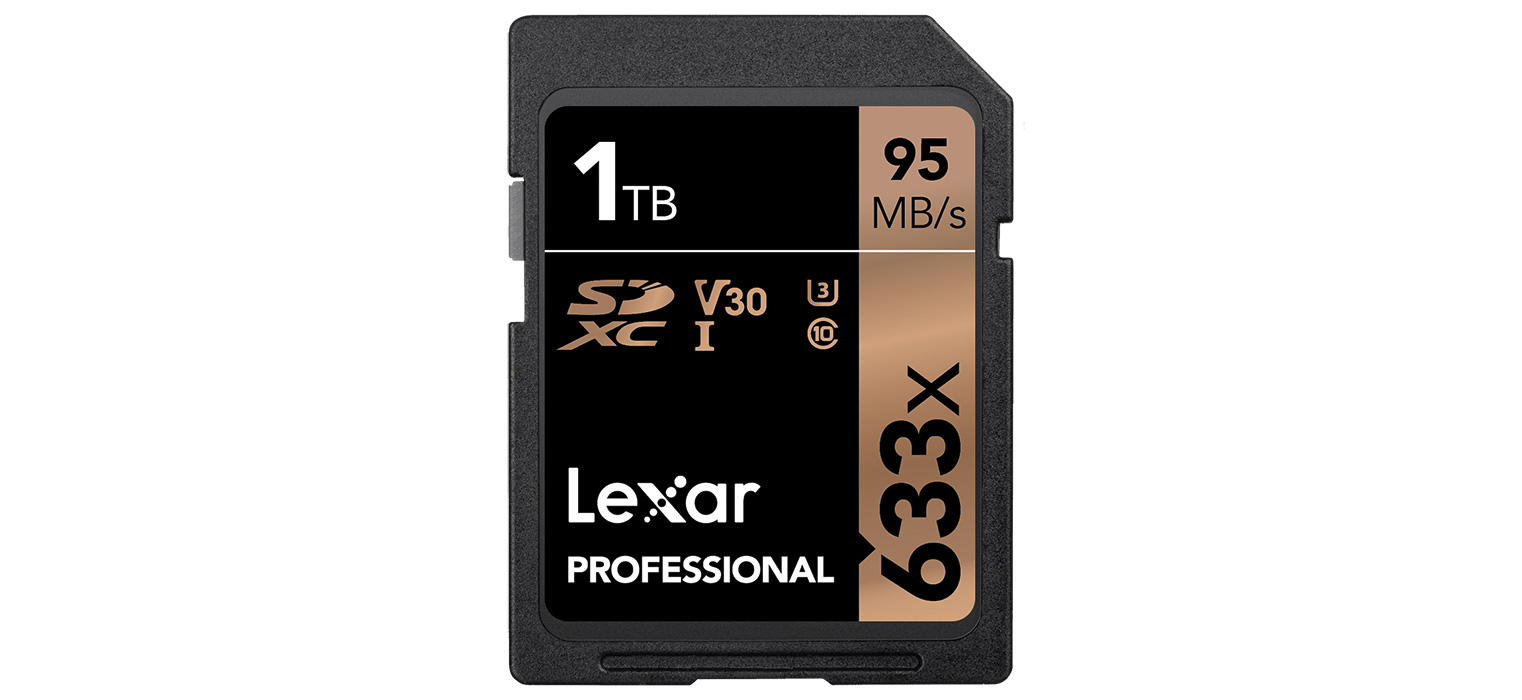 It wasn't that long ago that a 1TB external hard drive was a milestone. And now you can buy memory cards with 1TB of storage, such as the Lexar Professional 633x SDXC UHS-I card.
This high-capacity card is really designed for mid-range DSLR, mirrorless or HD camcorders rather than high-end professional models, as its write speed of 633x/95MB/s isn't really optimum for 4K capture on data-hungry devices. But for mega-long time-lapses or HD footage rather than 4K, it's more than up to the job thanks to its Class 10, UHS-I rating.
It comes with a lifetime warranty, too. You might never have to buy another card!
Sandisk Extreme PRO CFexpress 128GB card
£279/$249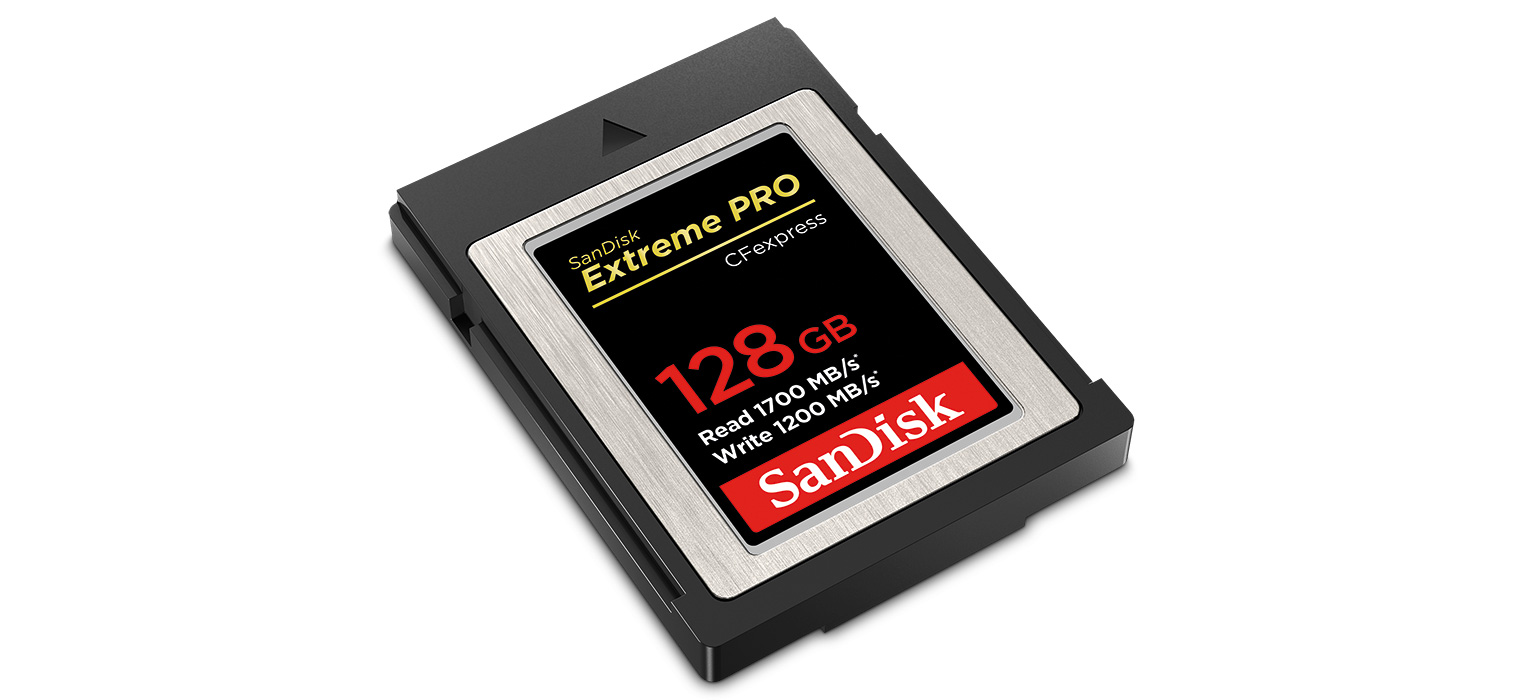 Lots of new cameras are moving over to the super-speedy and robust CFexpress cards, like this 128GB beauty from Sandisk. It's the Extreme Pro series Type B card and reads at up to a blistering 1700MB/s and writes at 1200MB/s, so is faster than most things on the market.
There is low latency during high-speed recording and workflow efficiency that's far beyond anything existing SanDisk cards deliver. It's also backwards compatible with select XQD cameras that adopt firmware enabling CFexpress. The card includes both RescuePRO Deluxe Recovery Software and a lifetime warranty.
Lease hardware to save cash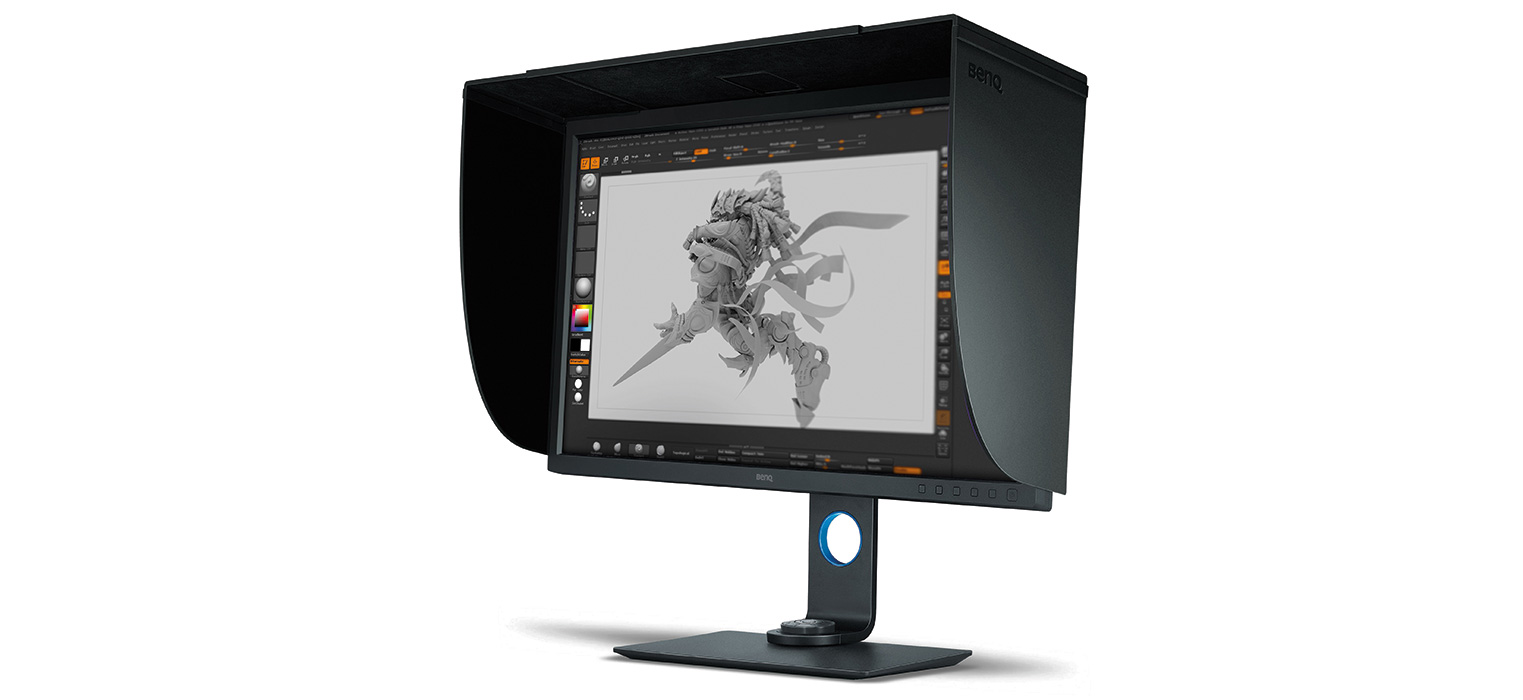 If you really want the latest new computer and hard drive kit, but don't want to shell out a huge lump of cash all in one go, leasing is a great option. With even software companies like Adobe offering Premiere Pro CC and After Effects as a pay-monthly subscription, it makes sense to spread the cost of the hardware to run it, too.
Specialist firms like HardSoft offer the latest Apple Macs, Surface laptops, iPads or any hardware you could need, and allow you to pay a monthly subscription, without a deposit. And something that can make a big difference to a filmmaking business is that there is a technical helpline to help with any issues.
HardSoft's range of options includes a rental scheme where you pay a fixed monthly fee for your computer for three years then hand it back, although you can buy it at the end
if you like.
A flexi-lease gives you more options to change your kit, send it back or continue with the plan during the three years, then you will own it at the end for a tiny payment – often just £1.
Find out more information here.
Click here to read the Summer 2020 issue of Pro Moviemaker magazine.