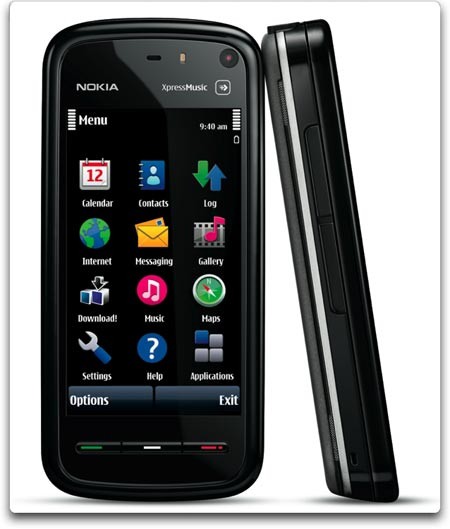 Nokia 5800 XpressMusic
The 3G-enabled Nokia 5800 XpressMusic delivers the best total music experience possible while also keeping you connected to all of your mobile communication–from voice and messaging to social networking and web browsing. This version of the quad-band 5800 XpressMusic GSM/EDGE phone is also ready to run on 3G networks here in the US (850/1900 MHz UMTS/HSDPA), enabling fast downloads and streaming multimedia while on the go.
The Nokia 5800 XpressMusic features a 3.2-inch touchscreen, included 8 GB MicroSD card, 3G and Wi-Fi connectivity, and GPS for turn-by-turn directions.
It all starts with the 3.2-inch touchscreen, which brings photos, video clips and web content to life in vibrant color and true clarity as well as offers easy navigation through its intuitive interface. It also has a 16:9 aspect ratio for optimized playback of high-definition videos. The 5800 XpressMusic is compatible with Amazon Video on Demand, which allows you to download thousands of movies or TV titles directly to your PC and then transfer the video to the phone.