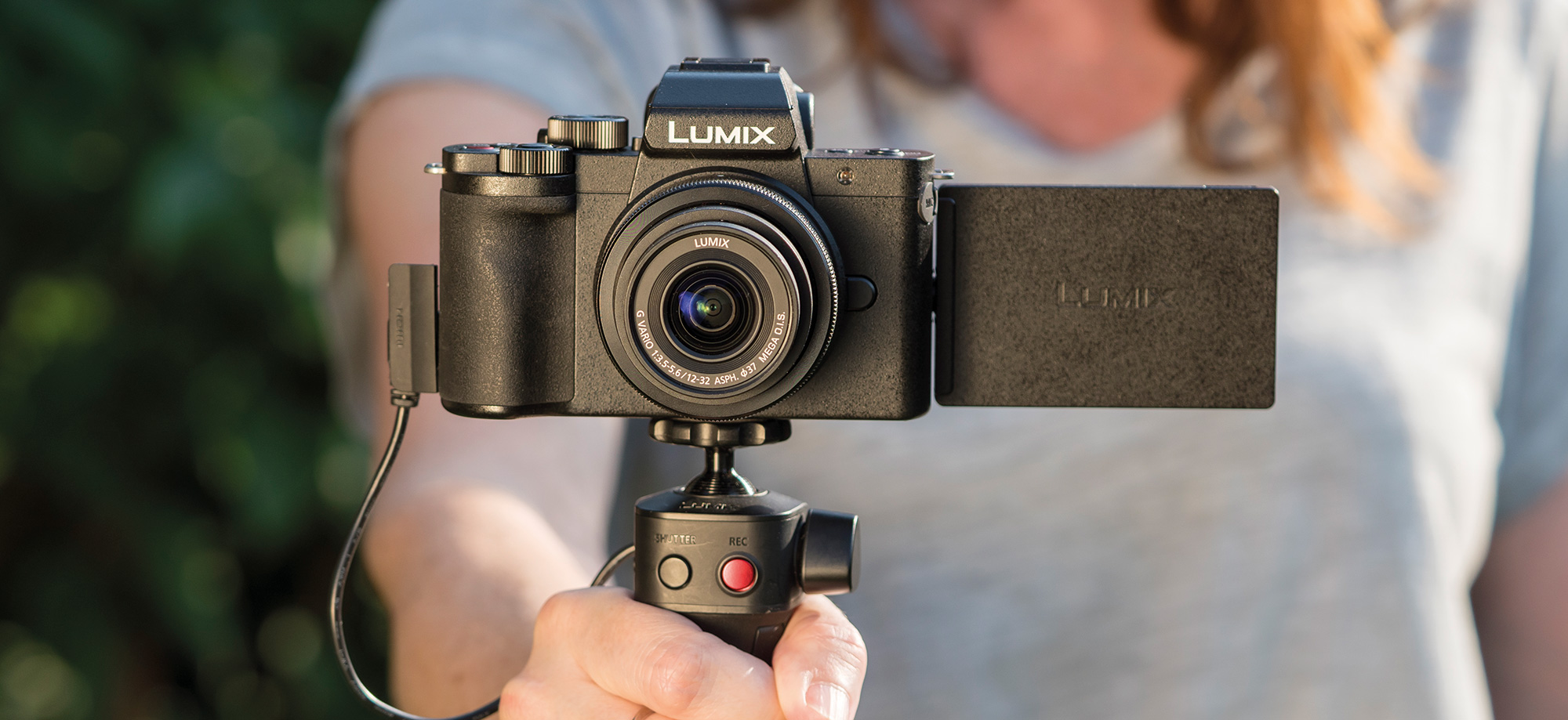 Panasonic G100: Vlogger's delight
Posted on Jan 7, 2021 by Adam Duckworth
The tiny Panasonic G100 is more than just for selfies and packs some advanced audio technology
If you're reading this magazine, you probably won't be bowled over by Panasonic's new G100 camera, or have even registered that it exists. It's not aimed at professional filmmakers, but at a growing band of vloggers and content makers. They just want a small, light camera that works and has as much technology as possible to help them get good results, without any fuss.
But where most cameras aimed at vloggers use very small sensors and a built-in zoom lens, the pint-sized Pana packs a relatively large Micro Four Thirds sensor. It takes the full range of MFT-mount lenses and, best of all, has some incredible new audio technology that makes a real difference to your sound. That makes it a useful B or C camera, ideal for an extra viewpoint on your pro shoot, or an inexperienced crew member can use it to take behind the scenes or B-roll that's very usable. And that's all for not a lot of money in a very compact package. Of course, if you do want to do some vlogging or take some photos, it can do that, too.
Perhaps we are at the start of a new age of more intuitive audio, where surround sound mics could be linked to face tracking to customise the sound
The real techno innovation is the audio, licensed from Nokia's OZO project. It uses three built-in microphones. These have a front, rear or surround pick-up pattern, but also have a tracking mode that adjusts which mic is best based on the camera's face detection system. This reduces the input from other directions, therefore limiting background noise. While it won't replace a direction shotgun mic and a boom operator, it definitely works well and you can hear the difference. If the camera doesn't detect a face, the audio switches to general surround mode.
With face and eye detection AF being around for a while now, it's amazing nobody else has cottoned on to linking it to the audio. Perhaps we are at the start of a new age of more intuitive audio, where potentially high-quality surround sound mics could be linked to face tracking to customise the sound. It's an interesting concept, and Panasonic's G100 leads the way.
Indeed, the spec of the G100 looks good on paper, but, in some ways, the implementation of the tech has been compromised to get the price and size of the camera down. For example, image stabilisation is crucial for vlogger cameras, and the G100 has it. Yet, this is only five-axis when recording video in 1080p HD, and four-axis in 4K. There are also significant crops to the footage.
That's because instead of the sensor actually moving to correct for shake, as in most in-body image stabilisation systems, the area of the sensor that's recorded is moved around.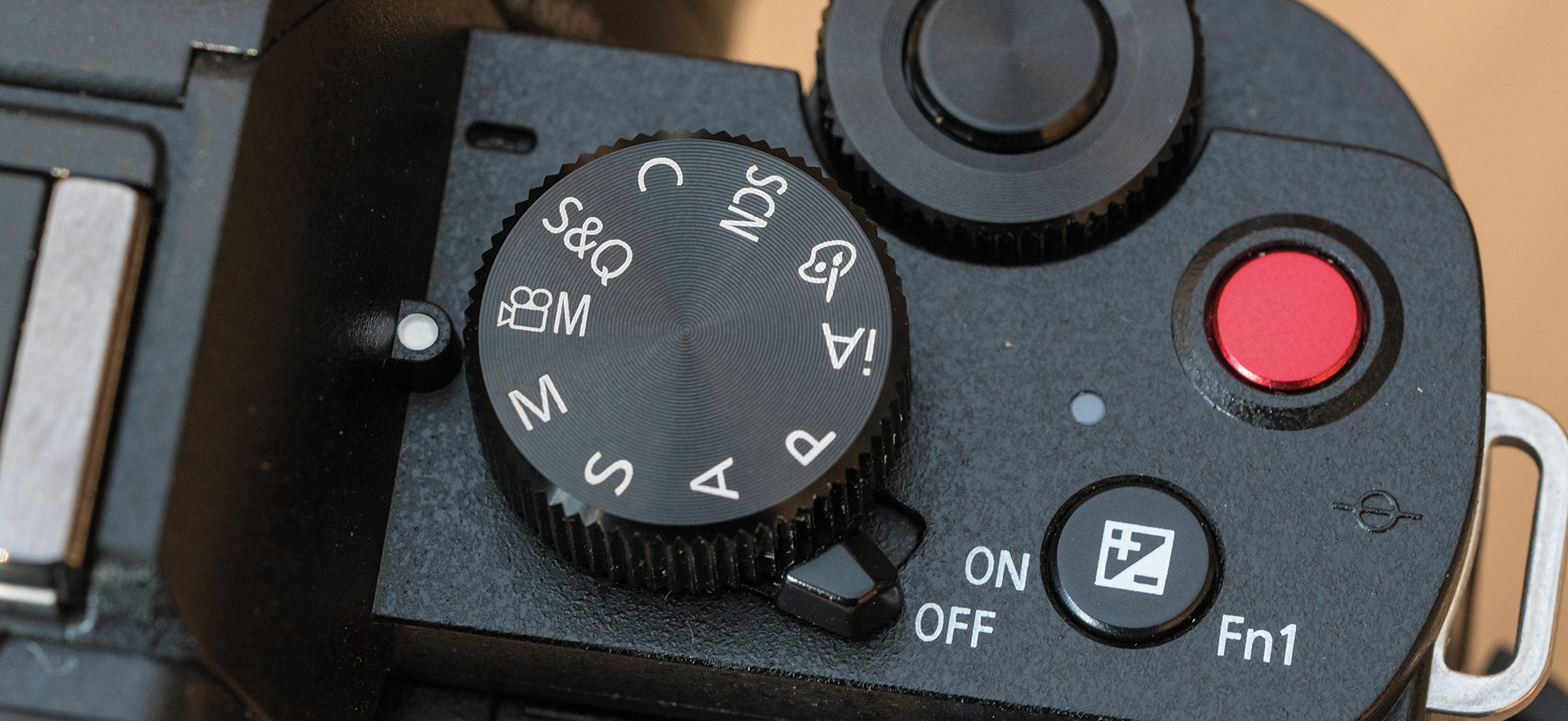 If you're shooting in HD, there's a 1.09x crop when using the standard IS setting that increases to 1.43x when using the high setting. In 4K, it's 1.37x as standard and 1.79x in the high setting. That's a big crop, and not ideal for a camera that is built to be used close-up as a selfie cam. If you want to vlog and use 4K with maximum image stabilisation, the standard 12-32mm kit lens is not really wide enough, so you'd need something like a 7-14mm lens. Even then, this would give the equivalent field of view of a 27mm lens in full-frame terms, which is not really that wide at all. In fact, it makes the standard lens more of a useful all-purpose lens that's more suited to general filmmaking than vlogging – this actually makes it better for professional moviemakers. With a maximum aperture of f3.5-5.6, it's not the fastest, but it is very compact and of decent quality. Besides, you can always stick a different lens on.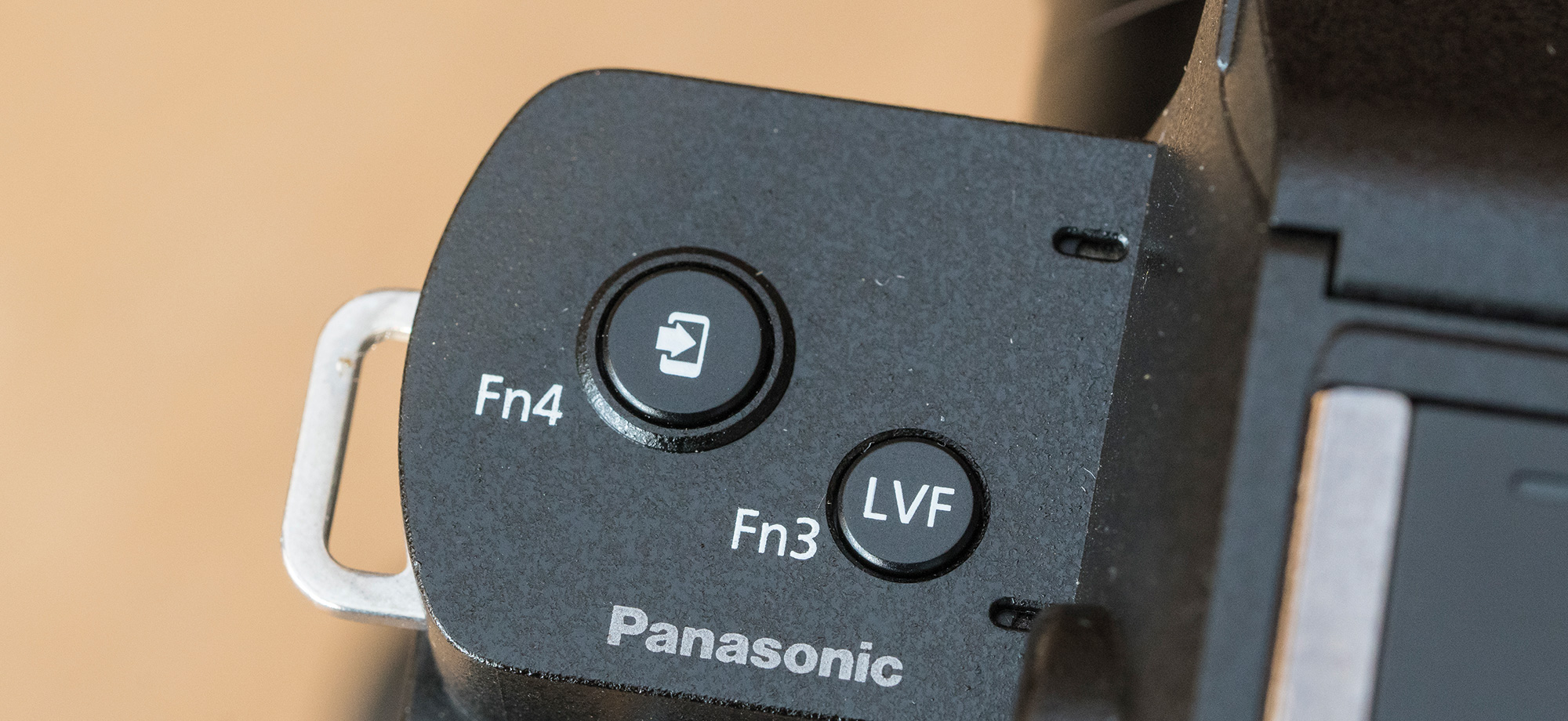 In terms of the video, it records 4:2:0 8-bit MP4 in 4K/30p at 100Mbps and, in HD, it shoots up to 60p at a maximum of 28Mbps, which is quite disappointing. It will output 4:2:2 8-bit HD when recorded externally, but very few people will go to the lengths to bother with that. However, it does offer fast frame rates in 1080p, up to 120fps for some super slow motion, which is a useful addition. There's also 8-bit V-Log L gamma to maximise dynamic range, but this isn't that useful on a camera that has such compressed video files.
The verdict
If you shoot MFT and are looking for a small and light B or C camera to be used for BTS work, vlogging or even time-lapse, then the new Panasonic G100 makes a lot of sense for not much money. Good-quality footage, especially in HD, makes it an ideal camera for a different viewpoint, or even giving to an inexperienced assistant to shoot a bit of B-roll. And with the clever audio system it has, you could even get away with some sound for a bit of scratch audio.
In line with all the other Panasonic mirrorless cameras, its AF system consists of a more basic contrast-detect system, but it works decently enough for most users, especially when using face detection.
It's the sort of camera that takes up no room in your kitbag and you will find lots of uses for it while shooting, especially as you can take full manual control.
How it rates
Features: 8
Lots of features for vloggers who are the obvious target market
Performance: 8
The 4K footage is hampered, but it's decent in 1080p
Handling: 8
Its small size makes it a bit fiddly to operate
Value for money: 9
An MFT-fit camera that can be a useful tool
Pro Moviemaker overall rating: 8/10
Good price, small size and decent performance when shooting HD.
Pros: One of the best vlogging cameras
Cons: Big crop and time limits in 4K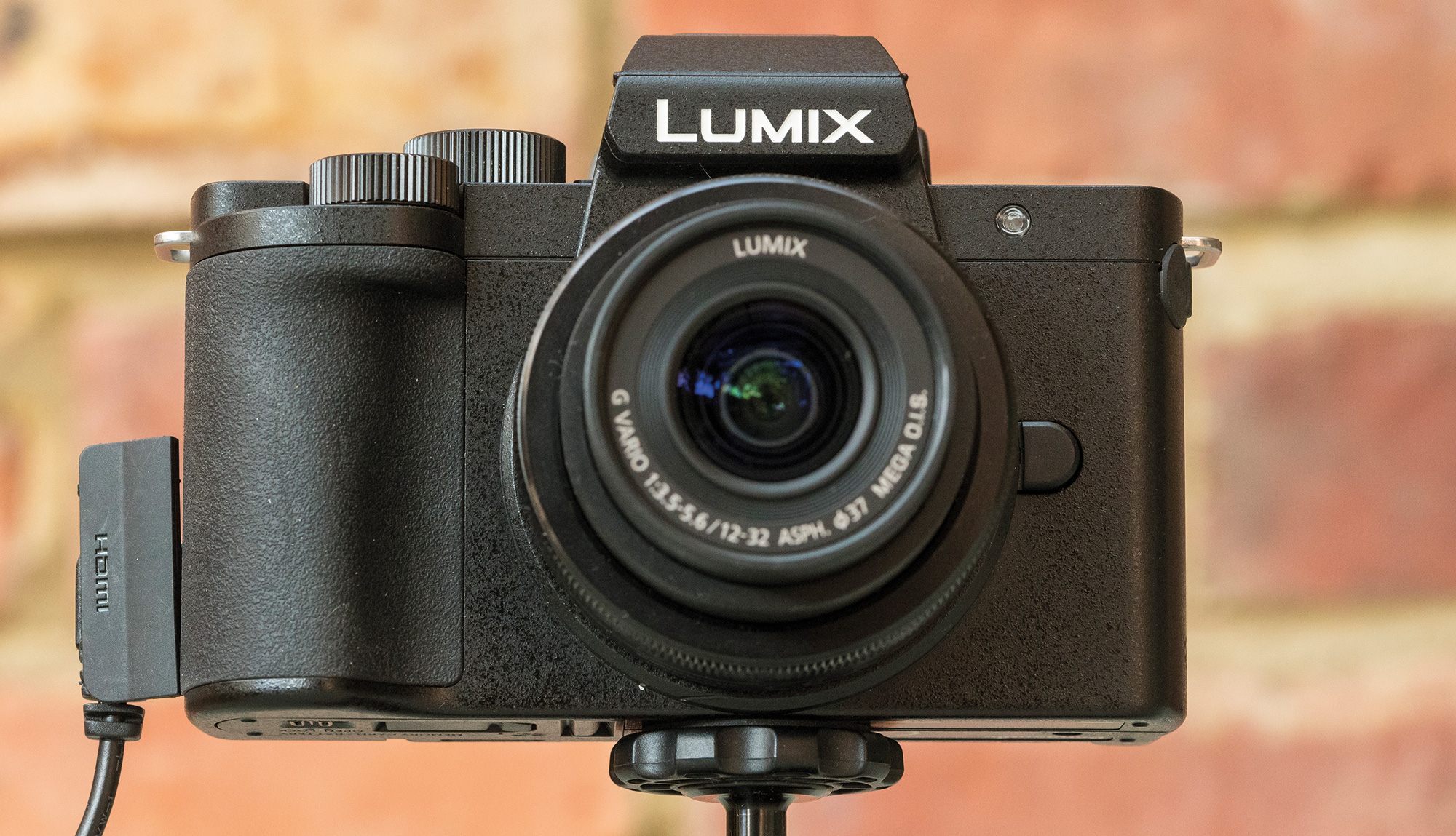 Specifications
Price: £719/$797with 12-32mm/f3.5-5.6 lens and tripod kit
Sensor: 20.3-megapixel Micro Four Thirds LiveMOS sensor, 17.3×13.0mm
Recording format: MP4 4:2:0 8-bit, 4K/30p 100Mbps, Full HD 30/60p 28Mbps. 4:2:2 8-bit HD when recorded externally
Fast and slow frame rates: 1080pHD, up to 120fps
Log gamma: V-Log L
Recordingmedia: Single SD/SDHC/SDXC UHS-II slot
Audio input: 3.5mm mic input jack, 3 built-inmics with Nokia OZO technology
ISO range: 200-25,600, expandable 100-25,600
Image stabilisation: 5-axis digital, works in combination with lens IS
Screen: 3in LED articulating touchscreen, 1,840k dots
Shutter speeds: 1-1/16,000sec
Autofocus: Contrast AF
Videomodes: manual, programAE, aperture-priority, shutter-priority
Dimensions (WxHxD): 115.6×82.5×54.2mm/ 4.55×3.25×2.13in
Weight: 345g/0.76lb (body only with battery and card)
This review first featured in the November/December issue of Pro Moviemaker.