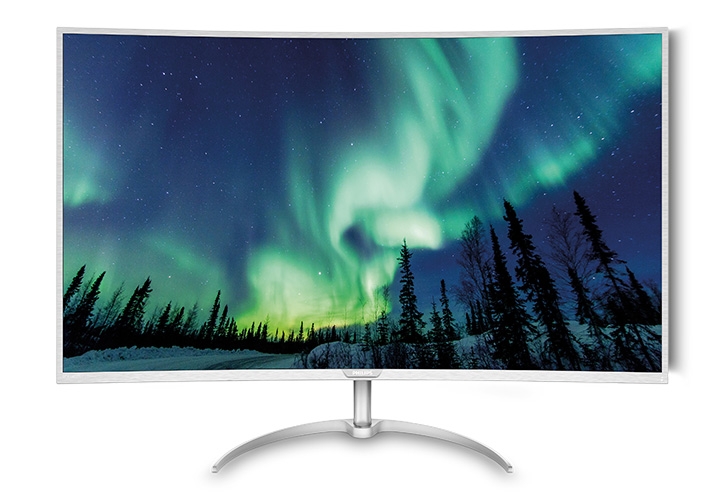 Philips BDM4037U 4K Ultra HD LCD
If you've got the desk space and computing power to run it, Philips' BDM4037U monitor has a curved 40in screen that gives you the impression of being even bigger than its already sizeable dimensions suggest. Many people will have a TV roughly the same size as this monitor, so if you want to get an idea of what using the Philips BDM4037U is like, go and park yourself two feet in front of that and binge on a favourite series for a few hours.
The Philips virtually filled the width of my desk, pushing hard drives to the peripheries in the process. The screen's slim stand does leave room underneath for some items, but the stand itself is quite thin, although there was no evidence during the test to suggest that it was going to give way. The screen itself is quite wobbly atop the stand though, and I wouldn't like to think of the consequences of a knock from an errant gadget bag.
Set up out of the box is remarkably simple. No instruction manuals were harmed – or indeed touched – during the testing of the screen; once the stand is attached by a single screw, it's simply a question of plugging in a power cable and an HDMI cable to get you up and running. Other ports are provided – with a second HDMI, multiple USB 3.0s, including a fast charging port, two Display Ports and even a VGA socket. The HDMI ports are both Mobile High-Definition-Link (MHL) compatible, so you can directly connect a smartphone or other portable device, plus there is an audio-in port if you want to attach PC speakers rather than use the built-in 5W items.
The monitor offers 4K UHD (3840 x2160) resolution but if you plug it into a computer that doesn't offer 4K compatibility, you're not going to see the very best it can offer. In my case, I initially tried it with a non-4K compatible Mac Mini and all you get is everything just enlarged really large. It's quite easy to have multiple windows open, however, so you could use this as an alternative to a set-up with two smaller screens, although it would take some getting used to. Far better is to run it with a 4K compatible machine when you'll see everything in more reasonable proportions with the sharpness and resolution coming to the fore. You'll never question any decisions about image sharpness again.
There are acres of screen space for your edits.
Also on offer are Picture-by-Picture (PbP) and Picture-in-Picture (PiP). Both allow you to attach multiple devices with PbP, enabling you to monitor four devices in the screen at once and PiP enabling you to, for example, watch TV, while picture editing, assuming you have a set-top box in your office, of course.
The display is 10-bit offering 1.074 billion colours and smooth gradations. I certainly had no problem with colour accuracy while editing. 
There are also a number of Philips' own SmartImage presets such as Photo, Game and Movie, but I opted to turn these off and went for a more traditional method of calibration using a Spyder5 device, which worked fine despite the curved screen. There are no controls on the front of the monitor and only one joystick-like control around the back on the bottom right-hand side. While this helps with the svelte look of the screen, I didn't find the control itself particularly intuitive to use and regularly jumped backwards or to the wrong control in the on-screen menu. In all likelihood, of course, you're only likely to dabble in the menus once or twice and then leave them well alone.
After an initial adjustment period, I grew to really enjoy working on the monitor, easily transitioning from a two-screen set-up to one big screen layout and never suffering any adverse side effects such as headaches or eye strain. You may need to get yourself a new desk, but at the price, it's a cost-effective way of getting a lot of screen real estate for not a lot of money. 
Specifications:
Screen size: 40in, 16:9 aspect
Native resolution: 3840×2160
Refresh rate: 60Hz
Contrast ratio: 4000:1 (typical)
Brightness: 300cd/m2
Response time: 4ms
Display inputs: 2 x HDMI (one HDMI 2.0 only, one HDMI 1.4, both MHL compatible), 2 x DisplayPort 1.2a, D-Sub
PRO MOVIEMAKER RATING: 8/10
Lots of screen space but you need the right computer
+ Pros: Huge, plenty of inputs
– Cons: Only 60Hz refresh rate
PRICE: £600/$1100