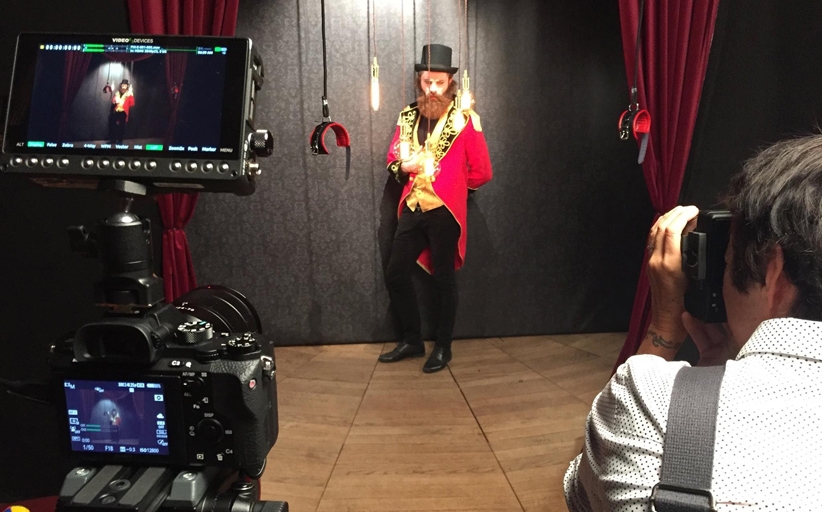 Introducing Video Devices Pix-E series
Sponsored promotion: The PIX-E range of 4K-capable recording monitors from Video Devices – a brand of video products developed by Sound Devices, LLC – is packed with cutting-edge features that filmmakers will love

Sponsored promotion: It's obvious when a range of products has been designed by a team that has first-hand experience and understanding of what a working filmmaker might actually need, and the PIX-E Series most definitely falls into that category. Not only are the three products – the PIX-E7, PIX-E5 and PIX-E5H – outstanding in terms of the significant functionalities that they offer, but they're also designed to stand up to the toughest production environments in the real world.
Check out the eyebrow-raising video of a PIX-E monitor being run over by a car below: believe it or not this product was still in good working order once it had been picked up and dusted off. The reason it survived such an extreme test is two-fold. First of all, the chassis of the monitor is made from die-cast metal, meaning that it's incredibly strong. The second part of the equation is the Gorilla Glass 2 protected LCD, which again is capable of taking a hammering, and the combination of both of these features ensures that everyday bumps and scrapes aren't going to have an effect.
So we've covered durability; what about performance? An impressive feature set ensures that the Video Devices' PIX-E range can deliver just about anything that a contemporary filmmaker might require, whether they happen to be working with a CSC, DSLR or a larger cinema-style camera. The difference between the three models relates to their screen size and the number of inputs and outputs that are provided. The PIX-E5 and PIX-E5H have 5-inch screens while the PIX-E7 has a 7-inch display. Also, the PIX-E5H has HDMI-only inputs and outputs, while the PIX-E5 and PIX-E7 boast both SDI and HDMI I/O connections.
The PIX-E5H is designed more for HDMI-based DSLR cameras. Since the PIX-E5 and PIX-E7 come with both SDI and HDMI connections, they fit into any workflow using DSLRs or medium-sized cameras. This is a perfect complement for those working with models such as the Canon EOS C100 and Sony NEX FS100.

Advanced monitoring

All the PIX-E Series of recording monitors feature an IPS touchscreen; the five-inch models have a 1920×1080 resolution while the seven-inch has 1920 x 1200. These LCD screens offer a clarity, colour depth and angle of view that's hard to match, while their 500 nit brightness ensures the picture is viewable even in direct sunlight.
The entire PIX-E range can record 4K up to 30fps or HD 1080p at 120fps, in all flavours of Apple ProRes codec, from ProRes Proxy all the way up to ProRes 4444 XQ. Regular firmware updates ensure they remain on top of the latest technology.
To record 4K in that kind of high quality you need to be able to record at very fast data rates. Video Devices has come up with a clever device called the SpeedDrive, which looks and acts like a USB 3.0 thumb drive when plugged into a computer, and is a very fast way to transfer data. Inside the SpeedDrive enclosure is an industry standard M-SATA drive. These are available up to 1TB in size and are capable of accommodating a great deal of data. When mounted to the back of a PIX-E, the SpeedDrive becomes a very fast recording medium, perfect for those higher data rates. When recording is done, simply remove the drive and plug it into your Mac or PC for instant transfer of your edit-ready files, without the need for a special cable or a drive docking station.
Apart from its phenomenal LCD and recording performance, the PIX-E Series also includes a powerful suite of monitoring tools. They include false colours and zebras for adjusting the exposure, peaking for focusing, guide markers for framing, and a range of scopes, including waveform monitor, histogram, and vectorscope for checking colour levels. There's even a four-way monitoring feature for displaying multiple scopes simultaneously alongside the video.
TapZoom, meanwhile, helps to provide unrivalled focusing speed in a highly intuitive way, something every filmmaker values while working under pressure. A simple tap on the screen zooms into that part of the image at 2x or 4x magnification so that you can check focus in an instant, and another tap zooms back out again.
In terms of power, there are mounting points on the back of the monitor for two Sony L-Series batteries and a DC input is also provided, which can take a range of voltages from 10V up to 34V. Meanwhile, the upcoming PIX-LR audio accessory, introduced at IBC last year, screws into the base of the monitor via a ¼in thread and provides two extremely high quality, Sound Devices-calibre balanced XLR mic pre-amps and two balanced line outs. It also provides sunlight readable audio metering coupled with oversized, illuminated transport buttons, plus a pair of gain controls for adjusting audio levels.
A great monitor needs to be accurate; it must be able to show the finest detail, be viewable in bright sunlight and have a range of easy-to-access tools that aid with perfecting the focus, exposure, framing, and colour balance. The monitors in the PIX-E Series line do all those things and more. With their ability to record the highest quality Apple ProRes edit-ready video, the PIX-E monitors are an affordable, must-have tool for any video production professional.
These recording field monitors are among the most advanced of their kind. With their virtually indestructible high-resolution display and 4K recording capabilities, the PIX-E Series of recording monitors are quickly becoming an indispensable tool on set.
SPECIFICATION
Display: PIX-E5H/E5 5in/PIX-E7 7in

Resolution: PIX-E5H/E5 1920×1080, 441ppi/PIX-E7 1920 x 1200, 323ppi

Brightness: 500 nits
Contrast ratio: 1000:1

Monitoring tools: Waveform Monitor/Zebras/False Colours/Built in and custom LUTs/Peaking Filter/Tap Zoom (2x/4x)/Vectorscope/Histogram/4-way View/Guide Markers/Anamorphic Desqueeze 4:3

Recording media: Speed Drive (128G-1T)

Codec: PIX-E5H Apple ProRes Proxy to Apple ProRes 422 HQ/PIX-E5 and PIX-E7 Apple ProRes Proxy to Apple ProRes 4444 XQ.

HD (1080i, 1080p, 720p): Up to 120fps

4K (UHD, 3840×2160): Up to 30fps

4K (DCI, 4096×2160): Up to 30fps

File transfer to computer: Via SpeedDrive USB 3.0 interface

User interface: Capacitive Touchscreen/Real Tactile Buttons and Encoder/USB Keyboard/SD Card

Video I/O inputs: PIX-E5H HDMI/PIX-E5 and PIX-E7 6G-SDI, 3G-SDI (level A and B), HDMI

Video I/O outputs: PIX-E5H HDMI/PIX-E5 and PIX-E7 HD-SDI, HDMI

Full-size HDMI ports: Yes

SDI embedded audio inputs: PIX-E5H None/PIX-E5 and PIX-E7 8

HDMI embedded audio inputs: 4

Headphone output: Yes

External SDI/HDMI TC mode: PIX-E5H HDMI Only/PIX-E5 and PIX-E7 SDI, HDMI

Remote Control Record Start/Stop Flags: PIX-E5H HDMI only/PIX-E5 SDI, HDMI/PIX-E7 SDI, HDMI, GPIO

Power source: EXT DC (10-34V), 2x Sony L-mount

Materials: Robust die-cast aluminium locking nuts for BNC, 3.5mm, EXT DC optically bonded Gorilla Glass 2

Size: PIX-E5H and PIX E5 5.4×3.4×1.6ins/PIX-E7 7.3×4.9×1.5ins

Weight: PIX-E5H 425g (15oz)/PIX-E5 453g (1lb)/PIX-E-7 652g (1lb 7oz)


More information

www.videodevices.com