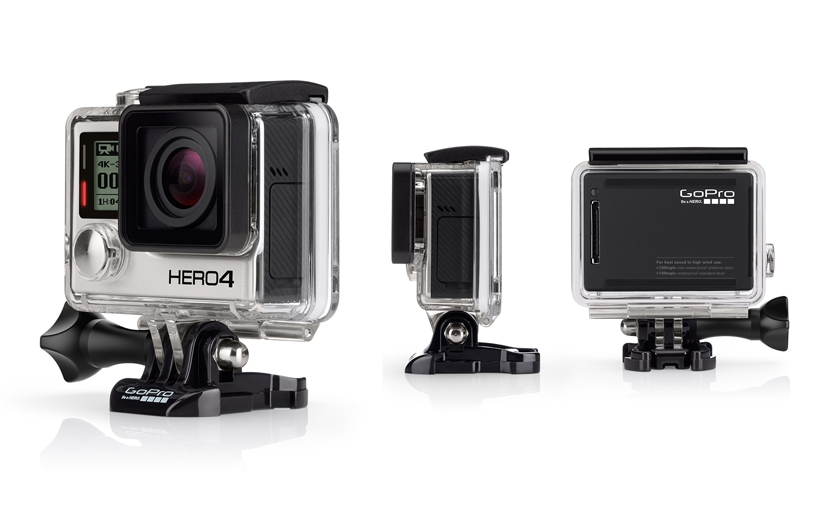 Action camera group test
Zena Toscani keeps her adrenalin levels firmly in check while testing 
three action cameras from GoPro, Sony and Rollei to see which model 
is best suited to the everyman filmmaker
It's gotten to the point now whereby the words 'action camera' are almost synonymous with adventure film. Don't get me wrong, I love a great action sports short, but I'd be doing these miniature movie cameras a massive disservice if I pretended that this is the extent of their usefulness. So instead of having myself an awesome weekend of climbing, mountain biking and kayaking to test these three action cameras, I've decided to focus on their more practical (if comparatively mundane) uses.
The small size, tough exterior and super wide lenses make action cameras perfect for getting creative with your cinematography. Whether you want to strap one to a hairspray can for a wedding, to the side of a car for a commercial or in the back of a fridge for a dieting documentary, you'll easily find a camera perfect for your needs. Factor in 2.7K, 4K, high-frame rate capabilities and their relative affordability and it's hard to find a reason why you wouldn't want one…

GoPro Hero4 Black
Price: £409.99/$499.99 
www.gopro.com
We couldn't do a reputable action camera test without including market leader GoPro. The trouble was, which camera to feature? While the newest Hero4 Session is a feature-packed, compact option we decided to focus on the flagship Hero4 Black edition instead.
Boasting a range of pro features including 4K, H.264 and 240fps recording we were most intrigued by the Protune function, which unlocks detailed control over colour, ISO, white-balance, exposure compensation and sharpness. While you can access all of these settings and more through the three button system of the GoPro, the free app is a much more intuitive tool for fast adjustments. However the preview is very low-res compared with the footage actually being recorded, the latter offering excellent sharpness and dynamic range. We hear that the LCD Touch Bacpac is equally useful for advanced control but we didn't test one in this review.
Sometimes the simplest things impress the most and in this instance it was the ability to fake being a regular camera. Action cameras are regularly defined by their super immersive wide-angle view, which is great for sweeping vistas but no one wants to see a fisheye portrait. Fortunately, the Hero4 provides the simple options of wide, medium and narrow views expanding your framing options instantly.
Our concerns were around how fast the battery was consumed particularly when using Wi-Fi and we can only imagine what this is like when the camera is also powering the LCD Touch Bacpac. At first we were also irked by the fact that the Wi-Fi isn't automatically turned off when you switch the camera off, but then we realised that this was a handy way to save power as you can turn the camera on and off remotely from the app.While expensive, there's no doubt that this action cam was designed with pros in mind.
Specification
Video resolution: up to 4K at 30, 25 or 24fps
Additional features: Continuous photo, SuperView, Protune, night photo, time-lapse, looping
Dimensions: 58x40x21mm
Weight: 89g
How it rates
Features     9

Advanced and professional
Performance     8

High level of control
Handling     8

Easy when you know how
Value for money     8

You get what you pay for
Pro Moviemaker Rating     8.25/10
Expensive but fully featured
Pros: Personalised shooting
Cons: Battery life
Sony FDR-X1000VR
Price: £319/$499 
www.sony.com
When we saw the familiar little blue Zeiss logo on the side of the Sony FDR-X1000VR we had high hopes for its image quality. Pair that with the professional XAVC S codec and you'll understand why we couldn't wait to give this camera a test drive. Unfortunately though it went a little downhill from that point onwards.
Navigating the menu took a bit of figuring out, but the presence of right and left buttons for forward and back was a welcome change. Annoyingly though there's very few quick access buttons, instead you're forced to cycle through the menu to change frame rates or even turn the camera off.
We tested the X1000VR with the Live View remote which you wear like a watch. In an action sports environment we can see the usefulness of this, but for shot framing the wrist mount was restrictive and the shape of it meant it wouldn't stand up on a flat surface. That being said, the screen on the remote offered surprisingly accurate colour reproduction and if it was a little larger it might be suitable for serious filmmaking. In search of a larger screen to pair with we decided to download the app. For some reason, Sony actually has three separate apps to support the Actioncam line-up, but it's the PlayMemories one which syncs to your camera for capture. Unfortunately the model we tested came with the wrong Wi-Fi code so we didn't get the chance to try out this element.
Handling troubles aside, the footage from the X1000VR was exceptional thanks to the bright lens and superior stabilisation – ideal if you want a high-quality point-and-shoot and won't need to access the controls quickly.
Specification
Video resolution: up to 4k at 30/25/24fps
Additional features: noise reduction, burst shooting, motion shot LE, wind noise reduction, interval recording, live streaming, image stabilisation, loop recording
Dimensions: 52x89x24mm
Weight: 114g
How it rates
Features     8

Present but hidden
Performance     10

Outstanding image quality
Handling     5

Frustrating functionality
Value for money     7

Fairly priced for the quality
Pro Moviemaker Rating     7.5/10
So close but yet so far
Pros: Stand out image quality
Cons: Attention to detail lacking


Rollei Actioncam 410
Price: £109.99/$167 
www.rollei.com
First impressions of the Actioncam 410 were mixed. The lack of originality in design was disappointing, but the presence of both Wi-Fi and an LCD screen were major selling points – especially for a camera costing just £109.99/$167.
In use, the LCD screen was a bit of a let-down offering a very limited field of view, making effective use only possible from square on. If you're likely to need to frame up from different positions then you'd do well to download the free Rollei Actioncam app. The menu and button use was intuitive enough, but we needed to consult the manual for how to access the playback functionality.
The battery life indicator was quite unreliable, warning of low battery one second and then showing half-charge the next. Other minor irritations came in the form of the white-balance being reset every time you turn the camera off, a four-second lag between pressing the record button and it actually starting recording and the fact that you can't use microSD cards sized 64GB or larger.
As for the positives? It's small stature, ability to shoot 1080p60fps and the included wireless remote control wrist strap. The image quality was acceptable but not outstanding. While the 410 is a very affordable, entry-level option we're likely to keep our purses closed until we've had a chance to try its successor, the 4K Actioncam 420.
Specification
Recording format: up to 1080p at 60/30fps
Additional features: time-lapse, still photos, 180° turnover shooting, included remote control
Dimensions: 54x51x37mm
Weight: 78g
How it rates
Features     8

Surprising amount for the price
Performance     5

Not designed for pro filmmakers
Handling     6

Intuitive until it isn't
Value for money     7

Great price point but limited use
Pro Moviemaker Rating     6.5/10
Entry level to be outgrown quickly
Pros: Wi-Fi and LCD as standard
Cons: Slow and short recording
The verdict
Without wanting to be accused of being fans it seems that there is a reason why GoPro is the household name in this genre. While we could care less about the extent of these cameras' waterproofing and ability to withstand falls from great heights, from a filmmaking perspective we had just a few essential criteria – control over key settings, ability to frame a shot and decent image quality.
The Rollei stood out to begin with, being the only model that came with a built-in LCD as standard. However, in use this screen was not worth the real-estate it occupies as it offers such a limited field of view. Pair this with the fact that cards higher than 32GB aren't supported and that there's a serious lag in the time between hitting record and filming starting and it quickly becomes apparent that while this model is incredibly affordable, it's certainly not been designed with the needs of pro filmmakers in mind.
The Sony seems more attuned to the pro's needs with its exceptional image quality and XAVC S codec. However, the handling disappointed and we couldn't pair it with a device so were limited to the watch remote, which is sharp but small.
All this left plenty of space for the GoPro Hero4 Black to shine. Although pricey, its superb image quality, advanced Protune functionality, diverse shooting formats and endless accessory options made the Hero4 Black a clear winner.