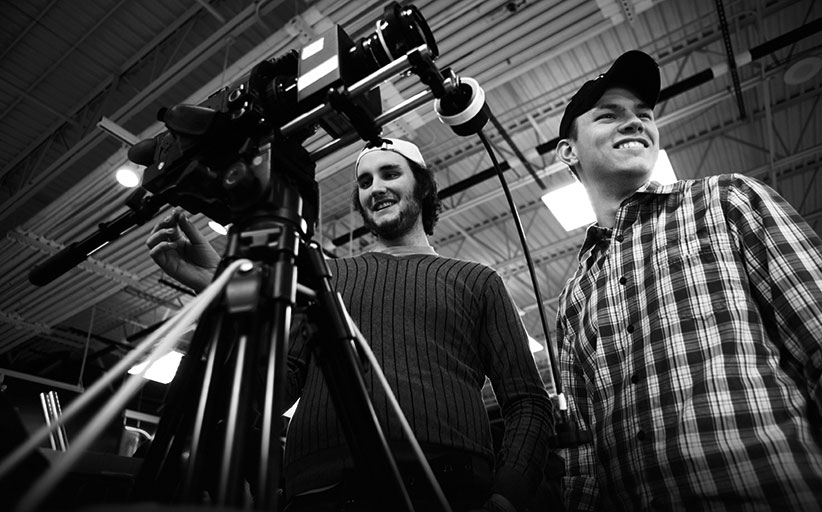 Samsung One to Watch
We recap the full campaign, give you the juicy details of our £5021/$7293 prize pot and finally announce our overall winner. Who will it be…? 
Supported by samsung: Samsung's latest range of super-fast UHS-I U3/class 10 Pro Plus SD cards boast read speeds of up to 95MB/s and write speeds of up to 90MB/s – so even if you're working in 4K, Samsung memory has your back. 
After nearly a year of searching for the videography stars of tomorrow, we've finally come to the time when we can announce the winner of our One to Watch 2015 competition. Not only will our overall winner receive this massive accolade but they'll also get £5021/$7293 worth of Samsung gear to help kit out their edit suite and more.
Before we announce the deserving winner, let's take a look back at the various hoops they had to jump through to get to this stage and the specific contents of the prize package that they'll be walking away with.
The Journey
Our finalists have been on a long road to get to this point, here's a reminder of the competition stages
September 2015- We launched our One to Watch competition and invited aspiring filmmakers to submit their best short film in any genre
October 2015 – The submissions rolled in thick and fast; we watched films daily from around the world and began to narrow down our favourites for the final five. We received dozens of high-speed 64GB class 10 Pro Plus SD cards from Samsung, ready to send out to our shortlisted candidates
November 2015 – We selected and interviewed our first shortlisted candidate: Oli Lyndale. Oli made it through the selection process with his fictional short, The Tide, which made it into the Raindance official selection
December 2015 – Our second shortlisted filmmaker Antoine Marc was selected on the merit of his experimental film, Descent. Juggling the roles of writer, choreographer, co-director, performer and producer, the judges were impressed with his versatility and technical ability.
January 2016 – Rich Beach's Toybox film won him a place in our final five. His whimsical stop-motion approach to a corporate brief inspired the team and left us wanting more.
February 2016 – Student Charlotte Regan won her place in the final on the back of her atmospheric film, Wastelands, which she shot for the band Ghostriders while travelling in America
March 2016 – Our fifth and final shortlisted candidate, Jack Bailey impressed the team with his silent short, Reverie, which was originally made as a student project.
April 2016 – Since finding out they had won a place in our shortlist and being sent four 64GB class 10 Samsung Pro Plus SD cards each, the five One to Watch finalists were tasked with using these cards to shoot a subsequent film for final consideration. We got back in contact with our shortlisted filmmakers to see how they were getting on.
May 2016 – The final deadline. All but one of our finalists managed to submit their follow-up film to be considered to win the overall One to Watch prize. Not only would the winning filmmaker receive the accolade of being crowned Pro Moviemaker's One to Watch 2015 but they also take home £5021/$7293 worth of Samsung kit.
June 2016 – The Pro Moviemaker team watched all four submitted films and independently marked them. We then reconvened to discuss and select our overall winner…
Grand Prize 
Our overall winner will be taking home this massive prize package courtesy of Samsung, worth a huge £5021/$7293!
29" Ultra wide hd curved monitor – Price: £399/$578
Immersive by design, this 73.7in/29in curved monitor offers a 21:9 aspect ratio for full absorption into even your most panoramic productions.
64gb sdxc pro memory card – Price: £67/$98
Save data at around four times faster than conventional SD cards with this 64GB Pro card.
Galaxy Tabpro S – Price: £849/$1228
The Galaxy TabPro S's 30.5cm/12in sAMOLED touchscreen and full-sized keyboard make it the perfect mobile office solution.
55" JS9000 9 Series curved SUHD 4k Nano Crystal Smart 3D TV- Price: £3000/$3330
Samsung's brand-new premium SUHD TV utilises Nano Crystal Technology for incredibly precise and rich colours.
Galaxy S7 Edge – Price: £639/$924
Delivering a large screen and thin feel in the hand, the Galaxy S7 Edge offers both form and function. If you plan on shooting on the go, you'll appreciate the Dual Pixel 12-megapixel sensor and 4K video capabilities.
HW-J7501R 55" CURVED WIRELESS MULTIROOM SOUNDBAR – Price: £599/$867
This 140cm/55in curved wireless multiroom soundbar brings studio-quality audio into the home, making it the perfect companion to the Samsung JS9000 Curved SUHD 4K TV.
Gear VR – Price: £80/$116
Pair this headset with a Galaxy smartphone for a seamless VR experience. Boasting a Super AMOLED display, wide field of view, precise head-tracking and low latency, the Gear VR, powered by Oculus, is a great introduction to virtual reality.
128GB Micro SDXC Evo+card – Price: £89/$130
The Samsung 128GB EVO+ MicroSDXC memory card provides lightning fast read and write speeds and a huge capacity – perfect for action cams and mobile devices.
THE WINNER: ANTOINE MARC
Job: Production consultant and choreographer on films and live events. Also the art director of IC Movement, a creative agency providing world-class athletes for new productions.
Genre: "I like to create experimental, thriller, horror and adventure films."
Next project: Currently developing treatments for two short films: one on the emergence of an addiction, the other on cherished memories.
Kitbag: "For scouting I take a GorillaPod tripod, GoPro HERO3, Canon EOS 600D, 18-55mm IS lens kit and spare batteries."
Contact: www.antoinemarc.com
With such a high standard of final films submitted, the judges had a very tough job in selecting the overall One to Watch winner. All the finalists showed impeccable technical skill and film craft in a wide variety of different genres, however only one could be awarded the overall prize.
Despite being only 45 seconds long, it was Antoine Marc's teaser for Faded that took the top spot. The judges were particularly impressed by the choreography and lighting design in this micro short and were certainly left wanting more. Here's what Antoine had to say after hearing he'd won:
"I am delighted to win the One to Watch competition! Thank you very much to Pro Moviemaker magazine. It has been a blessing to join the contest to discover the practice and methodology of the five selected makers. Filmmaking is such a collaborative art form and the One to Watch competition has been a great opportunity to learn from each other, encouraging future collaborations with fellow creative minds. For the last few years, I have dedicated my resources to translate the beauty of movement in its intricacy and subtlety in films. The One to Watch competition is an inspiration to carry on developing movement narrative while sharing my passion for visual storytelling."
Congratulations again to Antoine and many thanks to everyone who entered One to Watch 2015.
Keep an eye on www.promoviemaker.net for our future competitions.