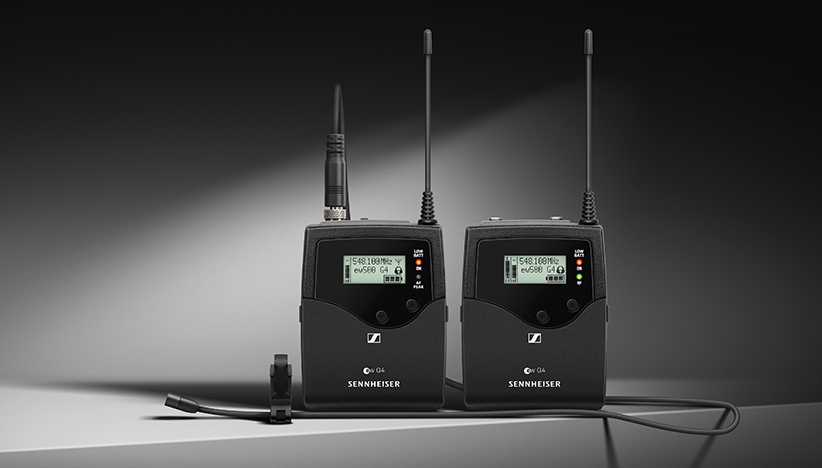 Sennheiser Evolution G4 Pro
For filmmakers looking to be flexible, wired microphones simply don't cut it. Wireless solutions are reliable, cost-effective and easy to set up, and if you invest in a decent system, you should be set up and ready to go in an interview situation within a minute or so.
Among the options on the market is the Sennheiser Evolution G4 Pro. While it's not the cheapest around you invest in the sure knowledge that kit will be well made and easy to work with, and if you opt for the G4 Pro Portable Combo Set, you'll save over the cost of buying all the components separately. It's the new version of the G3 series that has been a mainstay of filmmakers for around a decade.
Inside the box you'll find the EK 500 G4 camera mount receiver, SK 500 G4 bodypack transmitter, SKP 500 G4 Pro plug-on transmitter with phantom power and an MKE 2 Gold clip-on microphone. Accessories include a fur windscreen, CA 2 camera mount, 1/8in to 1/8in cable, 1/8in to XLR cable, and six AA alkaline batteries. In short, it's pretty much everything you need to get started.
Straight out of the box I had the transmitter and receiver powered up and talking to each other in minutes. Admittedly my experience has been just as straightforward with previous Sennheiser products, but if you're likely to be working in a place where there is a lot of wireless activity then you might find the new devices give you an edge, since they employ a higher switch 88MHz bandwidth that translates into a much higher channel count.
 "A set-up that could be ideal for ENG or run-and-gun"
Among the many useful features is a backlit LCD showing everything from the current frequency band through to metering of RF level, while an auto-lock feature prevents settings from being accidentally altered. The companion bodypack transmitter is synchronised with the bodypack receiver via an integrated infrared interface and is programmable in the display. The MKE 2 lavalier mic completes the kit and creates a set-up that could be ideal for ENG or run-and-gun operators, with a range up to 100m/330 feet.
The SKP 500 G4 48V phantom powered plug-on transmitter turns the majority of wired mics into a wireless transmitter. So if you already have a handheld mic that you would like to use wirelessly, you're in luck. It's great to use as a reporter's mic for interviews.
For those who tend to be a little nervous about audio, a kit such as this should ease all fears. Everything is ultra-straightforward, results are great and you should be able to work with the kit even if you're a one-person operation. Highly recommended.
The plug-on transmitter turns your wired mic into a wireless one. 
Specifications
Kit contents: Camera receiver and bodypack transmitter, wireless plug-on transmitter, clip-on lavalier microphone, camera adapter, L 1 1/8in jack output cable and CL 500 XLR to 1/8in output cable
Frequencies: 3520, adjustable in 25kHz steps
Switching bandwidth: Up to 88MHz
Channels: Up to 32 Factory preset, no intermodulation
Receiver and transmitter dimensions: 82x64x24mm/3.2×2.5×0.9in
Receiver and transmitter weight: 160g/5.6oz (including batteries)
PRO MOVIEMAKER RATING: 9/10
+ Pros: Everything for wireless single mic operation in one package
– Cons: You'll need a separate handheld mic to take advantage of the plug-on transmitter
PRICE: £1220/$1295