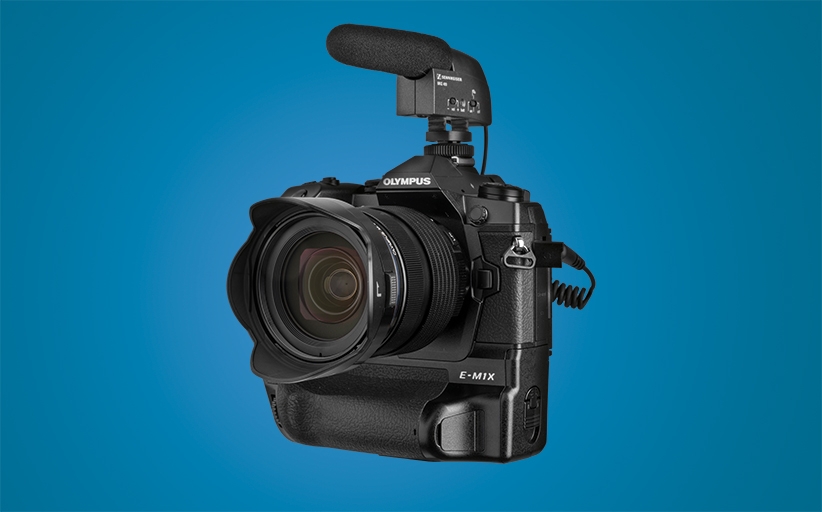 The Olympus grows up
By designing a pumped-up OM-D aimed at sports stills shooters, Olympus has produced a fine all-round video camera

Words / Adam Duckworth
While the rest of the camera world zigs, Olympus zags. In the never-ending quest for ever-larger sensors in more compact bodies, the new OM-D E-M1X bucks the trend with a much bigger body and the Micro Four Thirds sensor – a quarter the real estate of many of its rivals' full-frame chips. 
Aimed squarely at sports and wildlife stills photographers, the new Olympus also has a huge swathe of welcomed improvements for video shooters who are less put off by the small sensor. The technology builds on what was already in the more compact OM-D E-M1 Mark II, and improves on it with an even better image stabilisation system, faster autofocus, better audio, Log shooting with proper Rec.709 View Assist gamma, longer battery life and less issues with heat. That provides a seriously good video spec that should have filmers sitting up and taking note. 
But for all that, there are some quite obvious downsides once you interrogate the spec. Such as Cinema 4K at 237Mbps, but only in 24fps. To record in 4K at 30 or 25p, that drops to just 102Mbps. If you want super slow-motion, then in Full HD you get 120fps, but the image is cropped. And in all cases the signal is 8-bit whether you record to the internal cards or an external recorder. With an asking price of £2799/$2999 body only, it's up against some serious competition such as the latest Sony and Panasonic full-frame cameras.
So often the case, a camera is far more than its spec might suggest and the Olympus is definitely a camera that does things its own way. It looks like a pro DSLR with its big, integrated battery grip that takes two batteries for double the shooting time of the E-M1 Mark II as it uses that camera's BLH-1 cells. And there's USB-C socket so both batteries can be charged in-camera in around two hours.

In movie mode the rear screen shows basic information. There are no waveforms but the histogram is a useful tool to nail exposure
This grip is designed for sports and wildlife photographers, as it has all the dials and buttons duplicated and two new joystick controls, allowing shooting in both landscape and portrait orientations. That's of no use to filmmakers, unless you are pioneering vertical videos of use on Instagram TV! It also adds significant height and bulk to the camera, meaning many cinema accessories would have to be adjusted to fit the very different form factor. 
Another major boost for the camera is a reworking of the 121-point phase detection AF sensor in the E-M1 Mark II, for faster tracking of unpredictable subject movements and changes in subject speed. There are lots of options available, such as different AF target modes and speeds, and a new intelligent subject detection feature allows the AF system to detect and track subjects. Olympus used more than 10,000 images to create a clever algorithm to track different subjects and in stills mode, it works very well. With AF tracking employed, a maximum frame rate of 18fps for Raw stills sees the camera work well in acquiring focus and tracking moving subjects.
But as is so often the case, the video AF functionality is far more limited and offers less control and customisation. However, it did pick up focus and track moving subjects well. We shot some motocross, and it had no problem locking on a keeping the moving bike in focus. It was a bright day and there was lots of contrast, though. In low light, the AF still works well and is approaching the sort of consistency and speed of Canon and Sony systems. In manual focus, there is focus peaking to help you nail it every time.
Where the Olympus does ace all its rivals is in the five-axis in-body stabilisation system. We raved about this on the OM-D E-M1 Mark II, and it's said to be improved on the E-M1X although we didn't have the two cameras to do a direct comparison. If you hold the camera carefully and move it, it looks almost like a gimbal shot. And although there is no way of replicating a rock-steady tripod, handheld the shot is very shake-free. It is the best system out there by far – helped by the smaller sensor size for sure. Especially when the camera is teamed up with one of the stabilised lenses, like the 12-100mm f/4 IS Pro as this gives up to 7.5 stops of image stabilisation. We used the non-stabilised 12-40mm f/2.8 Pro for a claimed seven stops; it was still a stunning performer.
The IS comes in two flavours, sensor-only which shoots the full width of the sensor or a second mode which uses sensor and digital stabilisation and imposes a 1.18x crop. Use this mode with an IS lens and you can definitely leave your gimbal at home, especially on a wide-angle or standard focal length lens.

The recording options are clear and obvious. AF tracks moving subjects well, like this young biker
The footage itself, especially in C4K, is very detailed and sharp although the standard colours seem a bit oversaturated. Drop down to 4K or FHD to get more frame rate options, and the quality is still there. The colours are bold and bright, and the reality is that the smaller sensor gives a great performance. Teamed with fast lenses for shallow depth-of-field, you can control the look for a cinematic-style drop-focus effect with ease. You could be left wondering what all the fuss about going full-frame is about.
However, once the light levels start to drop and the ISO has to creep up, then the limitations of the sensor do start to show a little. The noise is contained in the shadow areas, as you'd expect, and is good until around ISO 3200. After that, the image does start to degrade a little. Olympus isn't claiming the camera is the king of low light, but the reality is that few real-world shooting situations require ISO 6400 or more. 
To squeeze more dynamic range out of the sensor, the camera now has its own Log colour profile which sets the ISO to 400. There is a build-in View Assist so you can see the footage as what it will look like when converted to a standard Rec. 709 image rather than having to guess exposure on a flat image.
There are no LUTs available yet for fast colour grading, but the footage was easy enough to tweak in post. The OM-Log 400 is not an extreme setting so you can just add in some contrast and a tad of saturation and it looks good, especially on skin tones. 
Add this detailed picture quality into the other upgrades to the camera, such as improved audio and weather-proofing, and you have a sports shooter's dream machine that works well as a run-and-gun video camera, giving cinematic style without too much hassle. 

The OM-D E-M1X's footage is impressively sharp, particularly in C4K
The verdict
It may be aimed at stills photographers but the OM-D E-M1X makes a very useful filmmaking camera. The smaller sensor gives remarkably clean and detailed images, especially when there is a decent amount of light around. And the MFT-sized sensor means the effective focal length of a lens is doubled, so the 300mm lens gives an angle of view the same as a 600mm lens on a full-frame camera. That extra reach would make it ideal for wildlife or motor sport filmmakers.
Olympus has announced that a 150-400mm f/4.5 TC1.25x IS PRO super telephoto zoom will go on sale next year that features a built-in 1.25x teleconverter. That will give the equivalent of a 1000mm f/4.5 lens. Of course, there are already lots of MFT-mount lenses on the market, from Olympus and Panasonic AF glass to proper manual focus cinema lenses, too. 
The unusual form factor for a mirrorless camera may put off some users, and if you compare the video spec to the Panasonic GH5 or GH5S that also use an MFT sensor, then the Olympus doesn't match up. Those cameras pack in 10-bit recording, fast frame rates up to 240fps in HD, waveforms for exposure monitoring and lots more. And the Olympus is more expensive.
But it does have the best image stabilisation system and far superior AF to the Lumix range. And as a stills camera, the Olympus outperforms them. At least now you have a choice. 
How it rates
| | | |
| --- | --- | --- |
| Features | 8/10   | C4K, Log, image stabilisation and advanced phase detect AF but only 8-bit footage |
| Performance | 8/10 | Keep the ISO below 6400 and the camera produces crisp, sharp images, especially in C4K |
| Handling | 8/10 | You have to love the old-school knobs but the Rec On in the viewfinder is hard to see |
| Value for money   | 7/10 | It's more pricey than all its MFT rivals and some full-frame mirrorless cameras, too |
| Overall rating | 8/10 | Great image quality, fast and precise AF and stunning stabilisation mean this camera is a great filmmaking tool |
Pros: Bright and punchy images, C4K
Cons: No 10-bit, waveforms or vectorscopes
Specifications
Price: £2799/$2999 body only
Sensor: 4/3 Live MOS 20.4 megapixels, 5184×3888 pixels
Formats: 4096×2160 C4K 24p 237Mbps, 3840×2160 4K 30/25/24p 102Mbps, 1920×1080 FHD 60/50 52Mbps, 30/25/24p 202Mbps
Maximum frame rates: 120fps FHD
Codecs: MOV H:264/ MPEG-4 AVC, 8-bit 4:2:0 
Picture styles: Flat, OM-Log 400
ISO range: 200-25,600; 64,000 extended
Shutter speeds: 60secs-1/8,000sec
Lens mount: MFT
Focusing: 121-point phase and contrast-detect AF, face and eye detection, intelligent subject detection  
Stabilisation: Image sensor shift 5-axis
Screen: 7.6cm/3in vari-angle touchscreen, 1037K dots
Viewfinder: 2.36M dots, 100% view
Audio: 3.5mm input
Connectivity: Micro HDMI, Bluetooth, Wi-Fi, USB C
Storage: 2x UHS-II SD
Dimensions (WxHxD): 144.4×146.8×75.4mm/ 5.69×5.78×2.97in
Weight: 848g/1.87lb
This feature originally appeared in the Summer 2019 edition of Pro Moviemaker.