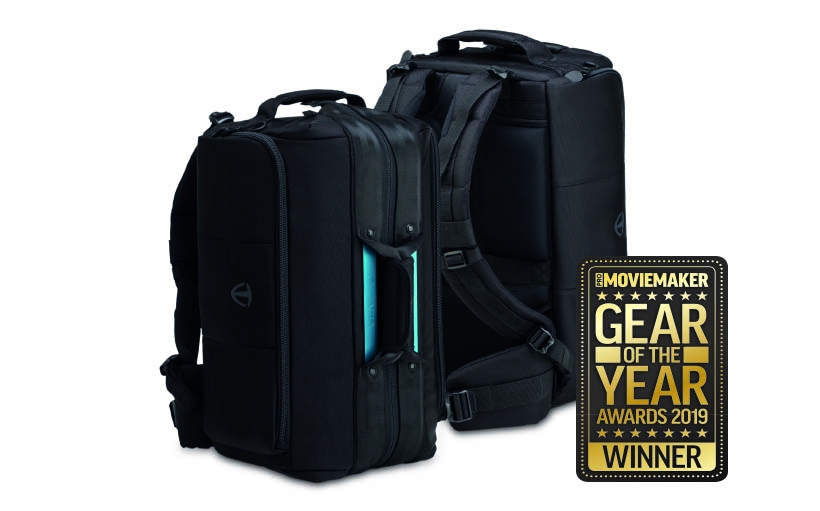 The speedy solution
Fast access to gear for filmmakers on the move is what makes the Tenba Cineluxe Backpack 21 an award-winning bag
Advertisement features
If there's one thing that slows down filmmaking, it's having to disassemble then reassemble your camera rig every time you want to pack it away, then get it back out to shoot. That's why Tenba designed the latest Cineluxe range, to not only give fantastic protection to your precious cargo, but to make it as speedy as possible too.
The Cineluxe Backpack 21 is designed to swallow up everything from mirrorless and DSLR cameras to professional camcorders, cinema cameras and ENG rigs from Sony, Canon, Red, Blackmagic and others, with a matte box baseplate and other accessories still attached. You don't have to strip down your kit to get it inside, and then build it up again when you want to shoot.
It's the first-ever video camera backpack developed with doctor bag-style access so you just open one zip down the middle of the bag and have instant access to your kit through this extra-wide opening. Crucially for many shooters, it meets most international airline carry-on regulations, so you don't have to relegate your camera to the aircraft hold.
Above The Tenba Cineluxe Backpack 21 won in the Backpack/Holdall category of the Pro Moviemaker Gear of the Year Awards
It's this total focus on design that means the Tenba Cineluxe Backpack 21 has been recognised by the Pro Moviemaker Gear of the Year Awards as the winner of the Backpack/Holdall category, as voted by thousands of real filmmakers.
The bag is big on protection, as your camera sits on a protective pillow with a lens support, and there's a camera security strap to stop it moving. The bag comes with two padded wraps to protect additional lenses and other delicate gear when stored alongside a built rig. And there's a padded, zipped pouch for even more kit to be stored in.
To make sure it's comfortable to carry even when fully loaded, it features Tenba's ventilated Airflow back panel and Pivot-Fit harness straps that automatically adjust for different shoulder and body types. The Tenba Cineluxe Collection was developed after professional filmmakers were quizzed to find out what would make the perfect bags. A unique level of speed, versatility, protection and performance was the agreed goal.
Cineluxe bags include a host of new features and industry firsts, such as Tenba's exclusive Flex-Core dividers that are rigid yet flexible. These are soft on the outside to avoid scratching your gear, but have aluminium reinforcements inside to provide a secure separation between cameras and lenses, while also being bendable and repositionable.
Weighing in at just 2.5kg/5.5lb, the Tenba Cineluxe Backpack 21 is made from a rugged material that is built to late and look good, and has a blue aluminium detailing to give it a stylish edge. Every feature, function and size in the Cineluxe collection was carefully developed to meet the demands go working filmmakers on the move who don't want to compromise.
To visit the Tenba website please click here.