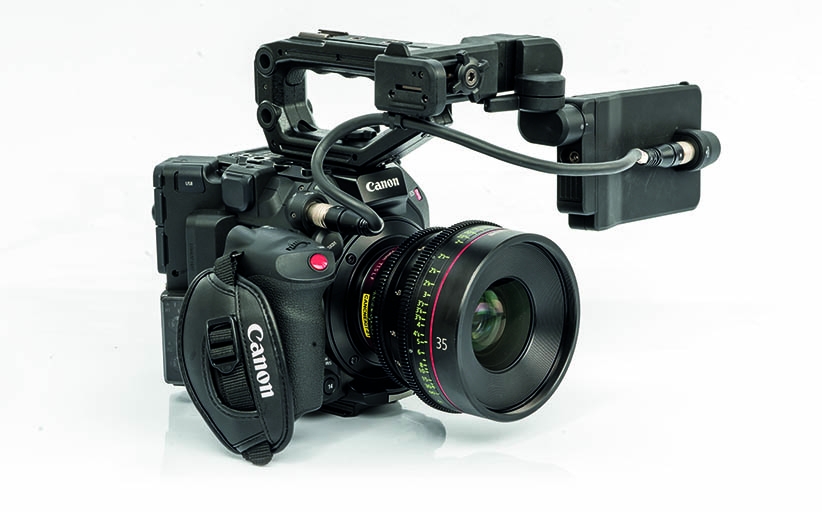 7 reasons to love Canon's C500
The all-new Canon EOS C500 Mark II offers so much – to filmmakers that can justify the price
It's one thing to check out the specs of a new camera, read the marketing spiel, even have a short hands-on with it on an artificial-feeling set at a trade show, or in a dealer's showroom. It's another thing to have it for a few weeks and get the chance to try it in lots of different shooting situations, in everything from bright sun to low light, with a variety of different lenses.
It's amazing how much better you get to know the ins and outs of any camera when you're on location actually putting it through its paces. Features that seemed obvious, easy to set and a wonderful idea on the spec sheet can sometimes not be quite as useful when you're faced with time pressure and the real need to hit the Rec button at the right moment – with all the right settings locked in.
Fortunately, the Canon EOS C500 Mark II is not one of those disappointing or confusing products. If you can stretch to the asking price, it's a camera that the majority of filmmakers could use for the majority of paid jobs and get results that are better than ever. A lot of that is thanks to the convergence of all the latest technology, packed into one body.
If you've been lusting after the incredible low-light performance and shallow depth-of-field you can only get with a full frame sensor, have been seduced by high-tech autofocus that really works, yearn for in-body image stabilisation and want the option for manageable Raw files that you can record without an external unit, all in the body of a multi-use cinema camera, then it's been a pipe dream. Until now.
The Canon Cinema EOS C500 Mark II has all those things and more. Here are just some of the features we love – features that make the camera one of the most ground-breaking launches for many years, and why it might make sense fo you to invest in what is turning out to be a milestone movie-making machine.
Above Fitting one of the extension packs gives a huge choice of connections and ports
1) It borrows the best of Canon's cinema cameras.
The new C500 Mark II is a hybrid of the very latest Canon tech borrowed from the firm's cinema camera range at both the more affordable and super-exotic ends of the market. And it blends it all into a camera that's not a jack of all trades, but a master of most – especially for independent production companies.
At its heart is the same 5.9K full-frame sensor as the C700FF flagship camera. But where its £31,490/$33,000 big brother is really made for multi-crew use with a traditional long-and-thin layout, like most production cameras, the C500 Mark II is designed for single-operator use. At roughly half the price.
Here's why it might make sense for you to invest in what is turning out to be a milestone movie-making machine
There are differences, of course. The big boy C700FF can record in full-blown 16-bit Raw, while the C500 Mark II can't. But to get the Raw out of the C700FF you must add on the bulky and pricey Codex Digital Recorder at £7729/$6995 plus some matching drives around five grand a pop, and of course you'll need many terabytes of hard drive space to store them, and a NASA-spec computer to edit them.
The C500 Mark II uses the 12-bit Canon Raw Light recording format like the EOS C200 (a Super35 camera, of course). The C500 Mark II records all this Raw data to a pair of CFexpress cards. These use the same factor as Sony XQD cards but those don't actually work with the camera, so chances are you'll be splurging on some new cards. And a card reader or two, as XQD card readers don't work, either. (You can use CFexpress cards in many devices that use XQD cards – just not the other way round.) With a matching pair of 512GB cards from Sandisk coming in at £1476/$1200, this could be a significant extra expense.
The new camera also borrows the 4K 4:2:2 10bit XF – AVC recording codec from the C300 Mark II, making it broadcast-ready and a huge step up from the lower spec 8-bit codec in the C200. However, if your client demands 12-bit 1080p output, only the C300 Mark II can produce this. The large sensor on the C500 is just too data-rich to output it.
2) It uses the latest mirrorless technology
It's no secret that a lot of the latest development work is going towards the new breed of mirrorless cameras, such as the Canon EOS R. With its full-frame sensor, advanced autofocus using lots of focus points, bright touchscreen, and 120fps recording for super slow-motion, it's the sort of spec cinema camera owners look at with envy.
All this is now in the C500 Mark II, plus the in-body stabilisation that's a big selling point for many mirrorless cameras from rival manufacturers. It hasn't even come to Canon's EOS R range yet, but it's believed it will in future launches. So, the cinema EOS is leading the way in Canon's implementation of full-frame stabilisation.

Above The 4.3-inch lCD monitor offers intuitive touch focus operation, and improved focus control
3) The modular design adds flexibility
The Canon C500 Mark II aims to be a do-all machine by not only allowing the user to remove the viewfinder and screen – to make it as small as possible for use on gimbals drones – but also build it up into a broadcast or cinematography rig with extension units that are not too expensive and just bolt on.
Straight out of the box, the camera is as basic as you like, with just the main body and a lens mount – ideal for professional-style drones or gimbals, as the body alone weighs just 1750g/3.85lb.
Bolting on the side grip makes it easy to hand-hold, as well as providing more control buttons. Bolt on the top handle an bracket for the screen and you have a perfectly serviceable camcorder. The top handle slides into a cold shoe at one end, then uses a large knob to secure it at the front. It's simple and sturdy and the camera balances well.
At the rear is a port where you can plug in one of the accessories, such as the viewfinder. This has two captured hex-head bolts and two loose bolts, which can be a recipe for fumbling around when they drop out. The tiltable, 1.77m dot OLED viewfinder is solid and bright, with an adjustable dioptre wheel. In its place you can mount two different units. The slimline EU-V1 Extension Unit 1 that we tried offers ethernet, a Remote B (RS-422) socket and Genlock/Sync out options.
The larger EU-V2 Extension Unit 2 has a V-mount plate for bigger batteries. As well as the additional connection of the EU-V1, it also add on two XLR terminals, a 12-pin lens terminal, and a 24V DC out so you can power other peripherals, turning the camera into a broadcast and streaming-ready production unit.
You can use everything from pricey anamorphics to vintage glass, or classic-style primes like the Canon Sumires
Even the standard 12G-SDI interface offers four times the speed of 3G-SDI, enabling 4K 50/60p.
If you want to use the camera for seriously creative cinematography with the widest choice of lenses, the standard EF mount can be unbolted in seconds with just four hex-head bolts. In its place you can fasten an EF Cinema Lock Mount which is ideal for Canon cine primes with a follow-focus rig attached, or a PL mount that supports the Cooke/I system to communicate lens data to the camera.
So you can use everything, from pricey anamorphics – as the camera also has a basic anamorphic mode – to vintage glass or classic-style primes like the Canon Sumires, razor-sharp full-frame optics or anything in between. There's also a B4 mount adapter for TV-style lenses.
The reality is that most users will already have a range of EF glass and be happy with it, although the option to change mounts so easily and without shipping the camera back to a service centre is a huge benefit, and can future-proof your purchase.
Images Optional Extension Units mean that users can build up and out or strip back down, for increased flexibility
4) The autofocus is legendary
If you're old-school and only ever use manual focus, then you're a brave filmmaker nowadays. The combination of large sensor cameras shooting fast lenses wide open, streamed in 4K to big computers and TV screen means nailing focus is more critical than ever.
If you insist on manual focus then the unique Focus Guide shows whether the camera thinks the image is sharp, and displays small arrows to show you which way to turn the focus ring. In combination with focus peaking, it's a great tool that's so easy to use, and still leaves you in complete control.
The charge towards useful autofocus for video has been led by Canon, thanks to its Dual Pixel CMOS technology (which of course is used on the new C500). Instead of the old-school contrast-detection AF that often hunts around, the Dual Pixel CMOS uses on-sensor AF sites that cover 80% of the frame and are far better at locking onto a subject, and keeping it sharp.
The continuous AF tracks moving subjects well, and you can fine-tune AF tracking speed and response to suit individual subjects. Using the new LCD touchscreen, you can touch the screen and set a focus point, and the camera will rack focus, which is a fantastic feature for one-man camera operators.
A brand new feature for the C500 Mark II is that the camera doesn't suddenly snap into focus on the new subject, rather the focus slows down when it's near to full sharpness, to give the shot a more traditional look. It really is a very nice addition, and is far better than most filmmakers could manage by themselves.
There is also Face Priority AF, which works very well, even when using fast lenses wide open. The camera locks onto the face of the subject even when he or she moves. And if the face suddenly becomes obscured, the camera is intelligent enough not to instantly go hunting for something else to focus on – it just seems to wait until the face appears again. You can combine face detection with the focus guide, as well, to help you focus on the main subject manually,
5) It brings IBS to cinema cameras
The EOS C500 Mark II is the first Cinema EOS camera to support 5-axis electronic in-body image stabilisation to take out the shakes and make the camera useful for handheld and ENG work. But with the C500 being a do-it-all camera, Canon decided not to us the popular system – employed by many mirrorless cameras – of using a sensor in a suspended mount.
Suspended systems work well for handheld use, but when the camera is securely mounted into something like a gimbal, or is fixed to a moving object like a car or camera crane, the flexibly-mounted sensor can actually introduce some movement of its own.
Canon uses a fixed sensor and an advanced digital system, so when a lens that supports data transmission is attached, focal length data is received and the IS system matched to the lens. This is then cleverly countered automatically for in-post processing (there is a slight crop of the image, however). If you're using a lens with no communication, you can input the focal length in the menu.
The IBIS works very well, and is several leagues away from the stabilisation you might get from using your editing program's own stabilisation. Matched up with an image-stabilised EF lens, the image is very smooth. It's not so good that you'll be ditching your tripods or gimbals any time soon, but it certainly takes the edge off when going handheld.
However, the IBIS only works on XF-AVC and not when shooting Raw, because it's a digital system rather than a stabilised sensor.
6) It handles like a conventional Canon C camera
With a tall body that echoes the rest of the Canon Cinema range that sit below it, the C500 Mark II is a well-sorted machine that offers all the benefits of a full-blown cinema camera. It has built-in ND filters in two to ten stops, professional audio controls, and a battery that works for a long time. We got 90 minutes out of the standard BP-A60.
The ergonomic grip can be adjusted, and there are lots of assignable buttons all over the body. 
Every function can be accessed via a new on-screen display that offers all the complexities of a professional machine, but it's actually relatively easy and logical to navigate. Typical of the camera, you can change the settings via a large thumb-wheel on the left of the camera body or by using the joystick on the monitor, and change some settings via customisable buttons. It's all pleasingly intuitive.
Above Lightweight and easy to handle, the C500 Mark II copes equally well hand-held, or tripod or gimbal mounted
To help you get your shots right there are waveforms, zebras and false colour warnings – one area where the camera aces the C200.
For High Dynamic Range shooting, it records in PQ/HLG and to maximise dynamic range for grading afterwards you can select Canon Log 2 and 3. There is a full LUT support, and you can load your own, too (there is even a dedicated LUT button on the camera).
There are also two buttons to facilitate high frame rate recording. Instead of having to dig through menus, one button turns on the high frame rates and the other allows you to change the fps.
There is 50/60p in the full 5.9K with Cinema RAW Light, which goes up to 120fps in 2K or HD, but there is a significant crop and it's manual focus only. High frame rates are one area where Canon isn't breaking new ground compared to even mirrorless Panasonic S1H that can rattle through at 180fps.
7) It has that glorious sensor
Make no mistake, the real triumph of this camera is that wonderfully large 5.9K sensor, and the technology Canon has found to get all the data from it and onto memory cards.
Cinema Raw Light isn't full 16-bit Raw, which is only really needed when shooting special effects or green screen for blockbuster movies. Cinema Raw Light is a great codec that offers huge advantages over more conventional files, as it maximises the data from the sensor, from which you can drag out more highlight and shadow detail, add the exact amount of sharpness you require, manage noise, change white-balance and really push it hard in the grade. 
What we saw was incredibly clean, noise-free footage – as you'd expect from such a large sensor
The camera we used did not have the final firmware, so it would be unrealistic to dig into the Raw files to pixel-peep for ultimate quality. It's likely this will change before production models are in the shops.
Of course, converting Raw files for use in most NLEs makes an additional step in your workflow, but it's worth it if you have the time and expertise to coax out the best quality. Another big benefit to be gained from the camera is that you can record 4K proxies to the second card and use these in your edit for speed, then replace them with the graded footage converted Raw.
Above The tilting viewfinder and other accessories bolt on at the back using four hex bolts
Using the camera in XF-AVC in 4K, the sensor oversample the 5.9K signal into 4K, which suppresses moire and reduces noise for extremely high, 10-bit image quality. Of course, this is not a final production camera so it wouldn't be right to pass critical judgement on the files.
But what we saw was incredibly clean, noise-free footage – as you'd expect from a large sensor – with lots of detail that was incredibly easy to grade and pull around in post, and had oodles of dynamic range. It had all the same characteristics of other Canon cinema cameras we have tested that use this well-liked codec, but was a significant leap ahead thanks to the big sensor.
Footage from the final firmware will confirm our opinion of the EOS C500 Mark II, but we're already very excited about the quality this new camera brings to filmmaking.
The verdict
The new EOS C500 Mark II is a hugely impressive new camera that uses all the latest technology, has a modular style to suit lots of uses, and best of all has a 5.9k full-frame 35mm sensor. It records 12-bit Cinema Raw Light or 4K 10-bit 4:2:2 XF-AVC to memory cards, has autofocus you can trust and in-body image stabilisation.
It's the first camera of its type to offer all this spec, and because of that is likely to become one of the all-time classics.
But of course, nothing's ever perfect…The IBIS doesn't work when shooting Raw, and the very fastest frame rates are limited to 120fps – with a sizeable crop.
Unless you exclusively shoot action sports, none of this is likely to put you off the camera one bit and rightly so. In fact, the only real negative is the body-only launch price of £16,999/$15,999. You have to be seriously convinced the camera's going to pay for itself in double-quick time to stump up that amount of coin.
If you're a committed Canon user, then it's a camera that will fit into your workflow seamlessly. And if you use a Canon EOS C200 and shoot in Raw, then pairing this with a C500 Mark II will give you incredible flexibility and quality good enough to flog your work to Netflix. 
Next stop, Hollywood.
How it rates:
Features: 10
Everything most filmmakers could dream of, in one camera
Performance: 9
It handles well, has a huge sensor and incredible focusing 
Handling: 9
About as good as it gets for a modern cinema camera
Value for money: 8
It offers spec that nothing else does – but you pay for it
OVERALL RATING: 9/10
This is a camera with a spec list that many filmmakers have been dreaming about
Pros: It's a 5.9K, full-frame, Raw-shooting weapon!
Cons: No IBIS in Raw, limited fast frame rates that suffer a noticeable crop
Specifications
Price:
£16,999/$15,999 body only
Sensor size:
20.8-megapixel full-frame CMOS, Dual Digic DV7
Formats:
Cinema Raw Light 4:2:2 12-bit 2.1Gbps, MP4 XF-AVC 4:2:2 10-bit 810Mbps; 5952×3149 5.9K, 4096×2160 C4K, 3840×2160 4K, 2048×1080 2K, 1920×1080 FHD
Frame rates:
59.94/50/29.97/ 25/24/23.98p
Fast frame rates:
60fps Cinema Raw Light and XF-AVC full frame, 120fps in 2K 
ISO range:
160-25,600, expandable 100-102,400
Dynamic range:
15+ stops C-Log2
Controls:
Peaking, colour bars, waveform, zebras, focus assist
Autofocus:
Dual Pixel CMOS AF; one shot, continuous, face priority
Lens mount:
EF (user changeable to PL)
Shutter speeds:
1sec-1/2000sec
Filters:
Up to 10 stop ND built in
Screen:
109mm/4.3in LCD touchscreen, 2.76 million dots
Viewfinder:
Add-on LM-V2 (supplied)
Audio:
2x XLR inputs

 

Output:
HDMI, 12G-SDI, Mini-B USB
Storage:
2x CFexpress, SD/ SDHC slot 
Dimensions (WxHxD):
167.6×152.4×147.3mm/ 6.6x6x5.8in
Weight:
1.77kg/3.9lb