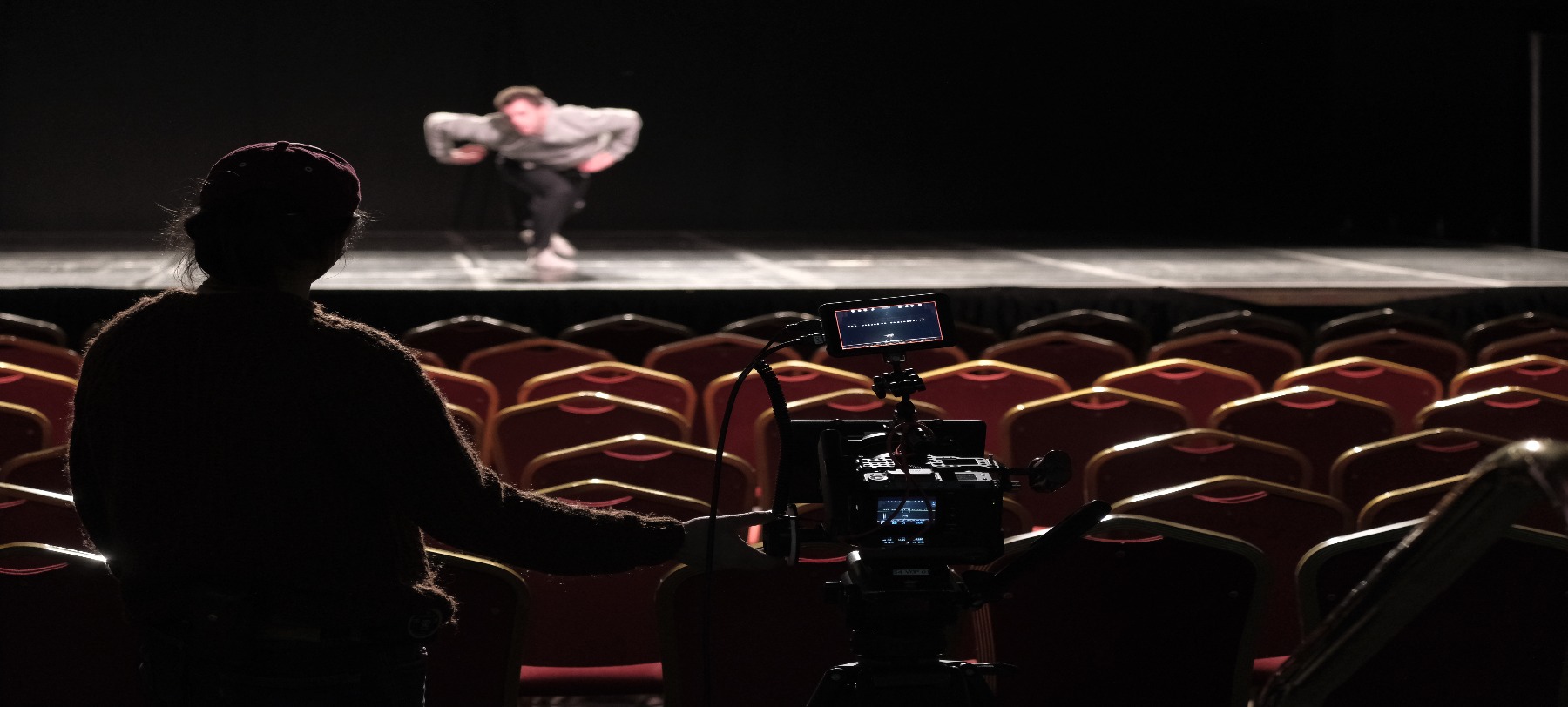 Fujifilm: A step beyond full frame
Posted on Mar 19, 2021 by Super User
If the highest quality is essential, the Fujifilm GFX100 offers the very best in a small package
SPONSORED BY FUJIFILM
When you are one of the world's top cinematographers with a hard-earned reputation to uphold, the last thing you want is to compromise on quality. And while shooting feature films and advertising campaigns might afford the luxury of big crews and the most expensive large format cameras and lenses, these unusual times mean not every project has that kind of freedom.
That was certainly the case for award-winning filmmaker Jake Polonsky BSC, who wanted to make a short film to raise awareness for struggling music venues hit hard by the pandemic, and expose how the past year has affected mental health issues. That film is called 2020 Vision, based on a poem by Hussain Manawer, and is a powerful and evocative piece of work.
"We have all been prevented from doing the things we love, and our livelihoods have also been affected. This film is an expression of our experiences this year and, in the end, a portrayal of one person managing to weather the storm and keep creating," Polonsky says.
He has a huge body of incredible work, such as films Senna and The World's End, and TV projects Billions, Hustle, Spooks, Doctor Who and Black Mirror: Bandersnatch. Plus, commercials for mega-brands Guinness, Volkswagen, Nescafé, Vodafone and McDonald's, and music videos for the likes of Justin Timberlake, Kings of Leon, Mark Ronson and Amy Winehouse.
"Large format brings the opportunity for narrow depth-of-field on wider-angle lenses. It can definitely add a sense of three-dimensionality and is great with richly detailed shots," he explains. "I shot with the Alexa 65 on Black Mirror: Bandersnatch."
But the absence of a big crew and budget, plus the stripped-down nature of working within Covid restrictions, meant another solution was needed. And that was the Fujifilm GFX100, which fills in the gap in sensor size between so-called 'large format' cameras such as the Sony Venice, Red Monstro and Arri Alexa LF, and the mammoth 65mm sensor of the Arri Alexa 65. Compared to these, the GFX100 is significantly smaller and more compact, has a far more affordable price tag, and the sensor used for recording is actually bigger than the Arri Alexa 65 in 16:9 mode. The GFX100 boasts a 100-megapixel, 4:3 ratio medium format CMOS sensor that is 44x33mm in size. It allows for 10-bit 4K video to be output via HDMI, in a choice of 100, 200 or 400Mbps bit rates. It allows UHD 4K 16:9 Raw output, too. An Atomos Ninja V can read this Raw signal and convert it into 12-bit ProRes Raw for ultimate quality in grading. This makes it the first 'medium format' Raw system that people can own rather than renting.
Large format brings the opportunity to achieve narrow depth-of-field on wider-angle lenses
Polonsky initially made a little test film to experiment with the Fujifilm GFX100's capabilities. "With its big sensor, it seemed an interesting option for large format cinematography in a very small package," he says. "The camera, although certainly not designed primarily as a motion picture device, did deliver some very interesting images. Enough to make me wonder whether it would be possible to use it to make something a little more meaningful about this challenging year.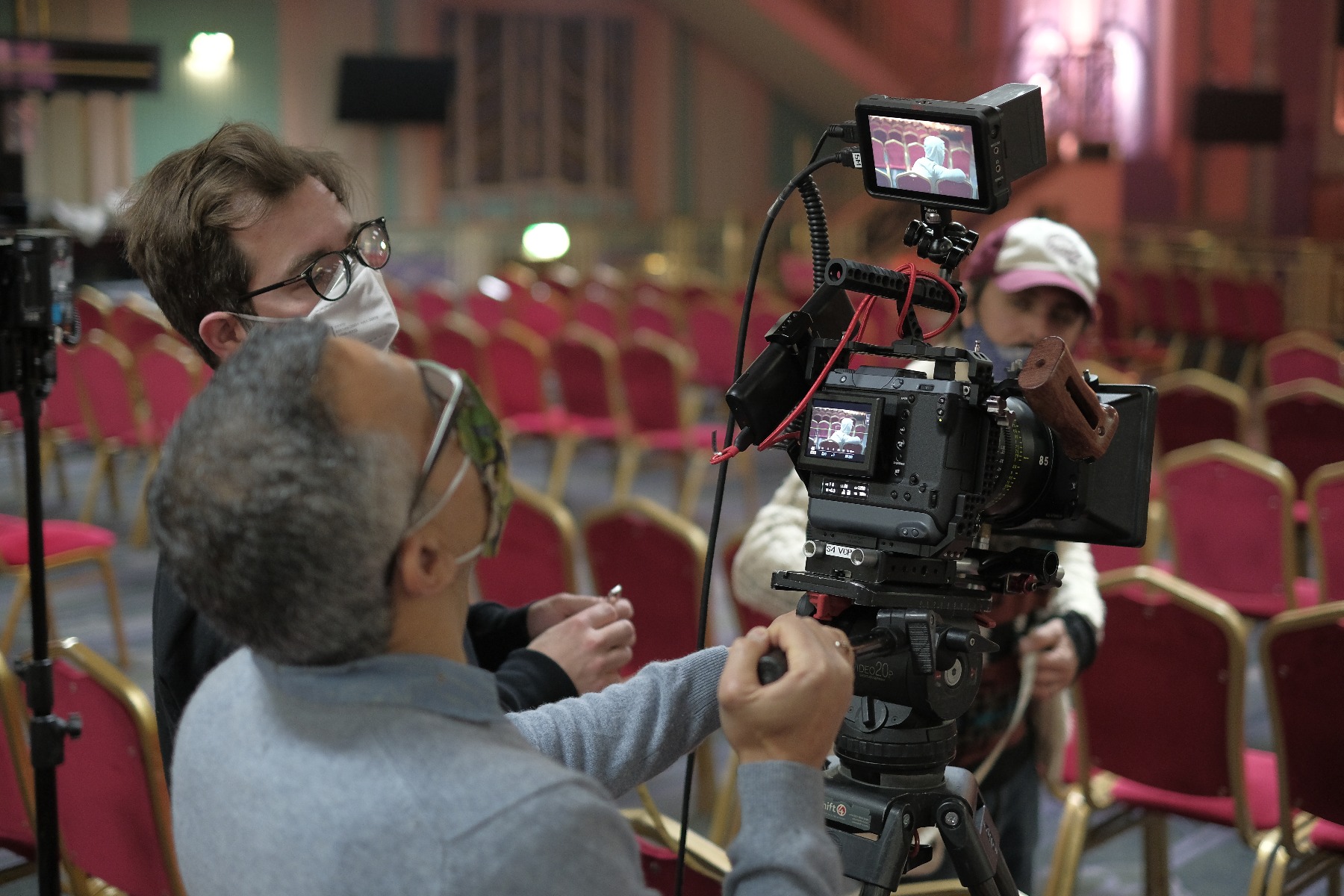 "I've always been a Fuji fan. Back in the days of film, the 500T emulsion was a favourite of mine. When they started producing digital stills cameras, I started with the X-Pro 1, through to the X-T3 that I still have. The colour science was always surprisingly good – I felt they had a special response to colour that was pleasing."
He felt the GFX was the ideal camera to shoot Manawer – they had previously met on an Apple TV documentary about mental health. "I thought he would be perfect to write about the year and its effect on us.
"The next challenge was how to make a film that wasn't just an illustration of the poem, nor something filled with lockdown images we were already familiar with. I made contact with the Music Venue Trust, as there was something interesting about empty spaces that might make an effective visual companion to Hussain's words. It was also an opportunity to support venues and the beautiful art deco Troxy in Stepney offered us two days of filming."
To help with production, Polonsky drafted in a world-class expert on 65mm cinematography – Haris Zambarloukos BSC. But the plan was to keep things simple.
"There was an element of improvisation to what we were doing and we approached the project as simply as we could. No dolly, no gimbals – an almost Bressonian simplicity, partly driven by necessity and needing to have as small a crew as possible for health and safety issues," says Polonsky. "No remote focus, no wireless video; not least because to attach these and power them via the GFX would mean building out the camera to a degree that slightly defeated the purpose of using a camera this compact.
"It definitely seemed smart to keep the camera very simple in its set-up. It's not really designed to handle all the bells and whistles that we might have on a regular film shoot. So, we used a manual follow focus, Anker power banks, ND filters and my trusty Atomos Ninja V to record on."
Fujifilm offers a wide range of very sharp native lenses for its medium format GFX system, but the camera also works well with other lenses via adapters to give cinematographers more options.
"I'd hoped to get Hussain down to the Troxy to film him, but at the 11th hour I had to go to his studio on my own with a few lights and the GFX kit and persuade him to spend a couple of hours performing the piece for me," says Polonsky. "Being my own focus, grip and DIT was a challenge, but the fact that the GFX kit was so simple saved me. I'm very happy with the footage, which I shot mainly with the Fujinon GF45mm f/2.8 R WR and GF110mm f/2 R LM WR stills lenses. They are superb optics that have a lovely narrow depth wide open, and I had more control of light in those scenes."
Cutaways of other venues were also shot on the bitingly sharp Fujifilm optics. The film sees dancer Will Thompson inside the theatre, choreographed by Maxine Doyle. For full effect, Polonsky chose Tokina Vista One prime lenses, attached via an Alpa PL adapter. "The Tokinas are cinema lenses with great focus markings and open up to T1.5. I had limited lighting at the Troxy, so needed fast lenses."
The resulting film is as visually stunning as it is thought-provoking. And it highlights that TV drama, indie films, corporate productions, documentaries and even motion pictures can now utilise the Fujifilm GFX100 and Ninja V to get the distinctive 'larger than full-frame look' in stunning Raw quality at an affordable price.