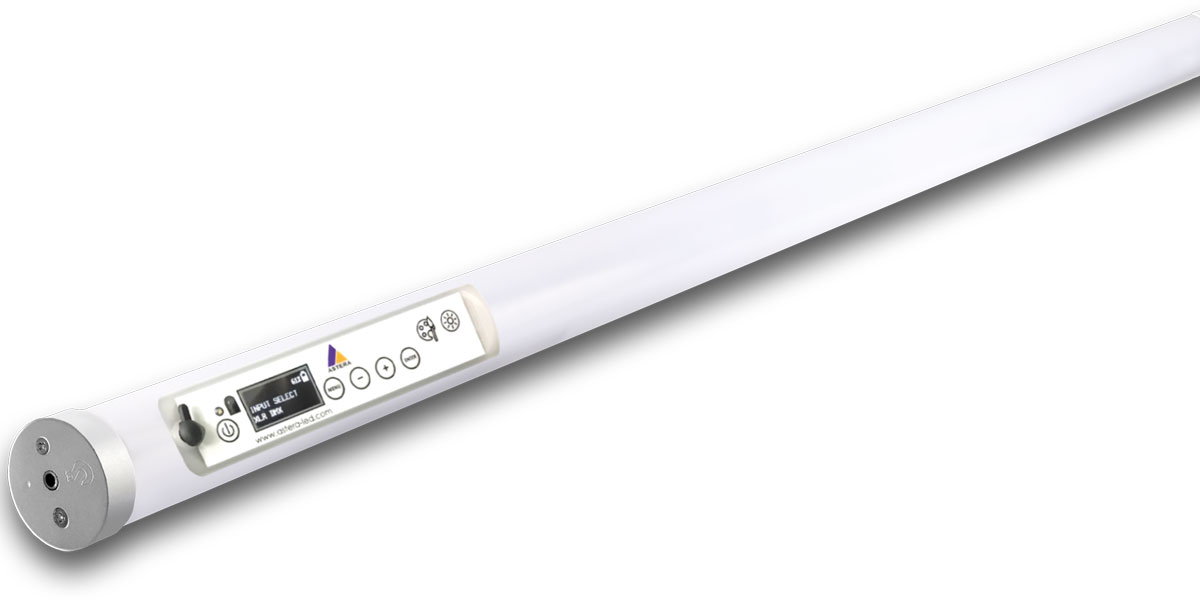 Astera's star performers
Posted on Jul 24, 2023 by Samara Husbands
No fewer than four innovative lighting products are nominated in this year's Gear of the Year Awards
Advertisement feature
When Astera designs and builds a lighting product, you know the results will be packed with innovation. The equipment is well built, accurate and reliable – it's no surprise it has entrants for four separate categories of the Pro Moviemaker Gear of the Year Awards. 
In the category for best light panels, the Astera FP6 Hydrapanels are small yet feature-packed LEDs. They deliver consistent, flicker-free performance at all settings, while Astera's Trucolor technology calibrates the light for consistency and exact reproduction of colour temperature and filter gels. 
You can dial in CCT with a green/ magenta tint to get white exactly right, or dial in HSI numbers or a range of gels such as Rosco. The lights are silent and powerful. If you want more, they are available in a kit of four and together put out 1300 lumens, with lots of accessories included.
Putting four together gives a soft light suitable for close-ups, especially with the included mini softboxes and diffusion. The grids do a great job of preventing light from spilling around. 
The Hydrapanels can be controlled via infrared remote, wired DMX or wireless CRMX and via the app or integrated display, with a set of control buttons and a touch slider on the units themselves.
Available as a single light or in a kit to give even more flexibility, the versatile Astera Pixelbricks are next-generation multipurpose lights nominated in the hard light category. In addition to being a battery-powered uplight and spotlight with five different beam options, multiple Pixelbricks can be connected to form clusters and shapes. Just 10cm long and weighing 1kg, each Pixelbrick features a powerful output of high-quality light which meets the demands of film and broadcast.
One common use is as uplights which can bring bold colours or white tones to any wall or object. Its native 13° beam can be modified with filters; build funky shapes by arranging them geometrically or in a matrix with numerous corner pieces.
In the lighting innovation category, the popular Titan Tube is up for an award. It's a high-tech LED tube that emits powerful, tunable white light with ultra-high colour rendering and coloured light which can be applied to individual pixels or the whole tube. It's being employed by some serious cinematographers in various situations, to create everything from traditional soft, flattering cinematic light to fill lights on location and spectacular installations.
Instead of just lighting the subject, the multiuse Titan Tubes can be part of the shot as they make ideal practical lights that can be fully controlled or used as high-tech fixtures that change colour and intensity.
The tubes may be used indoors or out as they have an IP65 rating, powered by mains or battery and controlled via the AsteraApp, or either wired or wireless DMX. 
If you want to run your lights on-set for longer without mains power, the Runtime Extender is a battery plate that connects standard camera batteries to many Astera lights. The Runtime Extender works with the Hydrapanel and Pixelbrick, plus Titan, Helios and Hyperion tube lights. This simple though effective solution is neat and tidy, supporting 14.4 and 26v batteries. That's why it's nominated in the innovation category in the Pro Moviemaker Gear of the Year Awards. 
Vote for Astera in the Gear of the Year Awards 2023!
Originally published in the July/August issue of Pro Moviemaker.