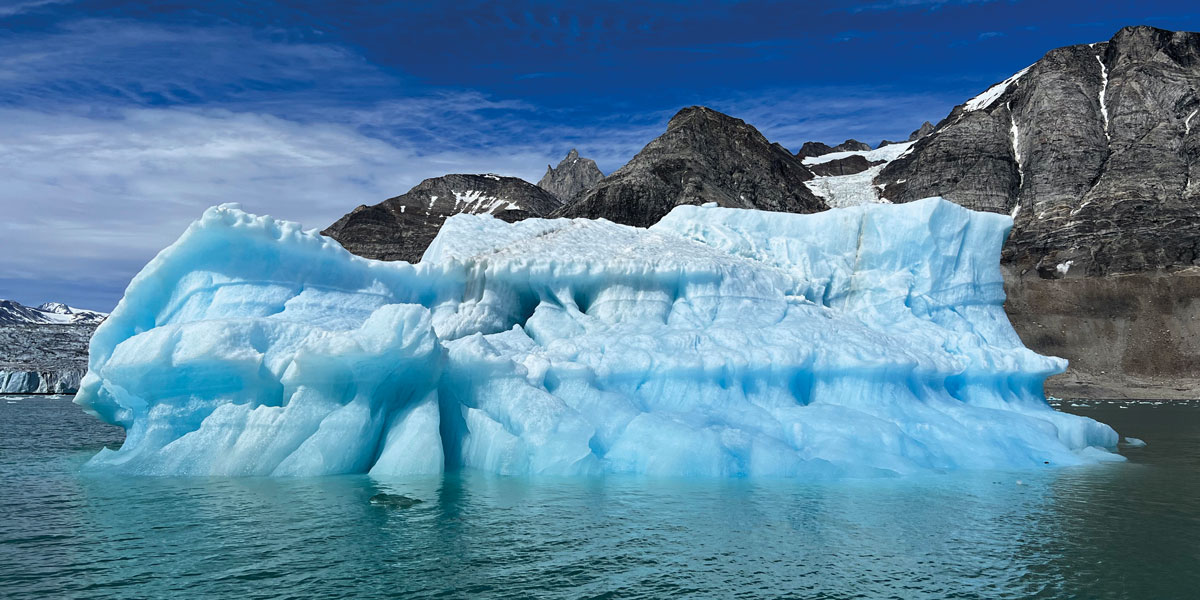 The Sound of Global Warming
Posted on Jul 24, 2023 by Samara Husbands
Capturing the audio of Arctic glaciers splitting is no easy feat
Words by Kevin Emmott
When a glacier breaks apart it is spectacular. It is thunderous and dramatic – an awesome natural event. It thumps and cracks, rumbles, booms and pulses. Unfortunately these natural events, called calving, are more and more frequent. 
According to the World Wildlife Fund, the Arctic is warming twice as fast as anywhere else on earth and its sea ice is declining by more than 10% every ten years. In fact, it is one of the largest contributors to the global sea level rise; Greenland's ice sheet is disappearing four times faster than 20 years ago and already contributes to 20% of the rise in sea levels. 
Thomas Rex Beverly knows more about this than most. Based in Philadelphia, he is a nature sound recordist and composer, and his powerful audio tells the story of glacial erosion to a much wider audience, revealing how the planet is changing both above and below the surface of the water. 
A specialist in documenting changes to our planet's ever-evolving ecosystem, Beverly has been cataloguing the sounds of endangered species and ecosystems in the Arctic since 2019. After his first trip to Alaska, he now has four successful expeditions across the Arctic border under his belt, along with further trips to Iceland, Norway and Greenland. 
His output is prolific; he has over 90 nature sound libraries available on his website and 230 on his Soundcloud account. His work has been featured across television, games and film including HBO's The Last of Us, Marvel's Ant-Man and the Wasp: Quantumania and AMC's The Walking Dead. Ironically, his contribution to Frozen II was a recording of crickets in the desert.
His latest trip to Greenland opened his eyes – and ears – up to a host of new experiences, capturing the evolving drama of giant calving glaciers, ice caves and underwater icebergs. 
Greenland calving
"I'd seen my first glaciers in Alaska and Iceland, but before Greenland I had not explored them up close," explains Beverly. "There has been a lot of emphasis put on documenting receding glaciers, from time-lapse photography to documentary footage. But every time I've seen videos of these huge calving events, the audio was below average. Often it would be just off-the-camera sound, or even no audio at all. I wanted to capture those sounds.
"Greenland is a magical place to record it. With a population of just 60,000 mostly concentrated on the south-west coast, there is very little tourism on the eastern side of the country, you can get to remote areas no human has ever set foot on!"
Remote working
He's not wrong; getting so close to glaciers to record them is not easy. In Greenland, it involved a two-hour boat ride from Kulusuk Island off the south-eastern coast. With more sled dogs than people, the island is already remote, but getting deeper into the Arctic gave Beverly access to glaciers so huge they even have names, such as Knud Rasmussen and Karale.
"We would camp by the glaciers, then go back to Kulusuk to regroup for a few days, charge batteries and then go out for another stretch," explains Beverly. "The recording conditions were nearly perfect as the temperatures were fairly mild at around 5-6°C. And with a sun that never sets in July, it was handy to be able to record at any time of the day. Sometimes nothing happened for 12 hours, other times there was a flurry of activity over a one-hour timespan, so it was very important to get the audio right every time the calving activity took place."
The size and geography of each glacier gives each one a unique acoustic footprint and its own distinct sonic personality. Karale was about 1.5km wide featuring a 15m- tall face, while Knud was 2km wide and twice as tall. 
The size of the mountainous fjord also made a difference to the calving sounds, so the acoustics are different for each glacier. Beverly explains "Karale had long roaring events as huge pieces broke loose and rolled. Knud had thunderous, gunshot-like cracks as pieces broke from the top and fell to dynamite in the water below."
Working on multiple glaciers, each with an unpredictable lifespan, he had to be prepared. Microphones would run continuously and between five and eight audio recording rigs were set up, running 24 hours a day for 14 days. Microphones were placed on either side of the calving face to capture every aspect of what was happening with the glacier.
Capturing the sound
"I have some small lavalier mics that I run off my handheld recorders, and those use plug-in power of about five volts and can run continuously for over five days. Then I have my main Sennheiser double mid-side rig, which runs on 48v phantom power. The three mics that I use – a pair of Sennheiser MKH 8040s and an MKH 30-P48 – can run for roughly 18 hours on one battery. Generally, we would camp somewhere near one of the glaciers, so I'd have the Sennheiser rig near the campsite recording the calving. Over the two weeks, I managed to capture about 700 calving events."
Recording in such extreme and remote locations means packing light, with a rig which covers a wide variety of use cases. Beverly says his caters for a comprehensive range of environments.
"You have a front and rear mic – which in my case is the pair of 8040s – and side mic – the MKH 30-P48. This has been my go-to rig, as you can record everything from a close-up animal to surround sound all in one blimp. Plus it's compact, which is important for me as I have to think about how much gear I can fit in my backpack! 
"Another benefit is that these mics do really well in extreme temperatures and humidity. After having them for over six years recording in the wild at least eight weeks a year, they are still going strong!"
In Greenland, Beverly used additional mics in spaced omni configurations, set up as stereo pairs or in quad, as well as a pair of Geofón omnidirectional field recording mics which can capture ground vibrations. 
Developing perspective
"I started feeling this bass sound, it sounded like a subwoofer. We found the source – a deep crevasse formed by a waterfall inside the glacier was creating large pockets of air in the sub-glacier river. The bubbles would burst every few seconds and the sounds would resonate up through the crevasse like a sleeping dragon. 
"By using the 8040s together with Geofóns, I was able to get the sounds of the glacier, plus the kind of sub-bass impact coming from the contact mics. When you mix those together, you get these epic-sounding events. And so that was one of my main goals, to have the close calving sound on the glacier and distant perspectives from the double mid-side rig, where you're looking at the glacier from up to half a kilometre away."
To add more colour and resonance, Beverly was also able to capture another aspect of glacial erosion; the underwater world of melting icebergs. He says icebergs are part of the lifecycle of a glacier, which made recording them both over and underwater an important part of the story.
"It's very tricky to record underwater sounds," he explains. "Many hydrophone recordings are conceptually interesting because they show the unheard world below the waves, but they sound like tinny lo-fi recordings that don't captivate my ears. That changed in Greenland with a combination of some DIY hydrophones and the distinct underwater acoustics of the rocky fjords.
"If you record out in the middle of a giant fjord with a depth of 1000m, there is very little resonance. However, find rocky fjords with depths ranging from 50–300m and they sound like cathedrals! The pinging and booming of the icebergs could be heard bouncing around the walls with wonderful echoes."
Preserving the natural landscape
While calving has always been part of a glacier's lifecycle, climate change has significantly accelerated the erosion of them all. Through his field recordings, Beverly aims to inspire listeners and help preserve the precious natural landscapes and their breathtaking soundscapes for future generations.
"All of the glaciers that I have recorded in Greenland are retreating at an unprecedented rate," he laments. "By recording sounds of spectacular calving events, I hope others can experience and love these living rivers of ice. Whether it's a blockbuster movie, nature documentary, video game or art installation, the sound is the element that bonds the story together like glue.
"The more people develop a visceral connection, the more likely we are to slow their retreat." 
Originally published in the July/August issue of Pro Moviemaker.