DJI…Transmission: Impossible
Posted on Jun 20, 2022 by Samara Husbands
DJI has set the bar for transmission with the release of the RS 3, the RS 3 Pro and DJI Transmission. For the next generation of creatives
Three new tools enable filmmakers and content creators to bring their artistic visions to life – seamlessly and intuitively. DJI RS 3 and DJI RS 3 Pro stabilisers bring landmark improvements to the classic and reliable Ronin series, while DJI Transmission ­– DJI's first independent wireless video solution – combines reception, monitoring, control, and recording all in one. The new generation of ecosystem allows creators to focus on what's in front of their camera by simplifying everything connected to it. Ronin product line is a key part of DJI, supporting content creators from keen hobbyists to professionals around the globe.
The DJI RS 3 has been redesigned with a new automated axis-locking system; by simply turning on the gimbal, the automated axis locks release and unfold the gimbal, allowing the operator to get started in a matter of seconds. There is also no need for repetitive balancing. With position memory via quick release plates, fast mounting is achieved with the perfect balance of the payload. With lightweight body and heavyweight stabilisation, it can easily be held in one hand. Don't be fooled though, it's featherweight 3kg has been tested and is proven to support most mainstream devices. A notable 20% improvement in performance is presented via the 3rd-gen RS Stabilisation Algorithm, making operation simple while shooting at low angles, running, or even filming from a moving vehicle. In addition to its improved stability. RS 3 is also easier to configure. A 1.8-inch OLED full colour touchscreen provides an increase of 80% surface area when compared to the previous RSC 2 model. Silky UI works perfectly alongside interface logic to put all controls right at your fingertips – naturally, most gimbal setups can be done directly without connecting to the mobile app. Battery worries have been minimised with a grip that provides up to 12 hours of battery life so you can concentrate on the action without scrambling for the nearest charging port. RS 3 features a quick-release structure that supports PD fast-charging at 18 watts, and the battery can be charged independently (or during use) – in other words, you need not stop rolling!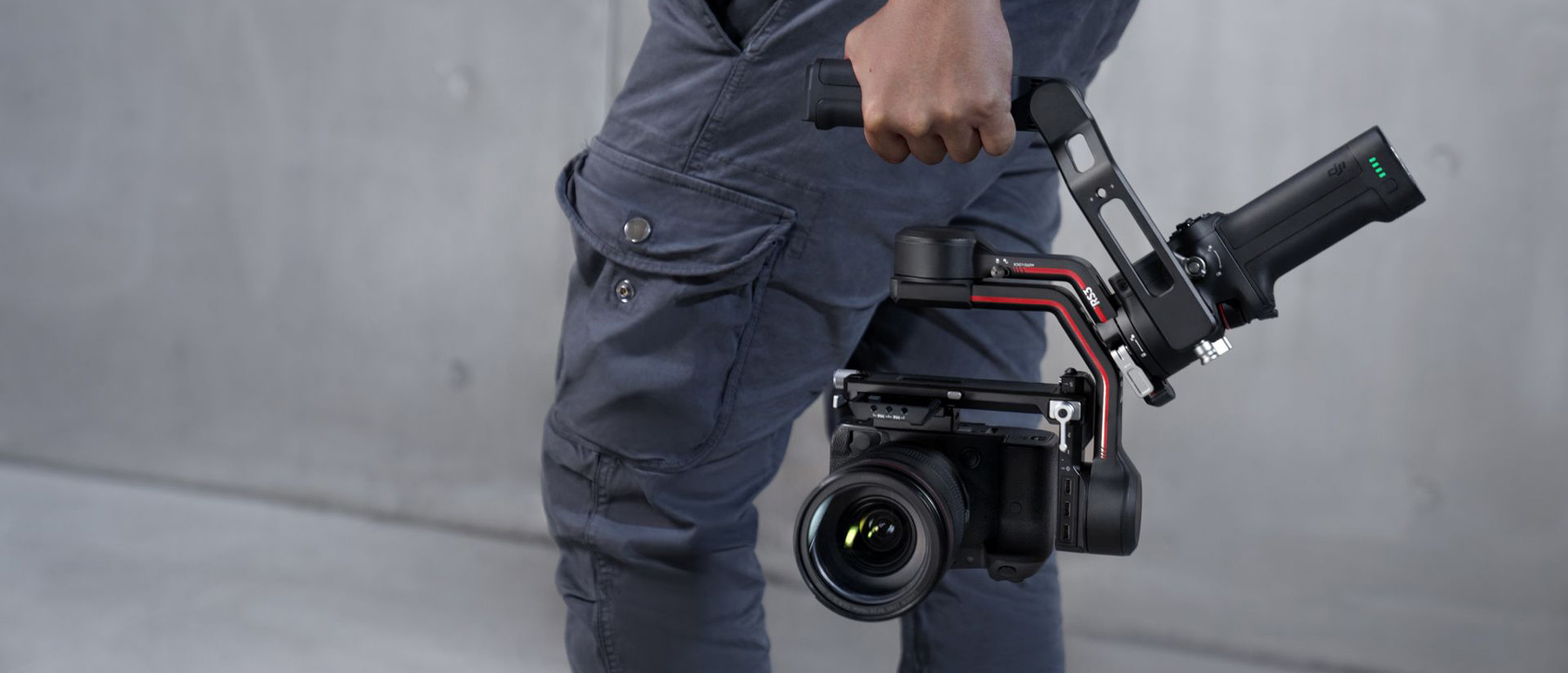 Next up is the DJI RS 3 Pro. With even higher specs, this is a more professional version offering a full suite of features as a versatile camera platform. Its arms are comprised of one uncut piece of carbon fibre, making it stronger than the jointed carbon fibre used on previous stabilisers. Proven to withstand an impressive 4.5kg payload capacity, it has been extended for use with professional cameras like the Sony FX6, Canon70D and RED Komodo – without adding unnecessary weight. As we know, manual lenses can prove tricky for solo shooters involved with professional projects, especially when it comes to focusing. This is where Ronin 4D's advanced LiDAR focusing technology to create the new DJI LiDAR Range Finder (RS), capable of projecting over 43k ranging points within a 14-meter indoor area. A next gen motor provides torque three times stronger with one-step mounting, enabling autofocus on manual lenses with no need to repetitive calibration. The Range Finder carries a DJI-developed chip identical to the one used in Ronin 4D and a built-in 30mm camera. With target identification and tracking more sensitive and accurate than ever before, RS 3 will enable professional cameras to maintain a steady, clear shot in even more dynamic scenarios. One of the coolest features is that the DJI RS SDK protocol enables third-party manufacturers and individual developers to create customised shooting solutions for RS 3 Pro to build an even richer ecosystem with a higher number of developers.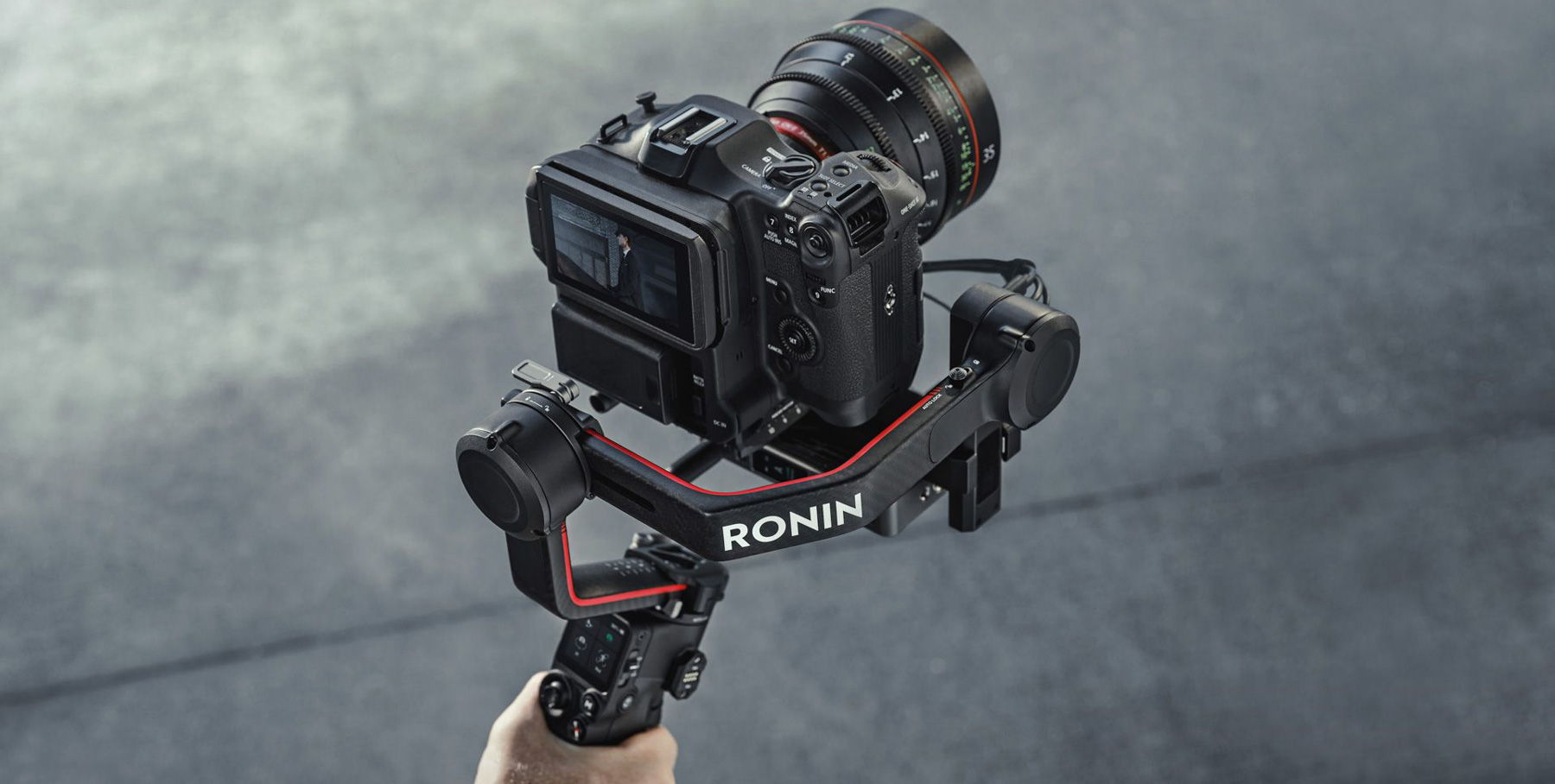 Last, but by no means least, the DJI Transmission. This is DJI's first wireless video solution and was developed on the back of Ronin 4D's advanced video transmission technology. It combines reception, monitoring, control and recording into one, taking your filmmaking experiences to a whole new level. O3 Pro transmission technology offers an incredible 20,000 foot-on-ground distance with end-to-end ultra-low latency – a noticeable upgrade from traditional Wi-Fi. Instead, video travels in 1080p/60fps and provides live audio monitoring at 16-bit 48 kHz, presenting excellent remote visual and audio experience. To make sure it copes with ever-complicating signal and structural environments, a DFS band has been added to offer up to 23 channel options that provide crews with more compliant and interference-free transmission. A built-in frequency sweeper automatically scans the current electromagnetic environment for the best wireless channel, instantly switching channels when needed. When necessary, users can also manually select an appropriate one to avoid interference between devices. DJI's 7-inch, 1500-nit high-bright monitor includes an integrated receiver, eliminating the need for video cables running into a monitor. The device supports one transmitter with multiple receivers, as well as two transmission modes to address different broadcast needs. For a large crew with various units such as lighting, art department, and props, Broadcast mode can be enabled on top of Control mode, which will allow an. Unlimited number of receivers and elevate shooting efficiency to a new level. Reality shows will benefit hugely, as on large sets such as these, DJI Transmission can work simultaneously with ten or more transmitters sending signals to ten devices. This created a completely synchronised experience that is hard to achieve through traditional transmission. On top of being a powerful video transmission tool, DJI Transmission is also a comprehensive control system. When used with RS 3 Pro, it can work as a gimbal and camera controller, unlocking more functions and fully integrating the ground-based Ronin ecosystem. Alongside simultaneous access to video time codes, the High-Bright Remote Monitor allows for independent recording and playback of 1080p/60fps H.264 footage, simplifying editing on set. DJI Transmission expands on the Ronin ecosystem, working seamlessly with the DJI Master Wheel and Force Pro, giving operations a variety of ways to control camera movement.
By implementing an entire new way to create, there is no doubt that DJI has cemented its position on the world stage for content creation. This collection gives creators bold new tools that set up faster, operate more easily, connect seamlessly and transmit for miles.
DJI RS 3 will be available for purchase today from authorized retailers and at www.store.dji.com with two purchase options available for the stabilizers. The standalone DJI RS 3 retails from £469 and includes accessories. DJI RS 3 Pro will be available for purchase today from authorized retailers and at www.store.dji.com with two purchase options available for the stabilizers. The standalone DJI RS 3 Pro retails from 749 and includes accessories. DJI Transmission will be available for purchase this September from authorized retailers and at www.store.dji.com. The DJI Transmission Combo retails from £1,979 and includes one DJI Video Transmitter and includes accessories.
Full details can be found on the DJI website.